Penn State Behrend has six active political student groups on campus: the Pi Sigma Alpha Honor Society, the Political Science Society, College Democrats, College Republicans, Model United Nations, and Model African Union.
The Political Science program at Penn State Erie, The Behrend College, established a chapter of the Pi Sigma Alpha Political Science Honor Society in 2011. Pi Sigma Alpha is the only honor society for college students of political science and government in the United States. 
Model African Union prepares students to represent an African county for simulated African Union meetings at regional or national conferences.
The Political Science Society hosts campus political debates and forums on current issues. The group also brings local alumni to campus to speak about careers for political science majors. For example, the Political Science Society has organized and hosted a Harborcreek candidate forum on campus, led student voter registration drives, and hosted forums with Pennsylvania judges and Pennsylvania state senators.
College Democrats and College Republicans both work on student voter registration efforts, volunteer for the local campaigns for presidential, congressional, and state legislative candidates, bring candidates and political leaders to campus to speak to students, and generally work at increasing the level of student political activism at Penn State Behrend.
For information about these groups or to get on their mailing lists, contact Dr. Robert Speel at rws15@psu.edu.
---
Vice President Mike Pence and Penn State Behrend College Republicans President Justin Gallagher at a campaign rally at the Junker Center, November 7, 2016.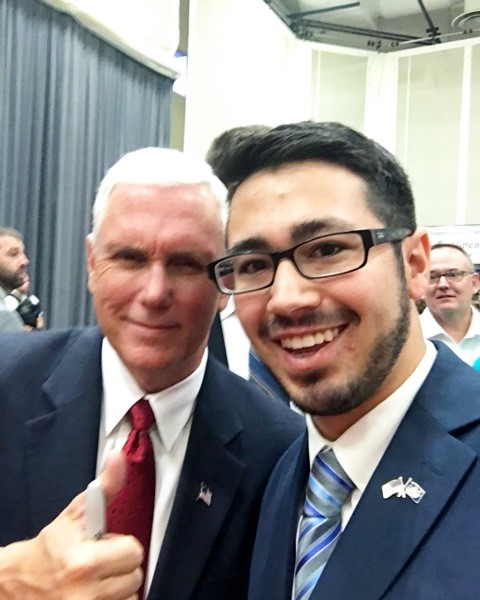 On April 8, 2016, College Democrats organized a visit to campus by former President Bill Clinton, who campaigned on behalf of Hillary Clinton's presidential candidacy before the Pennsylvania primary.​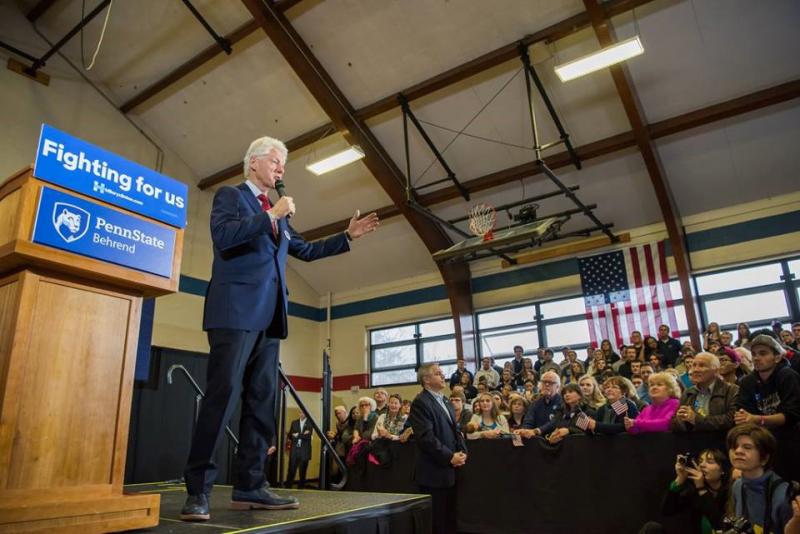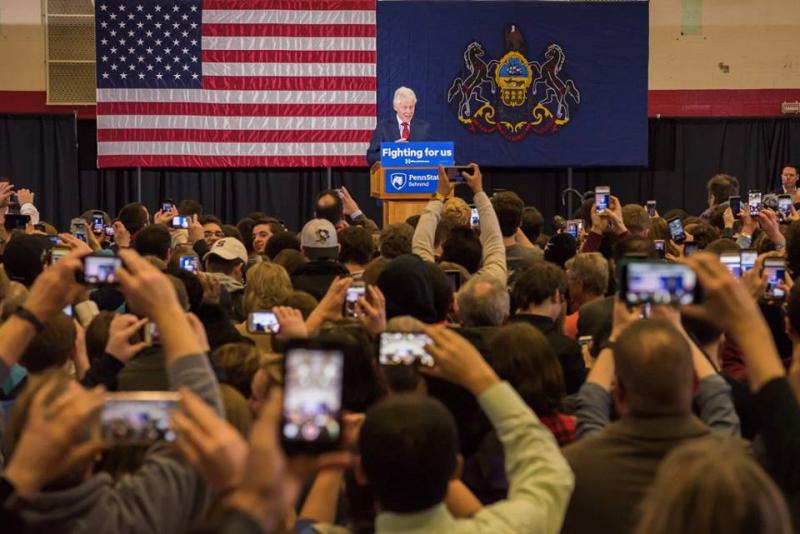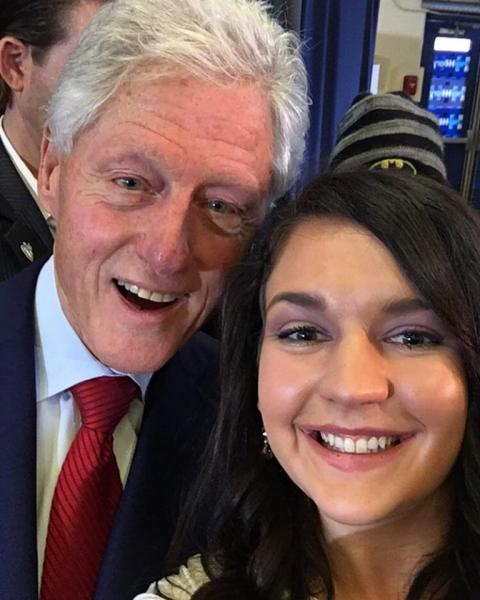 College Democrats leader Ashley Solo helped to organize the event.

New Inductees to Pi Sigma Alpha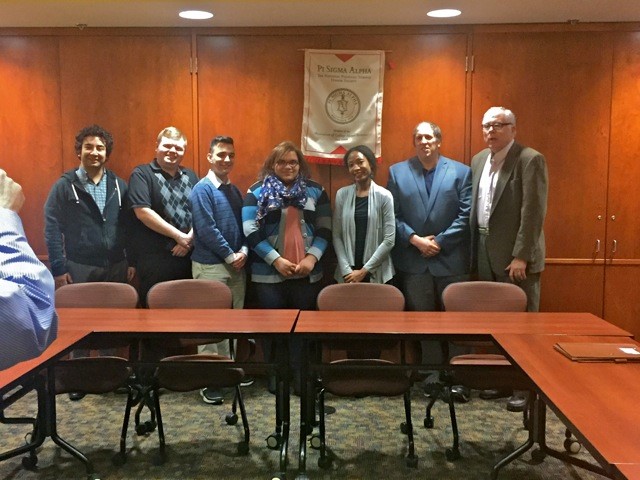 The Penn State Behrend chapter of the Pi Sigma Alpha Political Science National Honor Society inducts new members in December 2016.
Senators Reschenthaler and Wiley Visit Penn State Behrend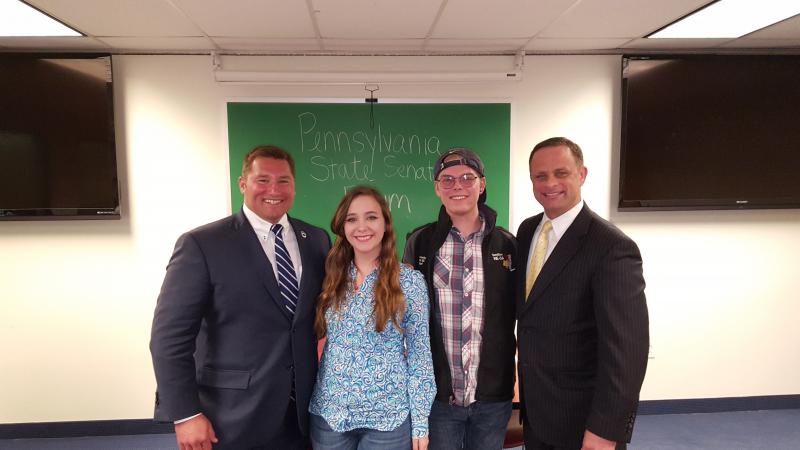 In April 2016, the Political Science Society organized and sponsored a forum on campus about Pennsylvania state politics and policies with State Senators Sean Wiley (D-Erie) and Guy Reschenthaler (R-Pittsburgh). Sen. Reschenthaler is a Penn State Behrend Political Science alumnus. Pictured left to right are Sen. Reschenthaler, Political Science Society President Nicole Malinowski, College Democrats President Domonic Mathews, and Sen. Wiley.
Weekend in Madagascar
Behrend students represent African island at Model African Union Summit. Read more in Penn State News.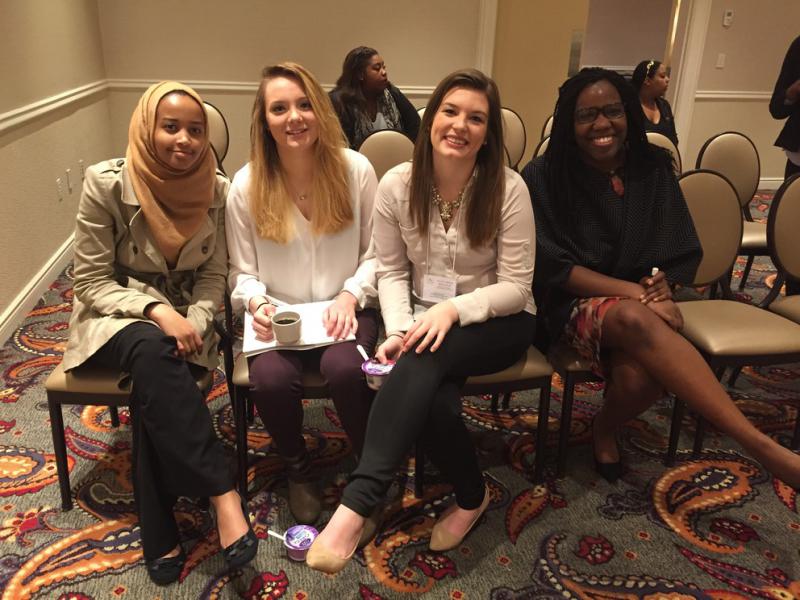 Reem Elhafiz Abdalla, Jillian Dunn, Lillie Gabreski and Dalia Tenda Batuuka represented Penn State Behrend at Howard University's 14th Annual National Model African Union Summit last month. This marked the first time that Penn State Behrend was represented at the summit.
---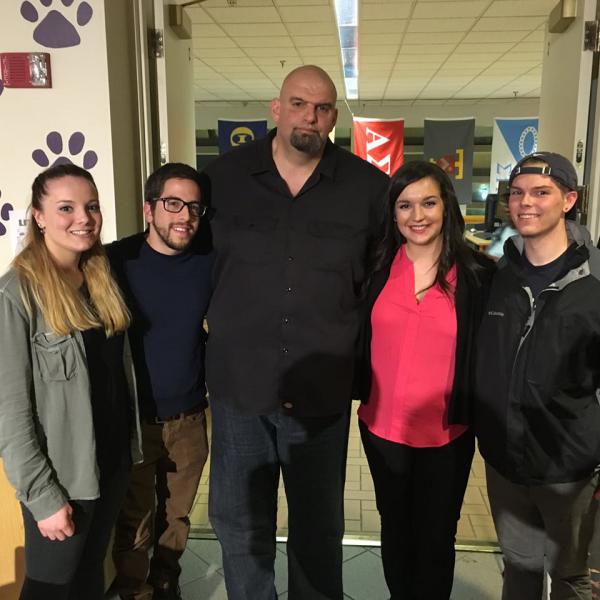 U.S. Senate candidate John Fetterman, mayor of Braddock, Pa., spoke at Penn State Behrend in March 2016. Pictured with Fetterman, center, are College Democrats Jillian Dunn, Juan Niño, Ashley Solo, and Domonic Mathews.
 
The Political Science Society, College Republicans, and College Democrats co-sponsored two days of a Congress to Campus event in September 2012 with former Congressmen Steve Kuykendall (R-CA) and Richard Stallings (D-ID). Pictured here are the two former congressmen with a group of Penn State Behrend students in the Metzgar Center.
Penn State Behrend Chancellor Donald Birx attends the April 28, 2015 Pi Sigma Alpha National Political Science Honor Society induction for Behrend's Alpha Eta Theta chapter.
Pictured (l-r) are Taylor Pokrant, Matt Lesnett, Breanna Black, Nittany Lion, Mauricio Cortes, Chancellor Birx, Vedad Tabich, Ashley Solo.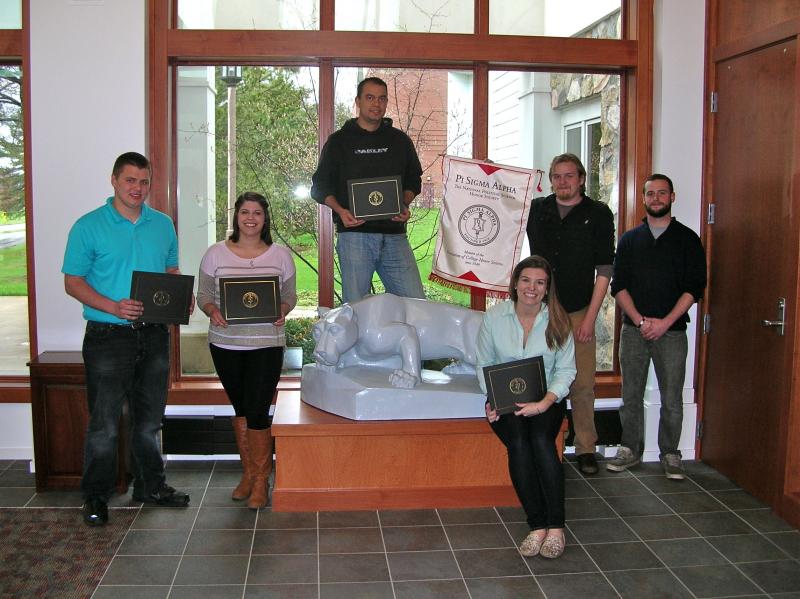 Induction of new Pi Sigma Alpha Political Science Honor Society members, April 2014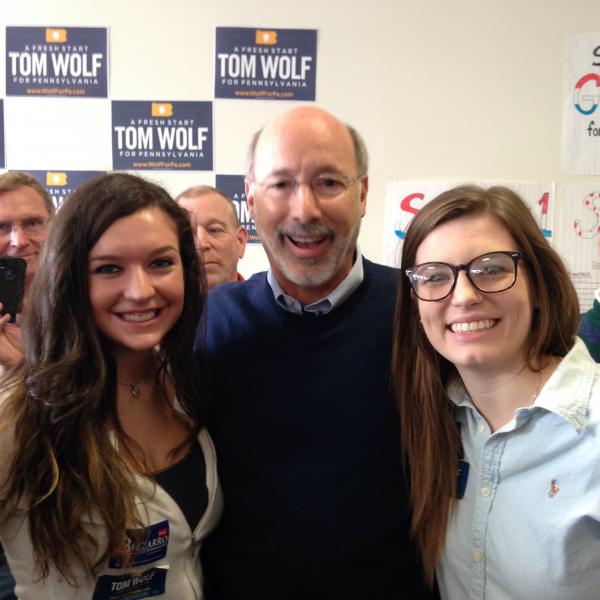 College Democrats Vice President Ashley Solo (left) and College Democrats President Lillie Gabreski (right) with Pennsylvania Governor Tom Wolf during a visit to Erie.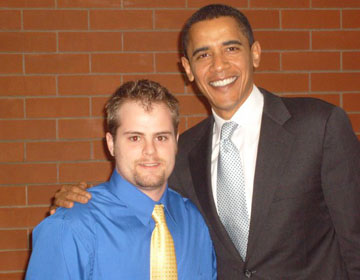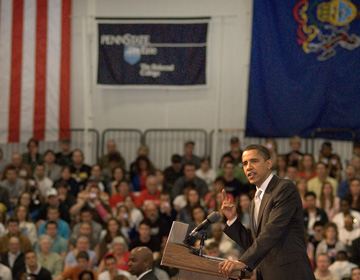 The College Democrats brought President Barack Obama and former President Bill Clinton to campus (campaigning for his wife Hillary) during the 2008 presidential campaign. Pictured above with Mr. Obama is former College Democrats president Paul Witt; below is former College Democrats member Elton Armady with Bill Clinton, and Witt with Clinton.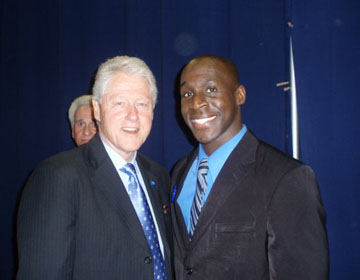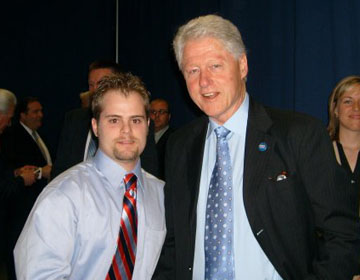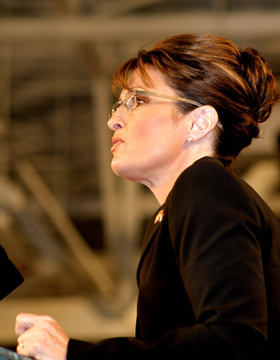 The College Republicans hosted Sarah Palin on campus during the 2008 presidential campaign.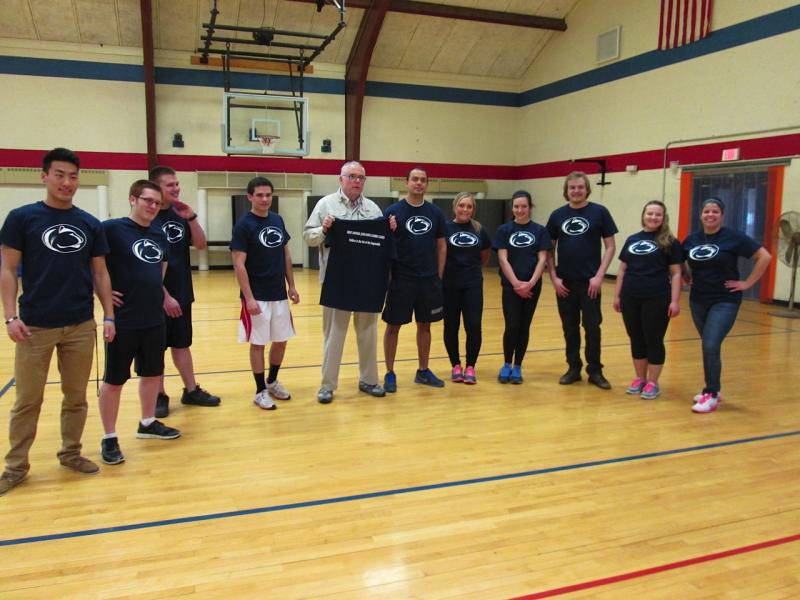 The Political Science Society, Behrend College Democrats, and Behrend College Republicans organized the first annual John King Gamble games in Erie Hall in April 2014 to celebrate Dr. Gamble receiving Penn State's Eisenhower Award for Distinguished Teaching. Photo courtesy of Mauricio Cortes.