If the workings and interactions of national and international government systems fascinate you, consider pursuing the Political Science degree.
At Penn State Behrend, Political Science majors become versed in all subfields of the discipline: American politics, comparative politics, international relations, political theory, public administration, public policy, and public law.
The B.A. in Political Science program also emphasizes the development of key intellectual skills, ingraining the habits of questioning, debating, challenging, and shaping coherent and persuasive arguments. You'll be expected to master effective writing, speaking, and reasoning skills, and conduct upper-level research in public affairs—and will be supported by your professors as you do so.
Why Penn State Behrend?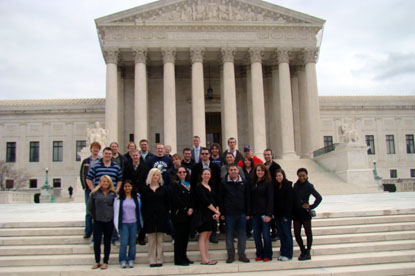 Our program emphasizes attention to the individual. We encourage—and help you to find—internships in government. We also encourage and support independent study and study abroad. Two courses popular with Political Science majors make travel convenient: Politics and Government in Washington, D.C., includes a spring break behind-the-scenes tour of the nation's capital, while North American Politics is a summer course held at Ryerson University in Toronto, Ontario, and team-taught by Behrend and Ryerson faculty.
The School of Humanities and Social Science's 14:1 average faculty to student ratio in upper-division classes means that you will enjoy mentoring relationships with your faculty. But because Behrend is a four-year and graduate college of Penn State, you'll also have access to the opportunities and resources of a preeminent global research university, including opportunities for funded undergraduate research on a topic of your choice.
Penn State Behrend has active student chapters of College Democrats and College Republicans, along with a non-partisan Behrend Political Society. In recent years, College Democrats sponsored visits to campus by Barack Obama and Bill Clinton, while college Republicans sponsored a campus visit by Sarah Palin. The Behrend Political Society sponsors local candidate forums, political discussion forums, and events to prepare students for graduate or law school.
In addition, one political science major each year is recognized with the Zachary T. Irwin Humanitarian Award. The award honors students who have contributed toward making the Penn State Behrend campus and the Erie community better places.
A Political Science degree is a natural foundation for a career in law; Behrend alumni have attended the law schools at Cornell University, University of Michigan, University of Pittsburgh, and University of Maryland, among others. If you are interested in a teaching career, the college has an agreement with Edinboro University of Pennsylvania that can fast-track your completion of Pennsylvania teacher certification in middle-level or secondary social studies.
You will tailor your Political Science degree by pursuing one* of four options within program:
Crime and Law Option: Take courses in criminology and law and prepare for law school and careers in law and criminal justice.
International Relations Option: Study international politics and comparative politics and prepare for careers with international institutions or in business in other countries, and for graduate school work in international affairs.
Politics and Government Option: Choose coursework within political science and prepare for a variety of careers, including government employment, social studies secondary education, activist politics, and graduate school in political science.
Public Policy Option: Prepare for careers with government offices, businesses, interest groups, or think tanks related to public policy, or in public administration, or for graduate degree programs in public policy or public administration. Coursework relates to how to make government and policy decisions effectively.
For a full list of approved courses for each option listed above, please stop by the HSS School office, 170 Kochel, or email your adviser.
* Students are able to complete more than one option if they wish.
Learn more about the Political Science program.
Want to help political science students grow and succeed?