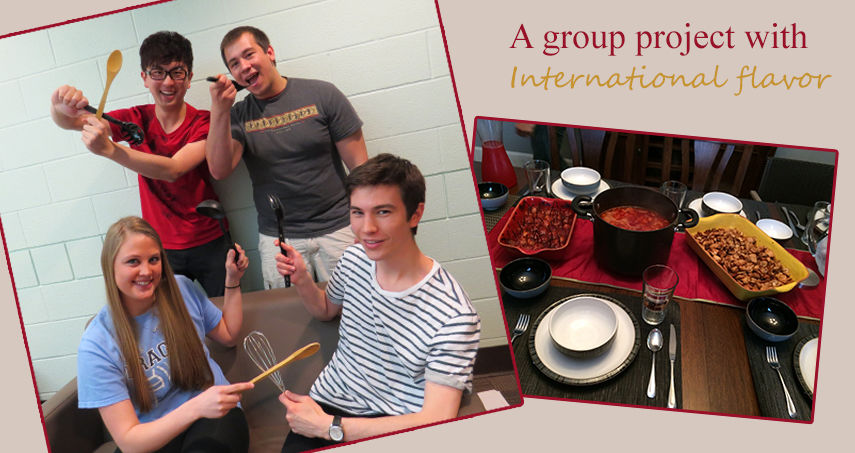 A double-digit increase in international student enrollment at Penn State Behrend and a Pennsylvania requirement that all education students learn to teach English Language Learners (ELL) led two Penn State Behrend professors to join forces and give students a unique opportunity to practice their communication skills.
"Pennsylvania requires teachers to gain experience teaching ELLs because English is not the native language for roughly 20 percent of students in grades K-12 in the state," said Dr. Mary Connerty, senior lecturer in English.
English is also not the native language for a population of international students at the Behrend that now number several hundred and continues to grow.
"We had education majors who needed to learn to teach emergent bilingual students and we had international students who needed practice speaking English, so we thought, 'Why not bring them together so they can learn from one another?" said Dr. Margaret Burke, assistant professor of elementary education.
Hands-on learning
Last fall, Connerty asked international students in her ENGL 100 English Language Analysis class to volunteer to participate in a seven-week communications project with students in Burke's C I 280 Introduction to Teaching English to English Language Learners course.
The students, who were put into groups with at least one participant from ENGL 100 in each, met weekly during the C I 280 class time. Their first task was to get to know one another through personal narratives and biographies.
But the experience delved deeper than conversation.
Thanks to a $3,000 grant from the Schreyer Honors College, Connerty and Burke were able to purchase four video cameras and tripods, which the students used to produce videos promoting acceptance and appreciation of cultural diversity.
Each group worked together, overcoming cultural and language barriers, to come up with an idea, write a script—often in at least two languages—and produce five- to seven-minute videos.
A Bite of Diversity
One group found a common denominator in something all humans need (and love)—food.
A Bite of Diversity, filmed by students Brittni Merenick, Sean Carrick, Aizat Fadhil, Arthur Wang, and Tyler Tracy, featured four student chefs making a meal together, each preparing dishes from their cultural background.
Tracy, an American, made bacon-wrapped water chestnuts for an appetizer. Carrick, an American of Russian ancestry, made borscht, a Ukrainian soup. Wang, who is from China, made the entrée—deep stir-fried chicken. Fadhil, who is from Malaysia, made caramel pudding for dessert. Merenick, an American, served as host and head film director.
"We had a blast making our video and I made some really great memories," said Merenick, "And, I loved learning new vocabulary from China, Russia, and Malaysia."
As both an international student and an English major, Wang benefitted in two ways from the project.
"It allowed me to apply some of the knowledge and skills I have learned in my classes, such as 'translanguaging' techniques, and to gain experience working collaboratively with classmates from different cultures," he said. "It also let me enhance my communication skills and articulate the information I wanted to share."
For Fadhil, a junior Mechanical Engineering major who volunteered to participate, the experience was an opportunity to expand his horizons and engage with people outside his typical social and educational circles. "This whole experience was extremely positive," he said.
His teammates agreed.
"This is one of the most valuable learning experiences I've had," said Tracy. "In other education classes, I've learned about the importance of multicultural classrooms, but actually doing it through this project really put things into perspective."
"I got to know each member of my group on a personal level and that allowed me to see myself on a personal level, too," said Carrick. "I realized that as different as our backgrounds are, we have a lot in common, too. No matter who we are, where we come from or what we plan to do, right now, we are Penn State."
Connerty and Burke were impressed with the final videos and plan to continue the project with future classes.