Remember when Billy Jenkins laughed during dinner and the milk bubbled out of his nose? Gross, right?
That wasn't really Billy's fault. At the top of his throat, in a little space above the palate, was something called the nasopharynx. It connects the nose to the throat. It's how we breathe with our mouths closed.
"It's all connected," said Lisa Mangel, lecturer in biology. "That's why taste and smell go hand in hand."
Visual cues also can influence the way we perceive taste. Our eyes send signals to the brain before we even take a bite. They tell us, for example, to avoid the brown spot on the banana.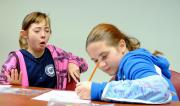 To demonstrate, Mangel divided her class – seventh-graders from rural Warren County, on campus for the 21st Century Kids program – into groups of two. Each group got a mix of Jelly Belly jellybeans: red, yellow, orange, speckled blue. Each also got a spoon. Taking turns, the students chewed, their eyes closed, their noses pinched, their partners taking notes on the taste.
"Kiwi," Dakota Hensel said. "No. Lemon. Or maybe licorice."
She let go of her nose and chewed some more. "Celery?"
"No," said her partner, Katelyn Phelps. "That was grape soda."
With your nose pinched, raspberry tastes like bubble gum. Root beer tastes like dirt. And coconut?
"That tastes like soap," Olivia Nuhfer said. "Yeah. Totally soap."
The taste test is a staple of the 21st Century Kids program, which this year included 56 students from Youngsville Elementary/Middle School. Other workshops used a Monopoly board to explain the stock market and a stack of magnets to power a stereo speaker.
The program introduces rural students to the college environment and the opportunities a college degree can provide. The workshops, which are taught by Penn State Behrend faculty members, focus on STEM fields: science, technology, engineering and mathematics.
"It's important to keep students open to those subjects," said Sonya Smith, assistant director of Youth Education Outreach at Penn State Behrend. "The math and science classes they are choosing now are an essential part of the decisions that can bring them to college."