The Yahn Planetarium at Penn State Behrend, a 55-seat astronomy theater, opens Thursday, Nov. 6, after more than a year of renovations and improvements. The facility, housed in the School of Science at Penn State Erie, The Behrend College, expands the original mission of the planetarium, a fixture in Erie since 1959.
The Erie County Historical Society closed the planetarium in 2013 to focus on other holdings. Penn State Behrend took ownership of the equipment, which complements the college's outreach programs, including the popular Open House Nights in Astronomy.
"Planetariums help students of all ages better understand the Earth and our place in the universe," said Darren Williams, professor of physics and astronomy. "A field trip to a facility like this can be the first step toward a career in science."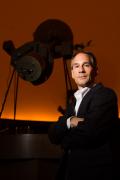 The Yahn Planetarium will offer 19 programs for general and youth audiences. The first, "Back to the Moon for Good," highlights the $30 million Google Lunar XPRIZE, a competition to land a robot on the moon. Penn State's entry, the Lunar Lion Team, is featured in the program, which is narrated by Tim Allen.
Other programs offer a close look at the planets, the telescopes astronomers use to view them and the science behind the electromagnetic spectrum – explaining, for example, why the sky is blue. Public shows begin at 1 p.m. on Thursdays and at 1 p.m. and 2:30 p.m. on Saturdays.
The second show on Saturdays -- "The Sky Above Mr. Rogers' Neighborhood" -- is tailored for a youth audience; it is recommended for ages 2 and older.
Penn State Behrend students also will have access to the planetarium, which features new theater-style seating and projectors. The planetarium's director, Jim Gavio, is working with Williams to present interactive course material on the facility's 30-foot dome.
The college continues to seek funding for facility and program enhancements and hopes to create an endowment to further support the planetarium and related astronomy programming.
For details about the public programs, or to schedule a school, scout or birthday event at the planetarium, please visit behrend.psu.edu/yahnplanetarium.