IBM has awarded $10,000 in research and teaching funding to Amit Deokar, an assistant professor in the Black School of Business at Penn State Behrend.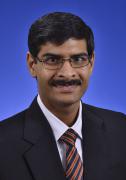 Deokar, who teaches management information systems, will use the funding to develop new courses in big data and analytics – topics that align with IBM's strategic interests.
"Data is everywhere," he said. "It comes at us from every direction, every minute of the day. The question is, how do you derive value from it?"
Analytics can track a shopper's path through a store or website. They allow online retailers, such as Amazon, to recommend products to customers even as they browse other items. Brick-and-mortar companies, including Walmart and Target, use analytics to understand shopping behavior and patterns to predict whether, and when, a customer will make a purchase.
Deokar has worked with Moosejaw, an outdoor apparel company, to analyze customer patterns from a variety of advertising media and channels. He also has used analytics to mine data from initial public offering prospectuses and to find predictive patterns in criminal activity by using public data sources.
He encourages students to participate in competitions run by Kaggle, an online community of data scientists, using analytics to address real-world problems in a range of industries, including the life sciences, financial services and retail and energy sectors.
The challenge, there and elsewhere, is to make sense of a never-ending flow of information, much of it coming in real time.
"The trick is to not drown in the math," Deokar said.
The courses he develops will incorporate elements of computer science, statistics and management information systems. But no one algorithm will answer everything. "A big part of it," he said, "is learning to ask the right questions."