New rankings by U.S. News and World Report list Penn State's online bachelor's degree programs as the best in the nation.
The 2016 Best Online Bachelor's Programs rankings assess 300 college and university online programs based on student engagement, faculty credentials, academic services and reputation. Penn State's online programs, offered through World Campus, include an undergraduate finance program taught primarily by faculty members at the Black School of Business at Penn State Erie, The Behrend College.
Penn State World Campus shares the top spot in the online rankings with Embry-Riddle Aeronautical University – Worldwide. Penn State was ranked No. 1 in 2015 and No. 3 in 2014.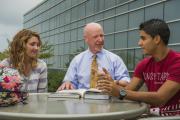 Several World Campus graduate degree programs also ranked in the top 10 for the second consecutive year. The online iMBA, which is administered at Penn State Behrend, was ranked seventh, tied with Carnegie Mellon University. The online graduate business programs, which include a project management degree taught by Penn State Behrend faculty members, also ranked seventh, tied with Auburn University.
"These top rankings reflect exceptionally well on the faculty in the Black School of Business," said Balaji Rajagopalan, director of the school. "It shows their commitment to student learning and success."
Penn State launched its World Campus in 1998 with four online programs and 41 students. Over the past 18 years, the number of online offerings has grown to more than 125 online degrees and certificates, and the number of students stands at more than 12,000 across the globe.
"Today almost every major university participates in the online education arena," said Craig Weidemann, vice president for outreach and vice provost for online education. "Penn State World Campus earned this huge honor because each day, our faculty, staff and academic leaders work hard to ensure that we are providing an outstanding and rigorous learning experience for our adult learners around the globe."