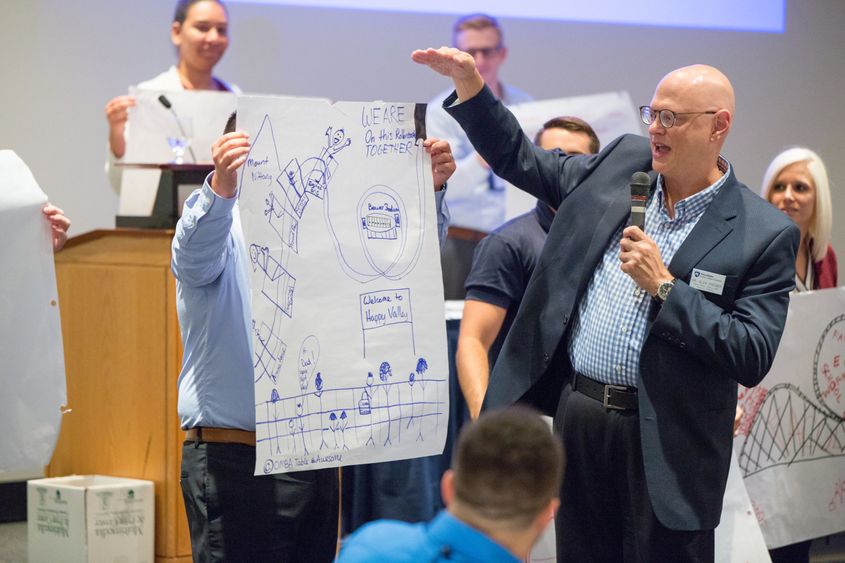 UNIVERSITY PARK, Pa. — Eighty-two students representing 25 U.S. states and eight countries came together at the Penn Stater Hotel and Conference Center last week for the Penn State Online MBA Program residency.
The redesigned Penn State Online MBA is led by the internationally ranked Smeal College of Business and offered online through Penn State World Campus. The program now offers students greater flexibility and more choices.
"Our first class in this redesigned format is larger than we anticipated," said Stacey Dorang Peeler, managing director. "With a class average of roughly seven years of work experience in various functions and industries, we are excited by the dimensions of diversity in this class. We have students in their early 20s just starting off careers, students in their 70s seeking their third or fourth career reinvention, and many, many scenarios in between.
"This program is designed to be flexible, customizable, and serve people anywhere along their career trajectory," she added.
During the five days students spent on the University Park campus, they were immersed in a team performance class with Faculty Chair Glen Kreiner, and reviewed key program components, including: a core course overview and introduction to the 10 concentrations, workshop presentations of the services available to them as students in the Smeal College of Business, as well as technical training on Canvas (Penn State's new learning management system) and video conferencing tools they will use throughout the program.
"In our new model we provide the foundational framework for students at the beginning of the program. What Smeal has brought to the program through the redesign is a comprehensive package of resources that supports online MBA students from day one, related to networking, career services, work-life balance and financial aid, as well as insight into the instructional design process. The transition to a Smeal-led program has really allowed us to provide support on so many levels, which begins with the residency experience at University Park," said Faculty Director Janet Duck.
"Throughout the week, students were able to meet some of the online MBA faculty, as well as the administrative staff who will support them throughout their academic journey as a Smeal student. I feel so good about how we have prepared the students on an academic level, and how we have connected them to Penn State. They will be well prepared to focus on their courses going forward. We have educated them, we have informed them, and we have connected them with their faculty, as well as their classmates."
As with most new ventures, many students admitted to feeling uncertainty as the week began.
"At the beginning of the program, I was apprehensive. Coming out here I thought, 'Canvas? I've only browsed around this a few times.' Even the books were a bit daunting," said 32-year-old Josh Uhlich, who works for aerospace and defense company Bisco Industries in Anaheim, California.
"Throughout the week my confidence level has gone from low to very high. It also helps that each of the other four members of my group is solid. I think together in our team class we're going to (do very well)."
One unique feature of the residency, designed to allay fears and instill confidence in students, was to conduct a session in which students were able to ask questions of World Campus instructional designers and faculty members.
"Students usually don't realize that each online class is carefully orchestrated based on a partnership between an expert faculty member and an expert instructional designer. A panel discussion with online MBA faculty, designers, and student affairs provided the logic for students on how/why courses are designed, in order to promote engagement and participation. Students even offered suggestions to the panel. It was a very dynamic, collaborative, and value-added discussion that we are certain will result in a high-quality learning environment," Duck said.
"We refer to our learning approach as ICE (integration, collaboration, and engagement). We understand that MBA students want to be engaged and involved in their learning. We are determined to model the ICE approach in the way that we design and teach in our program so that we deliver on our promise to provide an interactive and dynamic learning experience."
Uhlich, who earned his bachelor's degree from the University of California – Irvine, and completed a strategic decision and risk management program at Stanford, said part of his apprehension stemmed from unfamiliarity with communication and collaboration options with online learning. He said he learned, however, that the online communication tools were both effective and efficient.
Duck said a main goal of the week was to put students' minds at ease about technological and learning tools and enable them to concentrate on learning.
"Entering into a master's program is a big transition, as many students have been in the professional arena for 6-8 years," she said. "They begin to realize that this is a commitment, this is a dedication, this is a serious next step in their career. The newly redesigned program provides a great support network so that students are well-prepared, and continually connected to the resources available to them as Smeal students."
The early application deadline for spring 2018 enrollment is Sept. 1. Enrollment is available online.
Visit the Penn State World Campus website to learn more about the new Smeal-led Penn State Online MBA.