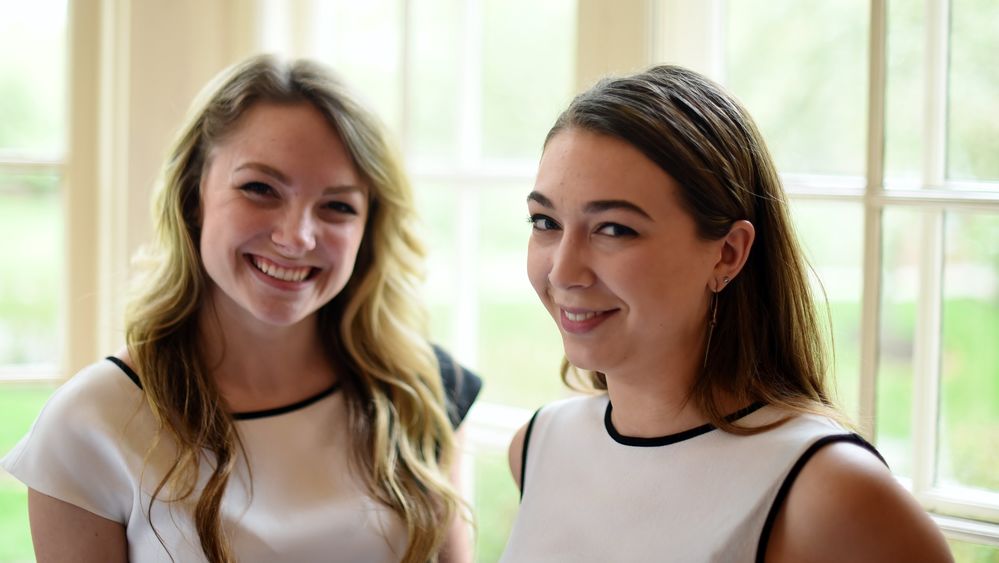 ERIE, Pa. — Pretend you're an artist. Pretend you're the Erie artist Todd Scalise, and you have this collection you call "Scalise's Pieces," with these funky, colorful, two-inch sculptures molded with animation clay. You give them names — Trevor, Seth, Lucian, Leo and Rufus — and price them at $10, or maybe $20.
How do you sell them?
Maybe you build a big vinyl backdrop, with six panels that fold out, and you haul that to Gallery Night or some other public event, and you run your own merchandise stand, like the T-shirt man at a concert. And maybe, if you know about the program, you partner with someone like Laura Flockerzi, a 2017 graduate in arts administration from Penn State Erie, The Behrend College. She's studied the business side of art — marketing, event planning, and fundraising — so she knows how to sustain a creative enterprise.
"Art sometimes has this stigma of being out of reach for a lot of people," Flockerzi said. "Todd's art is different. It's this fun, vibrant, colorful thing, and it's affordable. The pop-up display is perfect for him: At the end of the event, you collapse it, throw it into a truck and move on to the next stop."
Flockerzi coordinated the pop-up display in March, as part of her arts administration capstone project. Hers was the first of eight public art events produced by students; others included a cultural dance program, a cabaret-style concert and an exhibition of Erie tattoo art.
Alexis Englert curated an exhibition of artists from Kittanning, her hometown. Nicole Krahe organized "The Art of Gathering," a networking reception for Erie artists and art organizations. Representatives of the Erie Philharmonic, the Erie Art Museum, MenajErie Studios and Erie Arts and Culture attended.
"Our students gain practical experience when they organize their own events, but they also become active contributors to the community's arts and cultural sector," said Matthew Levy, assistant professor of art history and arts administration. "The capstones have become a wonderful way for Behrend to enrich Erie's already vibrant arts scene. Thanks to these projects, artists have gained new exhibition opportunities and performers have found new audiences."
Community engagement is a core component of the Arts Administration Program, which launched in 2012. In addition to the capstone requirement, students must complete an internship with an off-campus arts organization. The Erie Art Museum, Erie Philharmonic and Chautauqua Institution have partnered with students, as has the English Theatre of Rome and Situation Interactive, a New York marketing firm that boasts Broadway clients.
Students in the program's strategic planning course partner with local arts organizations to draft strategic plans. They've worked with the Erie Contemporary Ballet Theatre and the Young People's Chorus of Erie.
Abagail Johnston interned at the Smithsonian American Art Museum. She researched guest speakers and prepared parking maps and other materials for events, including "America Now! Innovation in Art," a partnership with the National Portrait Gallery and the National Museum of American History. More than 1,000 people viewed the exhibit.
Johnston also completed two capstone projects: an ethnic dance program, with instruction in salsa, rumba and South African dance steps; and an international crafting demonstration, which featured artists from Korea, India, Iraq and Ukraine.
"The idea was to bring art to a place where people who might not normally attend an art event would see and interact with it," she said. She chose the Adventure Center at the Erie Zoo.
The day of the program, as the artists set up their tables, Johnston learned the zoo had double-booked the room. She had to work out a solution with the other presenter, who had planned to talk about small animals.
"That kind of thing happens," Johnston said, "and that's where a background in arts administration really helps. You have those softer skills – communicating, writing and paying attention to the details, all the way down to the temperature of the room.
"You can sit in a class and theorize, or write a ten-step plan for how to pull off an event," she said, "but when you actually have to do it, and you have to solve all the little problems that come up, that's when you really learn what you can do."
Contact
Robb Frederick
Assistant director, news and information, Penn State Behrend