Jack Stone's 'Digital Abstracts' on display through Sept. 8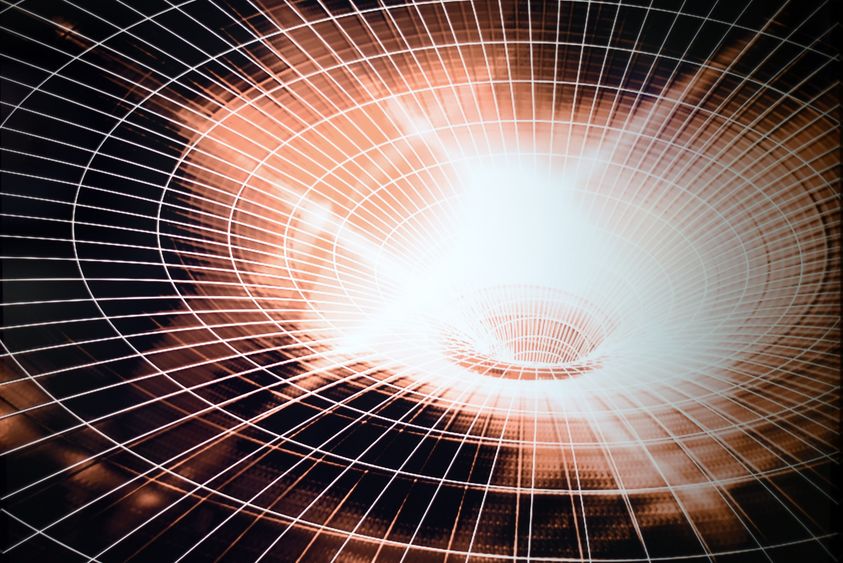 ERIE, Pa. -- Jack Stone knows the power of a good corporate logo. He built a 43-year career in advertising and marketing, using letterforms and graphic design to simplify his clients' visual presence.
"Simple is always better," he says.
His latest work, on display through Sept. 8 at the Lilley Library Gallery at Penn State Erie, The Behrend College, scrambles those well-ordered visuals, jumbling them like papers stuffed back into a dropped briefcase. It's digital deconstruction – stretching, bending and reassembling a commercial image.
"I take elements of these realistic images I used in client work, and I break them apart," Stone says. "I fracture them, defragment them. I essentially blow them up and reassemble them into something completely different."
He works digitally, using Photoshop, Illustrator and other 3D plug-ins. He layers the images, adding 30 or even 50 different iterations, to achieve the effect.
"I often start with a grid of letters, or sometimes alphabet symbols," Stone, a member of the Northwestern Pennsylvania Artist Association, says. For "Xtraneous," which he printed on canvas, he began with a thick black capital X. Its angles provide an underlying structure for the piece.
The work is abstract, and Stone has no interest in providing a road map.
"I don't like to go back and translate the experience for people," he says. "My hope is that they find a certain curiosity about a piece, something they like, and take their own meaning from it."
That openness can draw a viewer in, says Heather Cole, lecturer in digital arts, who curated the show with support from the Patricia S. Yahn Student Art Show Program Support Fund and the college's Arts Administration and Digital Media, Arts and Technology programs.
"With figurative art, you see the image, the form that's before you, and you respond to that," Cole says. "With abstract art, it's easier to let your mind wander. You interact with it in a more personal way."
Cole, a photographer, is particularly drawn to Stone's choice of backing material: Much of his art is printed on aluminum, or on a silver-metallic substrate.
"The aluminum substrate really makes the images come to life," says Stone, who got the idea from experiences with a former client -- a company that manufactured and retrofitted sidewall panels and curtain screens for commercial airliners. "It's high-gloss and durable, and it's a better representation of what I see on the monitor, to a level that's almost impossible to replicate on a print."
"Jack Stone: Digital Abstracts" will be on display at the Lilley Library Gallery through Sept. 8. The gallery is open from 8 a.m. to 8 p.m. Mondays through Thursdays; 8 a.m. to 3 p.m. Saturdays; and 11 a.m. to 3 p.m. Sundays. For more information, call 814-898-6106.
Contact
Robb Frederick
Assistant director, news and information, Penn State Behrend