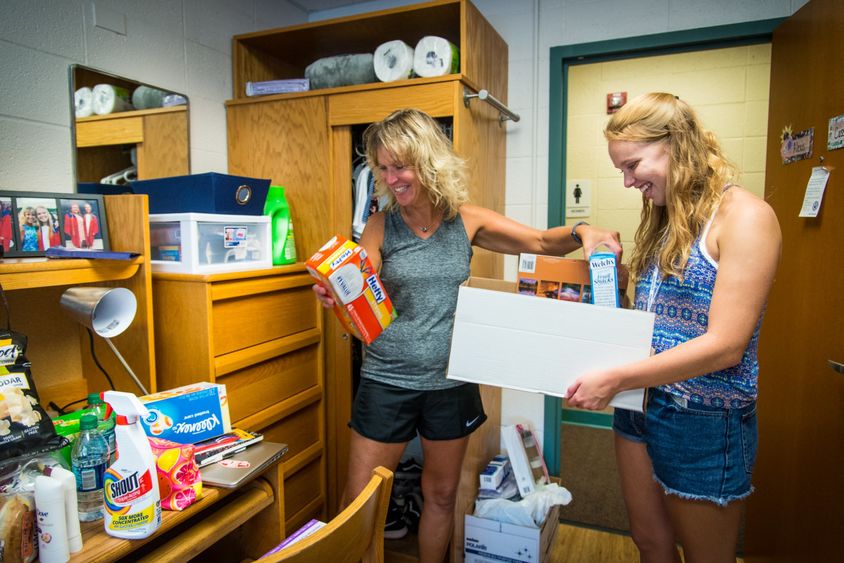 ERIE, Pa. — Marina Novotnak chose the bed on the left. When her family takes vacation cruises — this year they went to Cuba — she bunks with her grandmother, who likes to sleep on the right.
"It's what I'm used to," she said, smoothing the bed, which was topped with two blue-and-white accent pillows and a Nittany Lion plush toy.
She could say the same for Penn State. Novotnak is a third-generation Penn Stater. She plans a dual major in electrical engineering and plastics engineering technology.
"All her life, it's been Penn State," said her grandmother, who was sitting — you guessed it — on the opposite bed, which had not yet been claimed by a roommate. "She's known she was coming here since elementary school."
Now it's real: Novotnak is one of nearly 1,200 new students at Penn State Erie, The Behrend College. The first arrived Thursday, carrying hampers and soccer cleats and string lights and computer monitors.
Callie Schafer brought a quilt stitched from her Shaler Area High School T-shirts. Alec Stroup brought a baritone horn. He hopes to perform with the college's concert band.
Liam Watterson carried swim gear. Like his sister, Anna, a senior at the college, he'll spend much of his time in the Junker Center pool. His roommate, Alexander Croll, also is on the swim team. He's from Hawaii.
"It's nice to have something in common, something you can talk about," Watterson said.
Down the hall, Conrad Sheatler pulled the protective wrap off a brand-new 32-inch television. His bed was made, and his books were in place.
"I've been thinking about this all summer," he said. "I'm ready. Now it's time to buckle down and do it."
Contact
Robb Frederick
Assistant director, news and information, Penn State Behrend