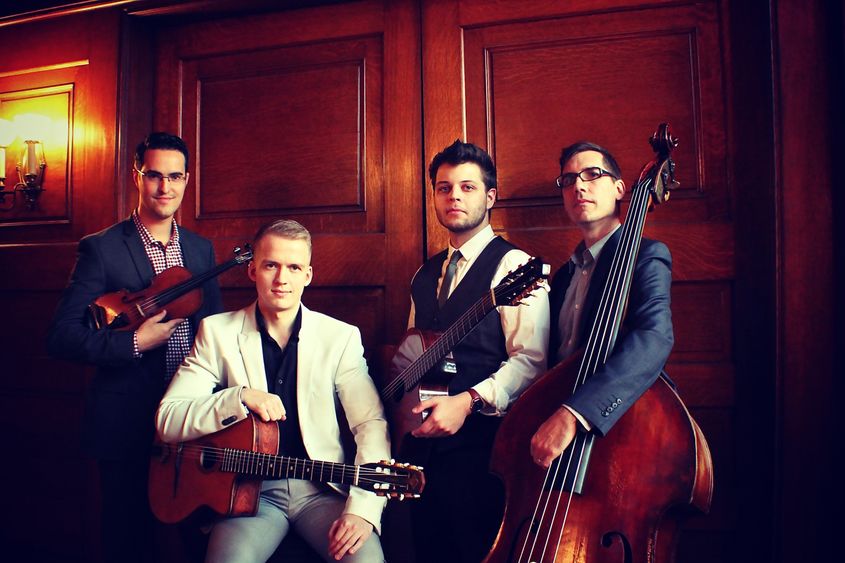 The dance band at the Hotel Claridge in Paris was never its best on stage. Between sets, however, in the small room where the musicians tuned, the group made jazz history.
In that space, the musicians played for themselves. They would trade choruses and then springboard into full improvisation, led forward by the guitarist, Django Reinhardt, a Gypsy who had lost the use of two fingers in a chemical fire.
The music – a four-beat rhythm with a swinging violin line – soon drew an audience of American expats, jazz fans who were looking to move beyond Armstrong and Ellington. This was different: The brass, reeds and drums were missing.
Reinhardt told his bandmates to "play hot." That gave the band both its name, Quintette du Hot Club de France, and its lasting influence. Several contemporary groups, including the Rhythm Future Quartet, which will perform at Penn State Behrend on April 12, are built on the Hot Club model.
"The first thing I listen for and try to emulate is their feel," Jason Anick, the violinist in Rhythm Future Quartet, said of his influences, which include Hot Club's Stéphane Grappelli. "Then I study their harmony and try to understand what sounds good over the chord changes, and why. With each solo," he told Mandolin Café, "I increase my musical toolbox and continue to form my own musical voice."
The music of Rhythm Future Quartet is high-wire call-and-response: Anick and his bandmates – guitarists Olli Soikkeli and Max O'Rourke and bassist Greg Loughman – trade licks, skipping through flamenco, Latin and Balkan rhythms. Every song they take on, including John Lennon's "Come Together," twists into something different.
"When we're improvising, I try not to think too much," Anick told Mandolin Café. "I let my inner inspiration and musical ear take over, in hopes of constructing a cohesive musical statement. There are moments when you surprise yourself, and that makes it all worthwhile."
Rhythm Future Quartet will perform at noon on April 12 in Bruno's Café, in the Reed Union Building at Penn State Behrend. The concert, which is free and open to the public, is part of the Rhythms of Life Series, an outreach program of the college's Office of Educational Equity and Diversity Programs. The series is designed to introduce students and others in the Penn State Behrend community to a broad range of world influences and traditions in music, dance and storytelling. For more information, call 814-898-7101 or visit www.behrend.psu.edu/RhythmsofLife.
Contact
Robb Frederick
Assistant director, news and information, Penn State Behrend