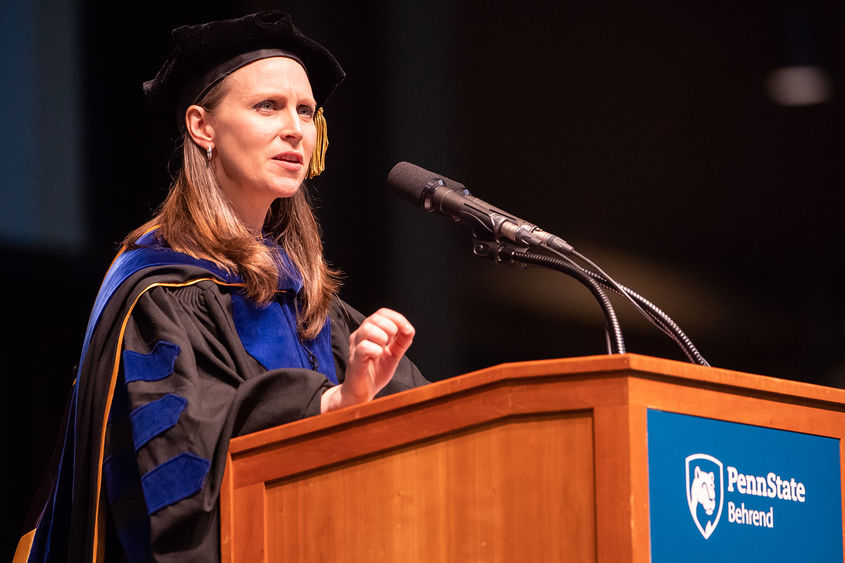 ERIE, Pa. — Alicyn M. Rhoades, an assistant professor in the Penn State Behrend School of Engineering, gave the faculty address at the college's spring commencement ceremony, held Friday, May 4, at Erie Insurance Arena.
Rhoades' research interests lie in the microscale study of how polymers crystallize under the extreme thermal and flow conditions that occur during plastics manufacturing, work that is supported by both SKF Inc. and General Motors. Additionally, she leads research efforts in 3-D printing and polymer composites and teaches upper-level courses in thermoplastic composites and plastic failure analysis.
In 2017, Rhoades was honored by the National Science Foundation with a CAREER Award, the organization's most prestigious recognition of early-career faculty who have the potential to serve as role models in research and education.
The title of her address was "Zoom In, Zoom Out."
The full text of Rhoades' address can be found below.
---
To the chancellor and the leadership of Penn State Behrend, I thank you for the chance to address the graduating class of 2018.
Hello class! Let me ask you something. Why are you here?
Of course, you know. Because you are graduating from college.
But, why are you graduating from college? Because you worked hard? Because you stuck it out? Because you had to? Because you want to be successful? Only you can answer that question.
And that is life. Questions. And answers. You have spent the past four years answering all of the questions that were given to you. Easy, tricky, written and oral, you have now answered questions by the thousands. And if your GPA was any concern, you learned to answer very specifically, fine tuning for instructor, course and content.
You have mastered the Behrend environment and learning experience! But now, guess what? For the first time, your focus is not on our little world of academia, but the global world you are entering. And that global world? Be careful. It wants to tell you all the "right" questions and the "right" answers.
But your job is to discern which questions matter to you, and then to answer them well. My engineering work takes place at the microscopic level, in order to control plastics at the macroscopic level. I make a lot of observations to build conclusions.
Right now, I am going to walk you through a sort of scientific method based on observation in three areas of life, hoping you take away some cool tools you can use, not to acquiesce to culture but to help frame your life, values and goals.
First, I'd like to highlight the importance of perspective as we develop these tools. Perhaps you have experienced that strange feeling where, after studying your notebooks for hours, you look up to realize that your eyes cannot focus on anything far away. I usually feel a strange mix of "Wow, I need to get out of here" and "Wow, I am impressed with myself for working so hard." But I need to stop and see the world around me again to regain clear vision.
After an intense academic career, it's time for you to also pause, look up and see the world again. Tonight, I ask you to zoom in and zoom out as we gain perspective about sight, time and success.
First, let's zoom in on sight. Hold out your hand and focus in on the smallest groove in your fingerprint, the tiniest feature.
The polymer crystals I study are ten times tinier than this. Invisible to the human eye, these crystals work cooperatively, like Lego bricks in a castle, or stanzas in a poem, to make the plastics that we see when we zoom out.
So let's zoom way out of sight. Think back to a time, maybe a dark summer night, beside a campfire. You glance up to see two stars. The distance between the stars is 30 trillion miles! Talk about perspective! We are such a tiny spot in this big universe. Almost every day I glimpse, explore and engineer a world that is undetectable to the human eye … but that doesn't mean it's not there. How limited is life if you only focus on that which is easy to see! And this is your first tool: The willingness to examine a situation across many levels.
Now let's zoom in on time. For example, the crystals I study go from disarray to ordered crystal in 0.91 seconds! It's amazing to me! In the same sense, in a very short while you will be walking across the stage, and in the span of a heartbeat, you will have graduated. An important moment, indeed, for you and for the parents out there. Great job, parents and supporters!
However, sometimes we need to take the long view and zoom out with respect to time. Perhaps you spent four years or more at Behrend, and you see the evidence of time when you consider the changes in yourself since then. Zoom out a bit more and consider your dramatic change since you first learned to read!
Yet here we are in this moment. So what? Tool number two: Apply perspective to yourself in time. Define where you've come from, your responsibility in the moment, and your hope in the future.
And now, let's zoom in on success. By and large, our culture has already zoomed in to promote a narrow definition of success that has three overpowering components: Money. Beauty. Status. Now that you have a college degree, you are ready to begin the race to the top, securing as much money, beauty and status as possible!
Does this worry you? Making money, seeking beauty and achieving status are, in themselves, good things. However, our society gives them far too much credence. With a narrow view of success, we can be driven by the anxiety to out-perform others and ourselves every day, and there is no room for failure or forgiveness.
I suggest we zoom out and consider a personalized view of success.
I've come to learn that success looks different than we might expect. Your self-worth is not defined by the world's opinions or definitions. I've learned this firsthand: I certainly am unusual in most circles. I am a female plastics engineering professor, eyeball-deep in science. I am a Christian by faith, a defining factor for my life, and finally, my husband Dave and I have six kids. Six!
Four of them are here tonight, watching and listening to their mom exhort this group of students, some of whom she has spent four years trying to teach and mentor! Hi Ayla, Judah, Ben and Eli!
Most of the world thinks six kids is four kids too many, and they are not afraid to tell me so. But our kids are part of our calling, and I'm so thankful we have found people who love and mentor us in this journey.
As you leave this place, keep a broad view, and look for people who will support and challenge you like this. People without frenzy, and without hatred; those who have contentment and joy; consistent people who don't shift with the wind.
These people will be present in your future, but you may have to seek them out against the roar of our culture. Find these people. Through friendship, mentorship and professional relationships I challenge you to let down your guard and learn from them. The word "courage" takes its root from the Latin word cor, which means "to tell the story of who you are with your whole heart." Are you courageous enough to do that? To let others see the real you?
C.S. Lewis, a 20th century British theologian who had a real knack for describing human behaviors, coined a definition of humility that I repeat to myself on a regular basis: "Humility is not thinking less of yourself, but thinking of yourself less." Being open, sharing life with those around you, takes courage and humility. Regardless of your intelligence or profession, you will need these connections to thrive.
And now, maybe for the last time, let me ask you to reflect on us, your old college professors.
When I was a stressed-out student, one professor would periodically send a short email that only read: T T T Things Take Time!
We asked you to work until you mastered your subjects — and mastery takes time. We asked you to work in teams with strangers when you wanted to work with friends. Now you know. Learning to respect and helping others to shine … this takes time. This was our goal — to teach you to shine.
If I had a time machine, I would zoom forward to the day when we get to say "I knew him when he was a student" or "I taught her back in 2018!" This graduating crowd, what an exciting gang you are! Zooming in, way ahead: He will be a senator, and she's an automotive designer, here's a nurse, an author, and this man a proud father, and she is someone's best friend, a mentor to many.
Your paths are about to explode like fireworks! Never again contained here but all the more impactful. Through the years, we will be watching and noting, proudly, that the Class of 2018 is making a difference out there, and that we knew you when you were students.
By now you realize that your time at Behrend, with us, was not simply about this celebration of finishing your degree. Cervantes once said, "The journey is better than the end." But here we are, celebrating an ending. Zoom out, take courage. A new journey is just beginning. Congratulations on such an impressive start!