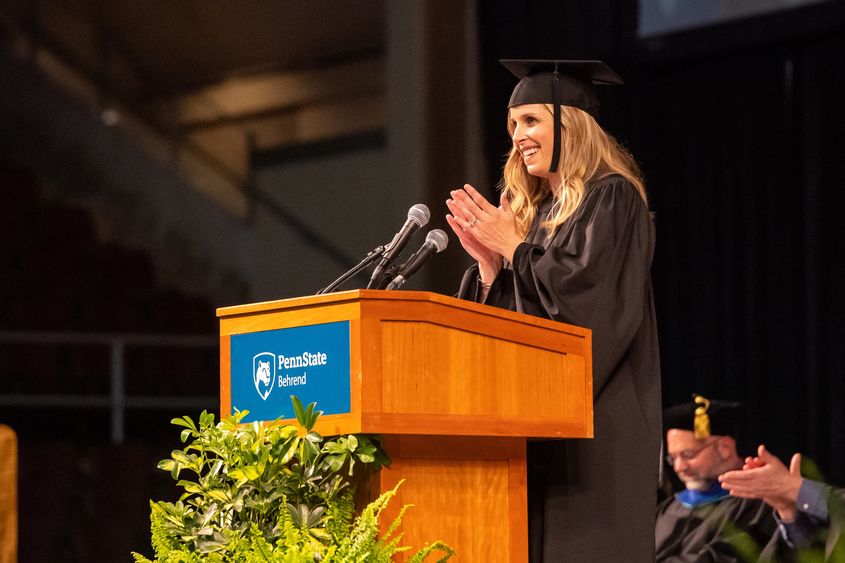 ERIE, Pa. — Penn State Behrend alumna Mary (Good) Lawrence gave the commencement address at the college's 2019 spring commencement ceremony, held Friday, May 3, at Erie Insurance Arena. The college awarded 713 degrees during the program.
As one of 30 NASA flight directors, Lawrence manages operations for all human spaceflight programs, including the International Space Station. She oversees flight controllers, research and engineering experts, and support personnel.
Lawrence began her career at NASA as a member of the flight-control team operating the ISS command and data-handling system. In 2012, she became the communications RF onboard networks utilization specialist, with responsibility for all operational, technical and personnel aspects of ISS command and flight controller operations.
Lawrence earned a bachelor of science degree in mechanical engineering at Penn State Behrend in 2001. She and her husband, Andrew, live in League City, Texas, with their two children.
The full text of Lawrence's address, titled "Godspeed, John Glenn," can be found below:
Thank you very much for the warm welcome. Graduates, esteemed faculty and staff, parents, relatives, friends, alumni, my mom, and to everyone else here tonight wishing this ceremony were shorter: Good evening! And congratulations to the Penn State Behrend class of 2019!
Believe me when I tell you, you should save your college notes from your toughest classes. Your future self will be very impressed by what you know today, or a least had good intentions of knowing at some point.
More importantly, congratulations to your parents and families. You've made it! My husband and I are only six years into our parental journey, but I already know that turning a tiny human into a productive (well, almost … potentially) productive member of society is no small feat.
I want to thank Chancellor Ford for inviting me here today. I was very humbled and honored by the invitation, but had I realized at the time that my face would be on this Jumbotron and I'd be standing in front of so many people, I may have reconsidered my answer. Five weeks ago, I was sitting in Mission Control in Houston, Texas, managing the risky operation of sending two astronauts outside the safety of the International Space Station in two tiny spacecraft we call Extravehicular Activity Mobility Units (or space suits). And I was so much less nervous than I am right now!
So I've been given the task of offering you advice with the expectation that it will be laced with a dose of inspiration. If this falls through, there are so many really great commencement speeches on YouTube. (For example, I highly recommend Admiral McRaven's speech at the University of Texas). But since I am your only option at this point, I will take a stab at sharing with you my story, some of my personal experiences, what I've learned along the way, and the values that have molded my life and career to this point.
Through what I consider a series of fortunate events, I am able to tell you today that I hold the title that describes my dream job. But what I also need to confess to you today, is that I am not who I dreamt of being.
I have the privilege of serving this country as a civil servant in an organization deeply rooted in history. There have been Hollywood movies made, in which the characters are based on real-life individuals who built the guiding principles (called the Foundations of Flight Operations) that even today in Mission Control we strive to adhere to. In fact, when I was in high school, it was the movie "Apollo 13" that inspired me to want to work at NASA. In this movie, Ed Harris plays Gene Kranz, a hard-nosed, larger-than-life flight director who inspires a team of engineers to devise a strategy to return Apollo 13 and its crew safely back to Earth after their spacecraft suffers massive damage, overcoming a seemly impossible technical feat. I wanted to be him.
And so began my journey. And I found myself at Penn State Behrend. I came from a Penn State family, and I never really considered going anywhere else. My intention was to stay for two years and head to University Park to finish my degree. This changed not long after I arrived, when I realized that Behrend had so much to offer. I forged friendships and relationships that continue to this day. I was able to play on the volleyball team for four years, with the opportunity to learn lessons of teamwork and leadership, and I was able to get a mechanical engineering degree. And although school had been pretty easy for me up to this point, I met my match in Dr. K's dynamics engineering class. It was my toughest semester in my school career, and it also happened to be the semester that I met the love of my life, my future husband.
With that distraction and the fact that I hadn't yet fully committed myself to my studies, it should not have been a surprise that I failed Dr. K's class that semester. It was the first time I had ever failed a class in my life. Not exactly future NASA material, and certainly not in line with the motto credited to Gene Kranz: 'Failure is not an option.'
Although I beat myself up about that moment and I'm still even slightly embarrassed to admit it to you — especially with Chancellor Ford sitting behind me (He was head of the engineering department when I was at Behrend, mind you) — it remains one of the most important things that happened to me during my college career.
I learned that I was going to have to work for what I wanted. I mentioned before that in my current organization we strive to adhere to a set of core values, guiding principles called the Foundations of Flight Operations. I didn't know it at the time, but I had just learned the third of these three principles:
To recognize that the greatest error is not to have tried and failed, but that in the trying we do not give it our best effort.
Failing that class caused me to have to stay an additional semester, which I did with a renewed determination and sense of commitment to my chosen major. Also that semester, I watched the world change on Sept. 11, 2001. With a little more maturity and awareness, I graduated with my GPA intact in December of that same year.
Then, with a sprinkle of good fortune, I started my career as a flight controller at NASA early the next year. During the first years of being there, I witnessed the Shuttle Columbia accident. And the second Foundation of Flight Operations rule became real:
To always be aware that suddenly and unexpectedly we may find ourselves in a role where our performance has ultimate consequences.
But the mission continued, and my values and personal experience continued to grow as well. It became more about the people and the team. And I solidified the understanding of the first principal of the Foundations of Flight Operations:
To instill the qualities essential to professional excellence – Discipline, Competence, Confidence, Responsibility, Toughness, Teamwork, and Vigilance.
I worked very hard. I supported in many different roles and moved up in the ranks. I was married. My world changed again on a Sept. 11, this time in 2012, when I became a mother for the first time.
Through all of this, I had accumulated enough life and career experience to apply to be a NASA flight director. But for years I passed on applying. And then, in 2015, only after the job posting was extended an extra week, and in the 11th hour of that job posting closing, I hit "send" on my resume. I had lots of excuses for why I had hesitated for so long, but the truth of it was … I was scared. And even more terrifying than applying, they actually selected me. I was scared because I knew that despite everything I'd learned thus far, I hadn't yet become that hard-nosed, larger-than-life character that I dreamt of becoming back in high school — that I wasn't ready, and I wasn't worthy.
So I embarked on a journey of self-discovery, in which I learned you are never ready, the journey is never over, and you never "arrive." I'll never be the flight director that I dreamt of being back in high school. The point is that you learn to enjoy the journey, you embrace the fear, you turn it into a drive to build your own set of skills and experience, you rely on the values you've collected, and you keep reaching.
My personal journey continues to be full of moments of self-doubt and fear, but also the most invigorating set of challenges and personal growth opportunities of my career.
So I challenge you, as you now embark on your own personal journey, to be deliberate in defining the set of values that will shape who you will become. This degree and the goals you have today are not yet unique, and you have work to do. That work is the discovery of your strengths, your weaknesses, and the set of life experiences that will accumulate into your own personal journey that starts today.
On Feb. 20, 1962, the famous NASA astronaut John Glenn launched from Cape Canaveral, Florida, in the Mercury capsule named Friendship 7, sealing his fate as an American hero and the first American to orbit the Earth. Upon launch, astronaut Scott Carpenter famously said, "Godspeed, John Glenn." "Godspeed" is an expression we use to send someone on their way in what we hope will be a prosperous journey. And so, in true NASA tradition, I say to you, class of 2019, as you start on your own journey, good luck, and Godspeed.
Contact
Robb Frederick
Assistant director, news and information, Penn State Behrend