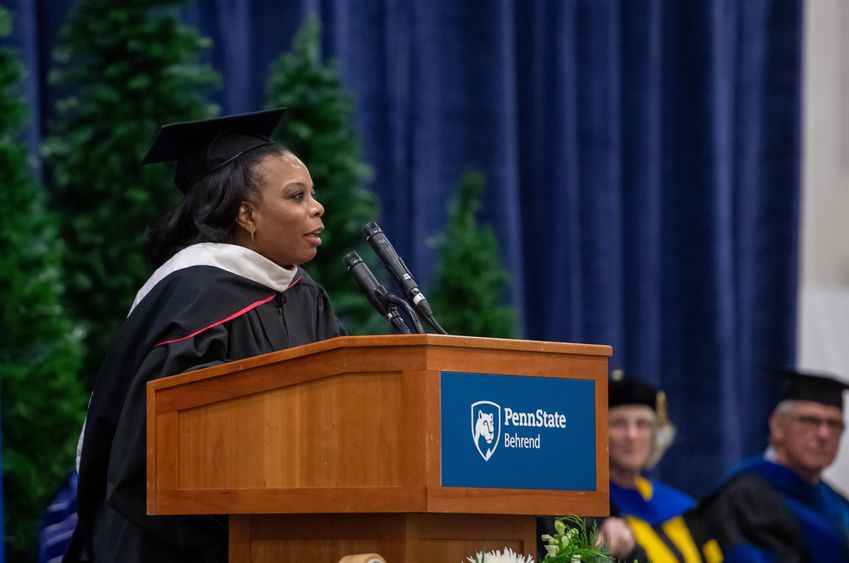 ERIE, Pa. — Penn State Behrend alumna Tesha Nesbit Arrington gave the commencement address at the college's fall commencement, held Friday, Dec. 20, in the Junker Center. The college awarded 270 degrees at the ceremony.
Arrington is the director of diversity and inclusion and community outreach at Erie Insurance, a Fortune 500 regional property and casualty insurer headquartered in Erie. She leads diversity and inclusion efforts for the company in 12 states and Washington, D.C., and is guiding a strategic plan aimed at increasing growth in multicultural markets.
Arrington earned a bachelor's degree in communication at Penn State Behrend. She later received a master's degree from LaRoche College and completed doctoral coursework at Nova Southeastern University. She is a director of the Penn State Behrend Council of Fellows.
The full text of Arrington's address, titled "Begin with the End in Mind (and Then Begin Again)," can be found below:
Good Evening. Such an irony that I'm standing here before you today as you are celebrating the culmination of your academic career here at Penn State Behrend. Thirty years ago this month I was on I-79, my mom driving me to see the campus of my first-choice university. As you might imagine, the weather was decisively "winter on the lake" — high winds and low visibility making up what I would later learn was a typical "lake effect" storm. With very little hesitation, my mother turned the car around, and we promptly headed back home to Beaver County. Summer — it turned out — was a much better time for a visit.
There are three writers whom I have a deep and abiding respect for. Their love for and skill with language reflects the deep contemplations they wrestled with from life experiences. Life experiences that often were not linear. David Foster Wallace, James Baldwin and Toni Morrison were extraordinary scholars and remarkable writers. They are no longer with us, but their words continue to resonate in so many ways. And I want to share a little of their advice with you as you are embarking on the next version of your story, degree in hand. The ways that you are going to begin with the end in mind, then begin again. And as I share with you their words, I will couple that with my hopes and intentions for you on the next chapter.
You remember one of the questions people always ask of you, often in two parts: "What are you majoring in, and what do you plan to do with that?" Perhaps when you enrolled, you had a clear vision of what you wanted to do upon graduation. "I'm going to be a …" — and you filled in the blank. Perhaps you had an idea but not a vision. "I know I want to work with children, in politics, in science, etc."
We begin college with the end in mind. We begin with a plan for what we believe we want to do when we graduate. That other side of four years. But what happens in the middle just might change all of that.
David Foster Wallace said, "The truth will set you free. But not until it is done with you." What if the question instead of "What will you do?" was "What are you passionate about? What makes you want to get out of bed in the morning?" What if we stood in the truth of what sets our soul on fire and then use our newly minted gifts, talents and skills to do that?
I believed I was going to be a lawyer, so that's what I told everyone. As an engaged and active student here, I embraced every opportunity to interact with new students and families, to lend my perspective to policies affecting the student population, and to reconcile my assumptions with facts. And consequently, a few years into it, I realized, no, I don't want to be a lawyer. I want to develop talent in organizations and make it possible for everyone, regardless of their unique identities, to make real contributions. So, then I had to begin again. What would be next with this new truth I had discovered?
Now, all was not lost. And I say this for the parents and families in the room who have probably had a few similar conversations like this when "plans" changed! No, all was not lost. I had this strong foundation from my studies in humanities and social sciences: a multidisciplinary curriculum that more than prepared me for these more clearly recognized intentions. It prepared me for work experience as a young professional and graduate school. To understand how to think critically and globally were lessons that have informed much of what I do professionally and certainly how I live personally.
James Baldwin said, "The world is before you and you need not take it, or leave it, as it was when you came in." Asserting my independence in a nurturing, academic undergraduate environment made a lasting impression on how I viewed — and continue to view — the world. Always with an eye to how can I make it even better. Over 20 years later, it has been my humbling privilege to be a thought leader and practitioner in diversity and inclusion in my industry and community. Not always an easy vocation, but undeniably a rewarding one. How now will you embrace what lies ahead of you and make your mark on the world, or at least your corner of it?
Know this — your first job will not be your last. Your last job is your next reference. Your brand is what people say about you when you're not in the room. You do have a superpower — you just have to figure out what it is. You are the author of your story, so you can trust the next chapter.
Toni Morrison reminded us, "You are your best thing." No one is going to do you better than you. Believe in your core that happiness, determination and achievement begin and end with you and how you respond to everything. I can assure you that belief will be shaped and tested by many life stages again and again. What you lead with is what you will leave with.
Now, here we are in this season of goodwill and reflection, the new year dawning. The classic, seasonal example of beginnings and endings. What I love about New Year's is the turn of the calendar — 1/1. The opportunity to reflect on how this year ended and how I'd like the new one to begin.
Certainly, you, too, are pondering these same opportunities. The chance to reset. The chance to begin anew. So, for my brave and eager graduates in the room, here's to beginning with the end in mind:
The end of 8 a.m./7 p.m. classes
The end of all-nighters
The end of two-week holiday breaks (for a little while), and
The beginning of standing in your truth
The beginning of making this world even better than you found it
The beginning of being the next best version of you
Make your commencement your commitment to changing and challenging the world around you. We need you. And may courage always be your North Star as you begin — again and again. Congratulations!
Contact
Robb Frederick
Assistant director, news and information, Penn State Behrend