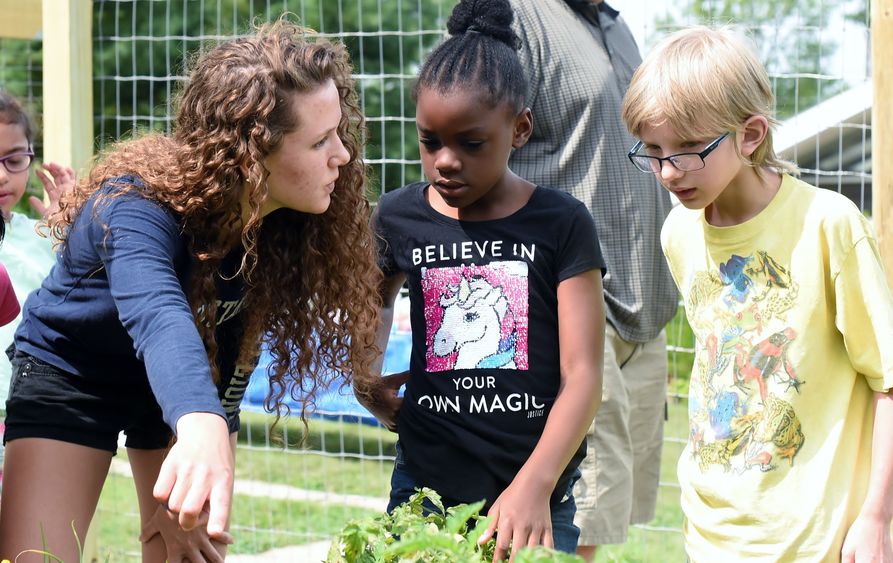 ERIE, Pa. — Katie Chriest wants to pinch herself when she thinks of the opportunities that lie ahead in the realm of food systems sustainability.
"I'm just so excited. If someone said, 'What would be your perfect job,' this would be it," Chriest said. "With this aspect of sustainability, there's a real understanding of the possibility of ending food insecurity and fighting poverty, and that's something that Penn State believes in."
Chriest recently joined the University as sustainable food systems program coordinator for Commonwealth Campuses. The position expands the Sustainable Food Systems Program that launched at University Park three years ago and served as the impetus for the University's student farm.
The expansion has been partially funded by one of 12 seed grants awarded this past December across Penn State to pilot programs that support the University's 2016-2020 strategic plan. Additional funding has come from a PepsiCo Challenge Mini Grant designed to expand community engagement efforts through Penn State's Sustainable Communities Collaborative.
With the expansion, Penn State Behrend and Penn State Beaver will now have increased access to sustainable food systems education, outreach activities and programming that has proven successful at the University Park campus.
"We've really been tasked with making a positive impact on our communities," said Chriest, who received a certificate in sustainable food and farming from the University of Massachusetts Amherst earlier this year. "Whatever we do here, we want to make it appealing and replicable, so others can do the same."
Behrend was chosen for the expansion because of its food systems programs already in place at the college. Among them is the student garden, started by the Greener Behrend student organization in 2016. The college's Housing and Food Services office has been using an Urban Cultivator for its "Dig It" kitchen program, which allows dining staff to grow and cook with fresh herbs, vegetables and microgreens.
The student garden will continue to be a big part of the Sustainable Food Systems Program. Chriest and students have been cultivating it since the spring, and through a campus-supported agriculture program, subscribers received their first shares of its bounty in mid-June. By season's end, the garden's output will include kale, spinach, leaf lettuce, cabbage, radishes, beets, cucumbers, tomatoes, eggplant, sweet corn, strawberries, winter squash, summer squash, peppers, herbs and ground cherries.
"It's really an impressive and exciting crop," Chriest said.
The Sustainable Food Systems Program already has a strong presence with students. Currently, its four student interns are leading food and garden activities this summer at the Sisters of St. Joseph Neighborhood Network's Farmers Market in the Little Italy area of Erie. The interns will also deliver hands-on garden activities when young people from Bethesda Lutheran Services Trinity Center visit campus in July and August.
Chriest said the program is also working with Erie's Public Schools as well as Emmaus Soup Kitchen and Erie Garden Coalition. She expects several student research projects to begin in conjunction with the program, and the Penn State Behrend Lion Pantry will now expand in partnership with the Second Harvest Food Bank of Northwest Pennsylvania.
In August, the program will have a presence at Erie's Blues & Jazz Festival, helping to create a Sustainability Village.
"We want the community to see what is possible," Chriest said. "If we can help people connect the dots and see everything that can be achieved, I really think the potential is endless. Pardon the pun, but I can't wait to see this grow."
Contact
Steve Orbanek
Marketing Communications Coordinator, Penn State Erie, The Behrend College