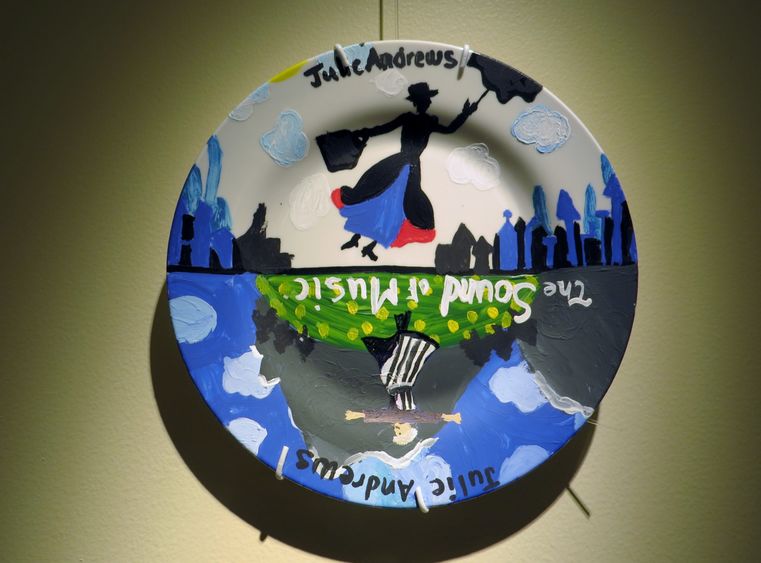 In 1979, feminist artist Judy Chicago gave 39 women a literal seat at the table in her masterwork, "The Dinner Party," a giant sculpture that imagines famous women from myth and history engaged in conversation.
The installation, which took more than five years to produce, is composed of 39 ornate place settings on a triangular table, with 13 plates on each side. An additional 99 women's names are written in gold on the floor. The piece toured the world and was seen by millions; it is now on permanent display at the Brooklyn Museum.
A similar display is in place this semester in the John M. Lilley Library at Penn State Erie, The Behrend College. Students in Sarah Whitney's Women in Literature, Art and Culture course painted plates to honor women from a wide variety of backgrounds, including science, law and politics. Their plates are on display in the gallery space near the library's entrance.
"For this project, students researched a woman of their choice who made significant contributions," said Whitney, assistant teaching professor of English and women's studies. "They designed and painted on china as Judy Chicago did, using color and shape creatively to demonstrate the importance of their chosen figure."
The students also wrote a reflection paper exploring their figure's historical impact.
Some of the plates honor famous women, including Supreme Court Justice Ruth Bader Ginsburg, author Maya Angelou and women's rights activist Susan B. Anthony. Others are less well-known.
Molly Boniger, a junior, chose Soviet sniper Lyudmila Pavilchenko.
"The purpose of 'The Dinner Party' was to recognize women that history had forgotten," Boniger said. "I wanted someone who was unconventional, even by today's standards.
"Pavilchenko has an incredible story," Boniger said. "She was a young woman from a Ukrainian village who became the Soviet Union's greatest sniper during World War II. She showed that women can be hard and strong, and don't have to be the delicate, soft things that society would prefer we be."
Whitney was pleased with the range of women and topics that students selected.
"The plates reflect a diversity of choices, which is wonderful," she said. "I especially enjoyed learning about new women from our international students, whose choices spanned the globe. Some also chose mythical or fictional figures, such as Shakti (a goddess in the Hindu pantheon), which were also quite enlightening."
The plates in the display also honor Cleopatra, Coco Chanel, Julie Andrews, Ellen DeGeneres, Emma Watson and Amy Winehouse. Other plates celebrate Billie Jean King, Amelia Earhart, Helen Keller and the anime character Ogino Chihiro.
Caitlin Kent, a junior, chose to celebrate the essence of womanhood while giving a nod to her future career as an obstetrician and gynecologist: She painted a uterus.
"All life stems from women," Kent said. "On my plate, one ovary is painted as the sun and one as the Earth to center the uterus as the birthplace of the universe."
The plates are porcelain. The students used a china paint, just like Judy Chicago, to adorn them.
"Using hands-on materials to make historical events come alive is a key part of my teaching practice," said Whitney, who assembled the display with help from Scott Rispin, assistant teaching professor of art, and the Lilley library staff. "I think using manipulatives is particularly important in studying 'The Dinner Party,' both because it is a visceral, intense piece, and because Chicago was intentional about using traditional women's art practices, like china painting and embroidery, to honor forgotten female artists. By doing it, you sort of experience Chicago's process."
Boniger is glad to have participated in the project.
"These women's histories are all of our histories," she said. "It's about time we start bringing women into the conversation and including them in the history they have helped create."
"My Dinner Party" will be on exhibit in the John M. Lilley Library until Oct. 26.
Contact
Heather Cass
Publications and design coordinator
Penn State Erie, The Behrend College