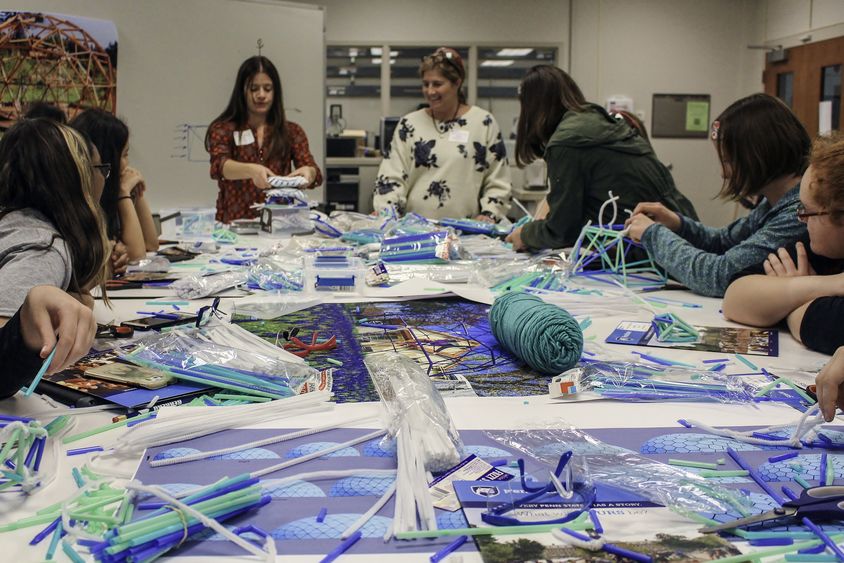 ERIE, Pa. — It's "MacGuyver" time!
Take a sheet of foil, some binder clips, a few clothespins, a handful of rubber bands and a bit of cardboard, and see if you can make this teabag fly.
Sophia Supinski, a 10th-grader at Northwest Pennsylvania Collegiate Academy, thinks a scale-model windmill might work.
"I think it's best to model after real-world things," she said. "If it's not broken, why fix it, right?"
This is the "Lift with Air Supplies" challenge at Penn State Behrend's Women in Engineering Day, a youth-outreach program designed to introduce high school girls to engineering fields and careers. Nearly 150 girls from 32 area high schools attended this year's program.
Supinski and her partner, Jonje Hassan, start building their windmill. After a few adjustments, it works: Powered by a hairdryer, the tea bag rotates around the structure.
"This is a new activity, and it's very free-form," said Valerie Reynolds, a software engineer at GE Transportation. "We're not trying to corral them to a certain design. We want them to engineer whatever idea they like, because that allows them to really think."
Reynolds has volunteered at Women in Engineering for 10 years. The windmill challenge is a new project for her.
"I keep coming back because, while I have been in the software engineering industry for 16 years, women are still a vast minority," she said. "It's very important to host activities like this, so girls know about everything that's available to them."
Other presenters at the Nov. 2 program included engineers from LORD Corp., National Fuel Gas, TechnipFMC, and Zurn Industries.
One goal of Women in Engineering Day is to show girls that it's possible to balance the responsibilities of having a family while thriving as a professional. Ashleigh Walters, president of Onex Inc., an Erie-based manufacturer of industrial furnaces, touched on that topic in her keynote address.
"I've always identified myself not just as an engineer, but also as a mom and a wife," Walters said. "My focus is on work-life integration. You have to recognize that you won't be balanced at every point, and that's OK. Sometimes work will take over. At other times, kids will take over, but you have to integrate the two."
Contact
Steve Orbanek
Marketing Communications Coordinator, Penn State Erie, The Behrend College