150 high school girls attend 12th annual Penn State Behrend event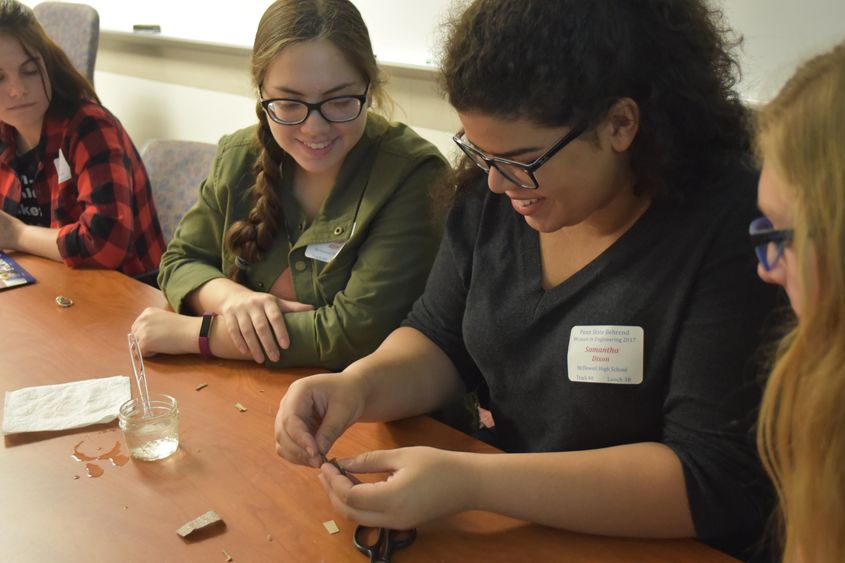 Lauryn Oyler pushed a stack of five pennies up against the LED light. She crossed her fingers, hoping to see a red light, but… nothing.
"Seriously, I really want this to work," Oyler, a junior at Meadville Area Senior High School, said to her teammates.
Oyler was participating in the Circuit Cards activity of Women in Engineering Day, a youth outreach program at Penn State Erie, The Behrend College, designed to introduce high school girls to engineering fields and careers through a series of hands-on activities. This year marked the 12th year for the event, which was held Friday, Nov. 3, and more than 150 area high school girls attended.
A good engineer must be able to improvise and solve problems, and the Circuit Card activity immediately put its participants to the test. The activity challenged students with creating a 5-cent battery, using a salt solution, sandpaper, five pennies and matboard. If everything is done correctly, the battery should power a small LED light.
Thankfully, after a few revisions, the Meadville team found success.
"It really was trial and error," said Mariah Mauser, a sophomore at Meadville Area Senior High School. "We had (the matboard) too wide, so it was closing in on itself and not conducting. We cut it tighter, and then it started to work."
The activity was led by Catherine DiLuzio and Amber Murosky, both applications engineers with Zurn Industries. They were two of more than 50 female mentors — professionals from Erie Insurance, FMC Technologies, GE Transportation, LORD Corporation, Zurn Industries, Construction Process Solutions, Cummins and National Fuel Gas — who presented workshops to the girls, who came from high schools in Erie, Crawford and Warren counties and western New York.
For Murosky, the day's activities were of particular significance. The Cambridge Springs native attended several youth outreach programs at Penn State Behrend when she was in grade school, including Women in Engineering Day and Math Options Career Day. That's part of the reason she chose to volunteer her time as a presenter.
"I personally came to this myself, and I know that a lot of the girls here today come from small towns where they don't necessarily see women in these positions. It can really open their eyes. I know it did for me," said Murosky, who went on to attend Penn State Behrend and graduated in 2016 with a degree in interdisciplinary business with engineering studies.
For many of the student attendees, the interaction with professional volunteers like Murosky proved to be one of the day's most valuable takeaways.
"Just seeing the day-to-day challenges that engineers deal with is so valuable," Oyler said. "We learn a lot about STEM in school, but we don't necessarily see the applications. Just hearing about their experiences I think is much better than reading from a text book."
Contact
Steve Orbanek
Marketing Communications Coordinator, Penn State Erie, The Behrend College