More than 160 high schoolers attend annual Penn State Behrend event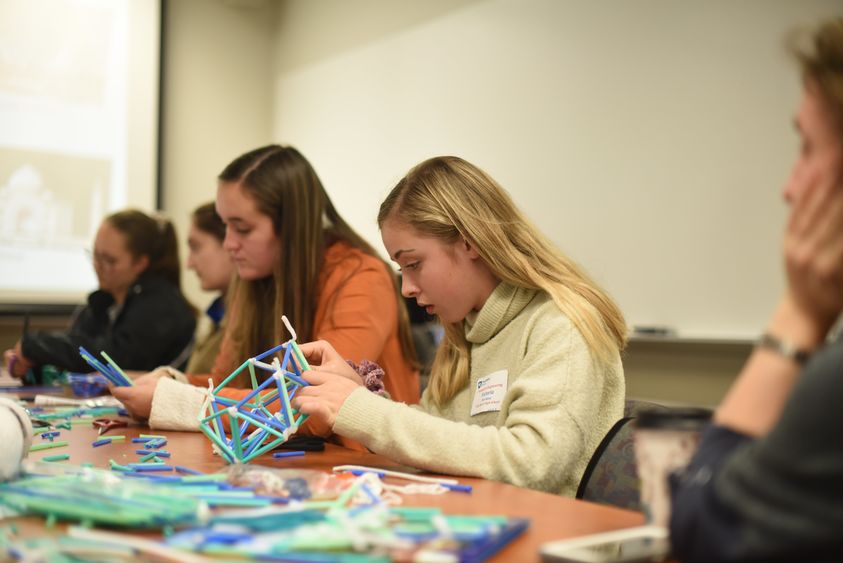 ERIE, Pa. — Victoria Purchase doesn't yet have her future mapped.
"Right now, I have no idea what I want to do professionally," the Villa Maria Academy junior said with a laugh as she meticulously threaded a piece of pipe cleaner through a straw.
But she's also open-minded, and that's one reason she was so excited to attend Penn State Behrend's Women in Engineering Day.
"There are so many options, and there are so many different directions I could go," said Purchase. "For instance, I never knew about structural engineering until today."
Purchase was one of more than 160 girls from nearly 30 high schools who attended Women in Engineering Day, a youth outreach program that is designed to introduce high school girls to engineering fields and careers through a series of hands-on activities. This year marked the 14th year for the event, which was held Friday, Nov. 1.
Paula Dombrowski and Kelly Young, both Penn State alumnae and structural engineers with Julie Cromwell & Associates LLC and Builders Support LLC, respectively, were two of several professional female engineers who led workshops during the day. Professionals from Eriez Manufacturing, Erie Insurance, Wabtec, Tessy Plastics, LORD Corp., National Fuel Gas, EXAL, Zurn, SWE and TechnipFMC also led workshops.
In Dombrowski and Young's activity, attendees were tasked with creating a dome using only straws, pipe cleaners and scissors. They encouraged the girls to build their domes by making a base of several equilateral triangles, which is the most common triangle used in structural engineering. The domes were then tested to see how much weight they could hold before failing. One dome managed to hold 20 pounds.
Dombrowski and Young also discussed their own career paths and how they have balanced their careers and personal lives. They wanted attendees to know that is possible to excel in both areas.
"That's been the best part as it was just so reassuring," said Ellie Arrowsmith, also a junior at Villa Maria Academy. "I love how she mentioned how she loves both parts of her day, when she's working and also when she's home with her kids. Right now, we're so stressed about college and think that's the ultimate goal, so to come here and see people who have survived that and are now thriving, both at home and at work, is really reassuring."
Contact
Steve Orbanek
Marketing Communications Coordinator, Penn State Erie, The Behrend College