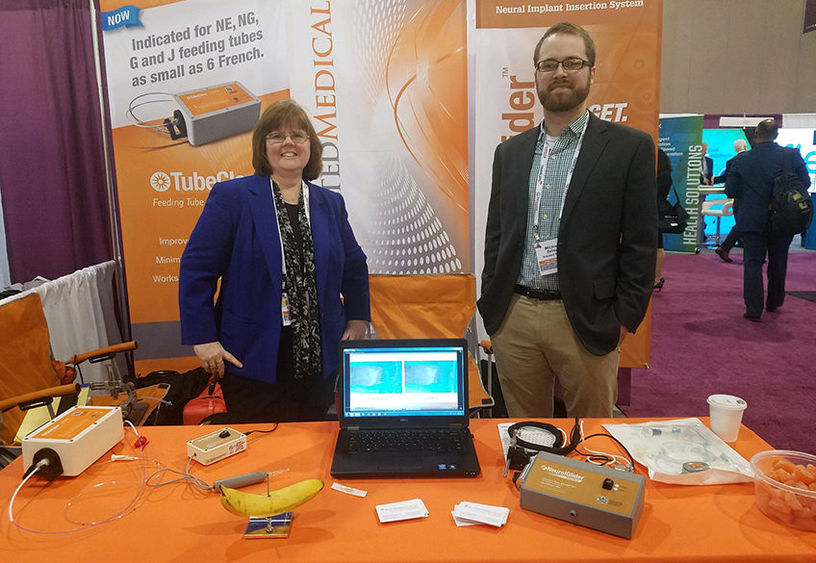 UNIVERSITY PARK, Pa. — Three Penn State research projects have been awarded grant funding from the Manufacturing PA Innovation Program, a recently funded effort from the Wolf administration that aims to advance manufacturing technology and innovation in Pennsylvania. The program is financed by the Commonwealth of Pennsylvania's Department of Community and Economic Development (DCED), and also includes a focus on workforce development.
The grants are open to research projects that originate at Pennsylvania institutions of higher education and must include a collaboration with a Pennsylvania-based manufacturing company. All three Penn State projects funded in 2018 come from the Department of Mechanical and Nuclear Engineering in the College of Engineering. They include:
Under Guha Manogharan, assistant professor of mechanical engineering, and collaborator Paul Lynch, assistant professor of industrial engineering at Penn State Behrend, a partnership with Hazleton Casting Co. The graduate student on the project is Casey Bate.
Under Qian Wang, professor of mechanical engineering, a partnership with Autodesk Inc. The graduate student on the project is Yong Ren.
Under Mary Frecker, professor of mechanical engineering biomedical engineering, along with collaborators Todd Palmer and Eric Pauli, a partnership with Actuated Medical Inc. The graduate students on the project are Jivtesh Khurana and Titus Reed, and the undergraduate student is Lindsay Mitchell.
"We are thrilled to see these three funded research projects coming out of Penn State," said Jeff Fortin, associate vice president for research and director of the Office of Industrial Partnerships. "This program provides opportunities for our researchers and students to continue to build relationships in the manufacturing industry, and to push forward technology research that can make real-world impacts."
The Manufacturing PA Innovation Program specifically provides funding for undergraduate or graduate student fellows that partner with a Pennsylvania manufacturer to develop new process innovations or advance new products.
"With this program, the Wolf administration aims to connect our best and brightest students with manufacturers to drive new technology and innovation in the manufacturing sector," said Sheri Collins, deputy secretary for technology and innovation at the Pennsylvania Department of Community and Economic Development. "As manufacturing processes become more and more complex, these projects will keep Pennsylvania at the forefront of manufacturing innovation."
Integration of 3D sand printing — Hazleton Casting Co.
Both the researchers and companies involved see the benefits of working side-by-side for innovation. Tony Badamo, president of Hazleton Casting Co., will be collaborating with Manogharan on the further integration of cutting-edge 3D sand printing into the specialty metal casting work his foundry focuses on.
"This is an excellent example of Penn State's strong mutual relationship with industries in the state for student opportunities and joint research projects," said Manogharan. He notes that three other foundries in Pennsylvania have also shown strong interest in this initiative.
After partnering with Manogharan in 2017 for initial research with an on-site 3D sand printer, Badamo is looking forward to the next steps.
"The opportunity to work further on this project is another way to transfer this knowledge, and to continue to apply this technology to make a better product," Badamo said.
The team will be developing novel "smart" sand-printed molds that can perform real-time monitoring of the entire casting process.
With its focus on workforce development, students involved in each grant project will get real-world experience throughout the projects. Casey Bate, the graduate student on the 3D sand-printing work, is looking forward to not only furthering his skill set in additive manufacturing, but also to pushing the boundaries of product design.
"Additive manufacturing has allowed manufacturing to move beyond many of the challenges imposed by traditional techniques," Bate said. "This means higher complexity elements can be manufactured, and that we can leverage this freedom to improve the performance of the designs."
Laser-based additive manufacturing — Autodesk
Qian Wang and graduate student Yong Ren will take advantage of the grant to collaborate with Autodesk, which produces the leading software for simulation of laser-based additive manufacturing. The researchers will analyze a suite of machine-learning algorithms to develop a complex predictive model for the creation of more accurate, quality builds.
"Success of this project will help to reduce the level of trial and error, and thus, associated cost, that is currently required in the additive manufacturing industry," said Wang.
She notes the potential for impact on job creation within Pennsylvania's manufacturing industry as a result of reducing that cost, while pointing out that the grant also supports the workforce in more subtle ways.
"I especially appreciate the goal of this program to encourage collaboration between higher ed and job creators, and to educate and retain highly educated students in the field of manufacturing," Wang said.
Additive manufacturing of medical devices —Actuated Medical
The third funded project, led by Mary Frecker, focuses on additive manufacturing of nickel titanium alloys for use in medical settings, specifically as a stent in gastrointestinal procedures. The grant will enable the research team to work closely with Actuated Medical, a partner with whom they've had previous successful collaborations, in order to develop an additive manufacturing process that will improve functionality of the medical device.
"The project will benefit Penn State through the fundamental research and support of graduate students," said Frecker. "It will benefit AMI by helping to advance their medical device manufacturing capabilities, and it could eventually benefit patients through improved treatment of abdominal diseases."
The Manufacturing Innovation Program is expected to continue grants on an annual basis, with a new request for proposals now open for 2019.
"The Manufacturing PA Innovation Program is a great government-university-industry partnership that seeks to capitalize on the strength of Pennsylvania's research universities to advance economic development in the manufacturing sector," said Zack Moore, vice president for government and community relations for Penn State. "Given our land-grant mission and focus on economic development, we are pleased that the Wolf administration has created this program, and we look forward to assisting these Pennsylvania businesses."
Applications for this year's awards are due by March 8. Interested faculty may consult the manufacturingPA.org website for more information and to submit an application.