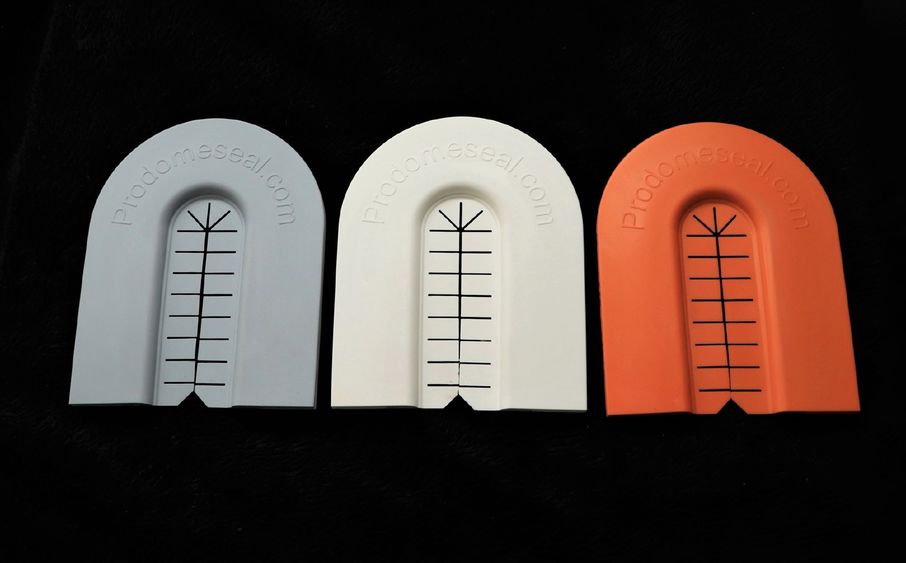 ERIE, Pa. — It happened every spring: Ron Forbes would go to check the fuel level on the propane tank at his home in Erie County's Greene Township and find birds nesting under the dome cover.
"They'd be in there with their babies," he said.
He began using the inner tube from an old tractor tire to block the opening. Then he looked at some of the propane tanks on neighboring properties. Several of his neighbors were leaving the domes of their tanks uncovered, hoping to discourage birds and wasps from nesting inside.
"It became obvious that I was not the only homeowner with this issue," Forbes said.
That "a-ha" moment led him to design a better seal for the tank's cover. The product he developed — the ProDomeSeal, an arch-shaped rubber insert — blocks animals from nesting near the regulator, valve and fuel-level gauge of a propane tank.
"I had the basic idea for the seal, along with a crude homemade prototype, but I needed something more precise and professional-looking," Forbes said. He took the prototype to Penn State Behrend's Innovation Commons, an ideation space and rapid-prototyping lab, where he discussed his idea with John Nowakowski, who was then a Behrend student working in the lab.
Nowakowski 3D-printed more than a dozen iterations of the seal, each time adjusting an aspect of the product's size or design. That rapid prototyping significantly reduced the costs associated with engineering the final mold for the product.
"I would stop by Innovation Commons every week or so, and John would hand me a couple of 3D-printed samples to take home and try," Forbes said. "Having those parts to work with helped me eliminate design flaws that would have been very costly to modify after the injection mold was produced."
Innovation Commons opened in 2016 as part of Invent Penn State's LaunchBox and Innovation Hub Network. It was the pilot site for the Northwest Pennsylvania Innovation Beehive Network, which provides entrepreneurial support and business guidance at four coordinated university labs. The Beehive partners — Penn State Behrend, Edinboro University of Pennsylvania, Gannon University and Mercyhurst University — have advanced more than 400 entrepreneurial projects.
Forbes has applied for a patent for the ProDomeSeal, which is manufactured in Erie, at X-Act Technology, and sells for $8.99. He already has sold more than 8,000 inserts, which is available for online purchase as well as through several local retailers.
Nowakowski, who graduated in 2019, also benefited from the project, said Jacob Marsh, industry relations coordinator at Behrend. He oversees the Innovation Commons lab.
"Our goal at Innovation Commons is to help innovators and entrepreneurs overcome the barriers that often stall a project in its early stages," Marsh said. "That's helpful for someone like Ron, who can access local expertise and equipment, but it's a valuable experience for our students, too. They're building their skill set by working on real projects.
"It's one thing for our students to graduate, meet with a potential employer and say, 'Here's my résumé," Marsh said. "It's something else entirely when they can show a portfolio with actual products that are on the market and say, 'Here's what I made.'"
Contact
Robb Frederick
Assistant director, news and information, Penn State Behrend