Record 186 companies and nearly 750 students attend spring event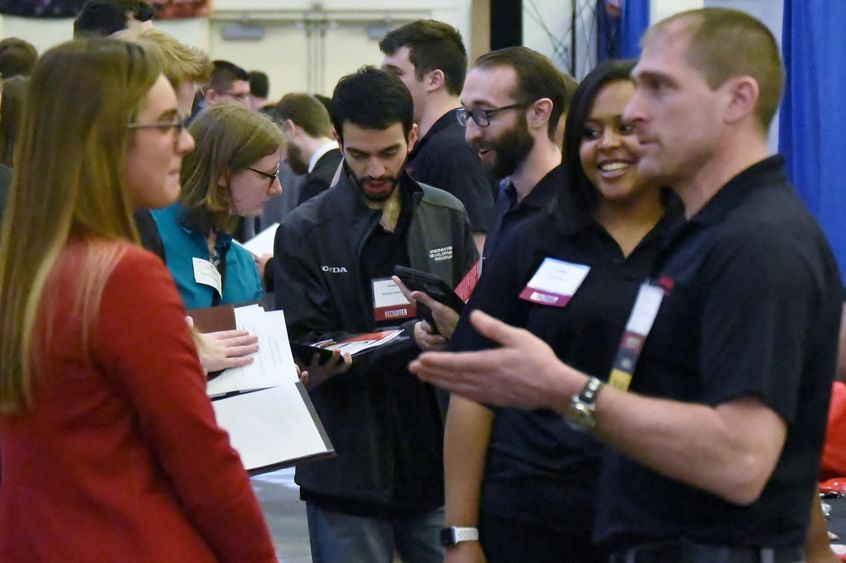 ERIE, Pa. — Muhamed Pehlic put plenty of prep work into attending Penn State Behrend's Spring Career and Internship Fair.
The junior interdisciplinary business with engineering studies major fine-tuned his résumé, researched companies in attendance, and mapped out a plan of attack — all in an effort to make the day as productive as possible.
"I put a lot of work into today, but I'm hoping that means it ends in a good way, and I get an internship," Pehlic said.
Several of the recruiters who attended the fair took the same approach.
"We want to make sure that it ends up being a productive day for us, so we put a lot of time into preparing in advance," said Kristine Connor, a recruiter with FirstEnergy Corp.
FirstEnergy Corp. was one of a record 186 companies that attended the fair, held March 20 in the college's Junker Center. Nearly 750 students attended the event, which was sponsored by the Academic and Career Planning Center.
FirstEnergy made sure to have employees in attendance who had gone through the company's internship program. That helps when it comes to recruiting new interns.
"I can tell students that the internship experience is great, but I'm still just a recruiter," Connor said. "Our employees who have gone through it can really relate to the students a bit better. Having someone on that level is very important, as their perspective is different from mine but very helpful for the students."
Harmac Medical Products, a manufacturer of single-use medical devices located in Buffalo, New York, developed a strategy a couple of years ago that's helped the company at career fairs.
Every student that shows interest in the company is encouraged to fill out a one-page survey. Harmac then couples the survey with students' résumés when it makes hiring decisions.
"This really helps to give us a one-page snapshot of a student, and it helps us better understand them and what they're looking for, and vice versa," said Melissa Stephan, a human resources supervisor for Harmac.
Amanda Henry, a senior mechanical engineering major, attended the fair in hopes of securing either an internship or a full-time position. This was the Pittsburgh native's fifth career fair, so she wasn't too nervous.
Nonetheless, she had the perfect strategy to eliminate any last-minute jitters.
"I usually will purposely go to a different booth that I know is not recruiting my major," Henry said. "I still give them my elevator speech just to get that test run in. That helps me feel more comfortable when I talk to the company that I really do want to work for."
Contact
Steve Orbanek
Marketing Communications Coordinator, Penn State Erie, The Behrend College