175 companies and 1,250-plus students attend fall event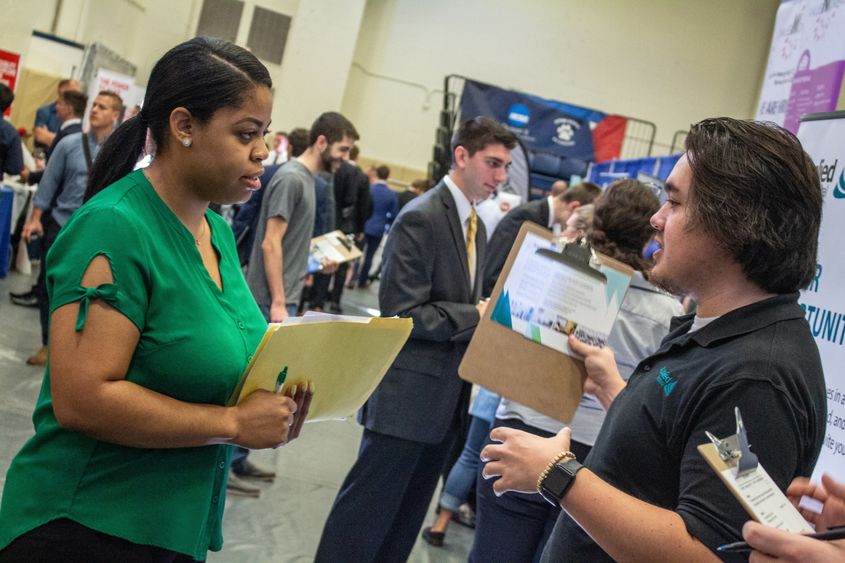 Cyient employees Kimberly Repine and Roland Sitler felt a bit out of their element as they set up their recruitment booth at Penn State Behrend's Fall Career and Internship Fair.
"This is actually the first career fair that we've attended in Erie," said Repine, a section manager for Cyient, an engineering and technology solutions company with 47 locations across 21 countries. "We thought that this would be a good opportunity to recruit talented students. The biggest thing for us is having a good personality, so hopefully we meet some students today who show that as well as the ability to communicate."
Cyient was one of 21 companies attending the fair for the first time. In total, 175 companies and 1,250 students were in attendance at the event, held Sept. 25 in the college's Junker Center.
Equipment & Controls, Inc. (ECI) was also a first-time company attendee at the fair. Their presence was not by accident.
"We've just had a lot of luck when it comes to hiring alumni from Behrend," said Erin Kranak, a talent acquisition specialist for ECI. "While this is our first time here, I know we're going to continue to come because we've just had such good success with alumni from here. When we hire, we're looking for a cultural environment fit, and Penn State Behrend students fit into it."
When meeting employers for the first time, confidence is key, according to Shirley Tubbs, a training and recruiting coordinator with NEFF, another new company in attendance at the fair.
"It's the way that they approach me, that's so important," Tubbs said. "If they have confidence when they approach me, I'll remember them. But I also remember when I was a college student and I was not super polished right away, so I do keep that in mind."
Though some students — including first-year students — were attending the fair for the first time, many had already attended multiple career fairs. Some were even playing the long game.
"I actually already have an internship lined up, which starts this winter," said Tom Hoh, a senior accounting and finance major. "But I know that I want to stay in Erie after graduation, so I see this as a networking opportunity. It's always good to know people, so that's kind of why I am here."
Contact
Steve Orbanek
Marketing Communications Coordinator, Penn State Erie, The Behrend College