Record 184 companies and 1,400-plus students attend fall event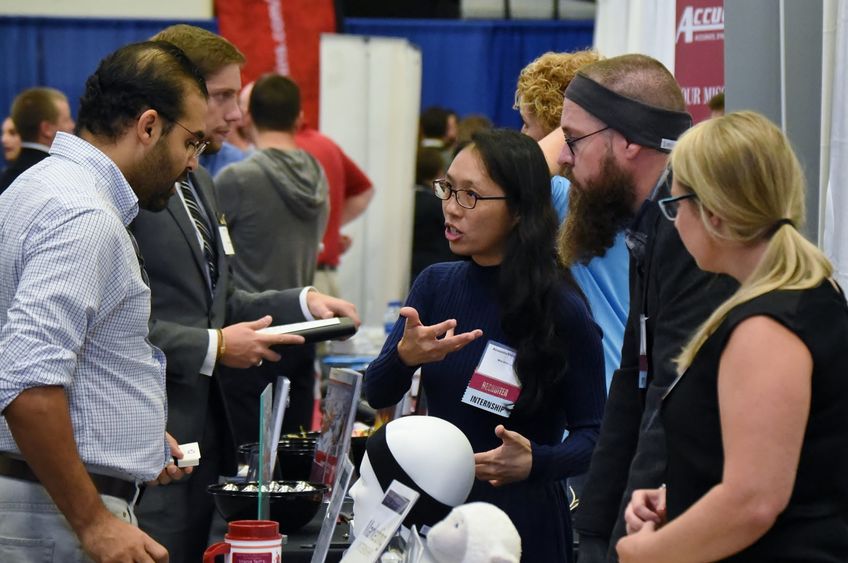 ERIE, Pa. — Career fairs can be the best way for students and new graduates to introduce themselves to potential employers.
Increasingly, small startup companies are attending for the same reason; they're building brand recognition one résumé at a time.
Companies need to recruit highly qualified, talented workers, but to do that, they need to be able to let those workers know everything they have to offer. That's where a venue like Penn State Behrend's Fall Career and Internship Fair can be so helpful.
"Honestly, for us, it's about going out and creating awareness," said Mark Kohnen, an human resources generalist for Erie Management Group, which manages Calypso LLC. "We're looking for candidates, but we hope that attendees gain more of a general awareness of Calypso. We don't want them to just see a job advertisement on Indeed and not know anything about our company."
Calypso was one of a record 184 companies that attended Behrend's Fall Career and Internship Fair, held Sept. 19 in the college's Junker Center. More than 1,400 students, also a record, attended the event, which was sponsored by the Academic and Career Planning Center.
Erie-based AcousticSheep LLC, a manufacturer of sleep-aid headphones, also met with students at the fair.
"We're hoping to find some good interns and really find some good talent that will be able to help out," said Erica Kraus, a compliance assistant for AcousticSheep. "The one nice thing with startups is that you get to wear so many different hats and see all facets of the business. That's something you might not be able to do with a big corporation."
Local startups like AcousticSheep and Calpyso also offer something else for attendees with roots in the Erie region: a chance to start their careers right in their hometown.
"It's great to find talent from the local region, and that's what we're looking for today," Kraus said. "We're committed to Erie, so we'd like find that in candidates, too."
Brianna Keith, an Erie native and junior accounting and finance major, was attending her first career fair at Penn State Behrend. She came prepared, making a list of five companies she wanted to visit while she made her rounds.
Four of the five companies she planned to visit were from Erie.
"For the local companies, they're often looking for people from here, so I emphasize that Erie is my hometown," she said. "They want to potentially turn their interns into long-term employees, so they want to know that there is potential for employees to stay."
For representatives of a small company or startup, that's music to their ears.
"We want to build a young talent base that can grow as we grow," Kohnen said. "That's why we're here."
Contact
Steve Orbanek
Marketing Communications Coordinator, Penn State Erie, The Behrend College