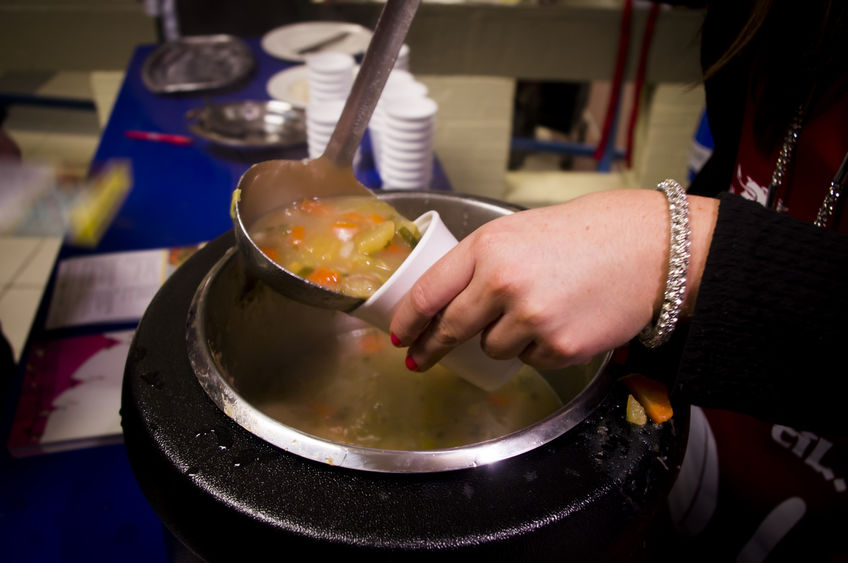 UNIVERSITY PARK, Pa. — In the United States, 40% of food produced each year is wasted, and at Penn State, food waste makes up the largest proportion of the waste stream.
At the same time, 1 in 6 Americans is food insecure — skipping meals, opting for cheaper foods over healthier foods, or not having access to nutritious meals — and between 25 and 50% of college and university students nationwide experience food insecurity at some point in their college career.
Through community partnerships in food recovery, Penn State is working toward bridging the gap between food waste and food insecurity, creating a more sustainable food system.
Last fall, Penn State Retail Dining took an important step toward reducing food waste while helping alleviate hunger in the State College community by partnering with the Central PA Food Bank (CPFB).
Since the partnership began in November 2018, Retail Dining has donated more than 17,350 pounds of food to CPFB — a nonprofit organization whose mission is to reduce hunger in 27 counties across Pennsylvania. By working with more than 1,000 local agencies and partner programs, the CPFB serves nearly 140,000 people in need every month.
One such local partner is the Abba Java Coffeehouse in downtown State College. Abba Java, which is part of the campus ministry of St. Paul's United Methodist Church and Wesley Foundation, is a café in downtown State College that offers free coffee, tea, snacks, Wi-Fi, and study and socializing space for students.
Abba Java collects prepared food items, like bakery goods, soups, and pre-packaged sandwiches and other meals, from the Starbucks at the HUB-Robeson Center and at Paterno Library on a weekly basis.
"Abba Java is a fantastic partner in our food recovery program, as they serve the recovered food to students downtown out of the coffeehouse," said Anna Sostarecz, sustainability coordinator for Enterprise Services.
The coffeehouse serves about 1,200 students each week.
"Students who frequent Abba Java appreciate the variety of pastries and prepared foods such as protein bowls and boxes, sandwiches and wraps," said Sue Justice, coffeehouse manager for Abba Java. "The students are pleased to see Penn State's efforts to reduce food waste in this way."
Vince Raco, associate director of retail dining, said the partnership is working well.
"Our goal is always to reduce waste and be efficient when ordering products, but unsold products are inevitable, and it's great that they're being used locally to reduce food insecurity," he said.
The food recovery program is expanding as Residential Dining begins to implement semester break pickups. In a pilot program before Thanksgiving, Residential Dining donated about 400 pounds of donated items to CPFB.
Food recovery at Penn State doesn't stop at University Park, Sostarecz said. Residential Dining also partners with the Greater Pittsburgh Community Food Bank, whose service area covers Penn State's Beaver and Greater Allegheny campuses. Penn State also plans to forge partnerships with the other five major Pennsylvania food banks to enable donations from all Penn State campuses and serve the entire state.
For more information about CPFB, visit centralpafoodbank.org or call 717-564-1700.