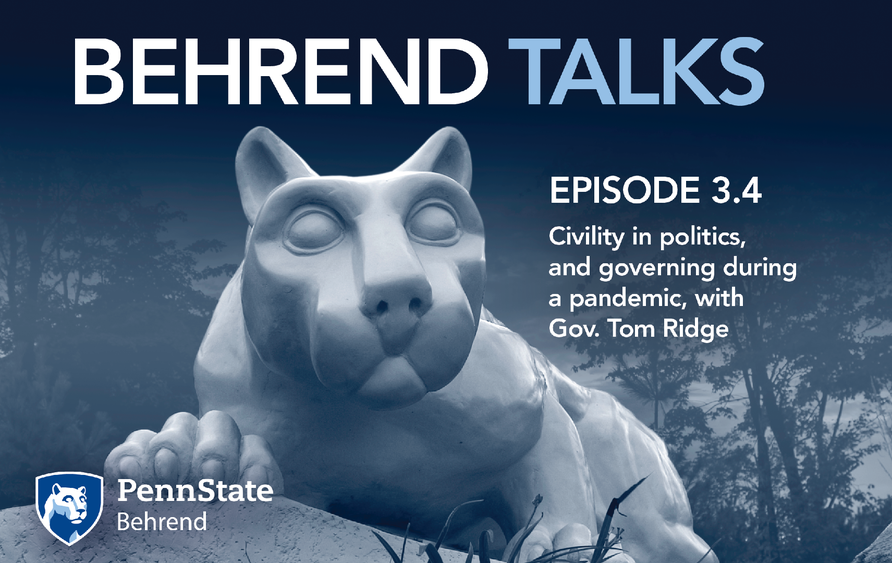 The presidential campaigns won't end when the polls close on Nov. 3, former Gov. Tom Ridge says on the new episode of the "Behrend Talks" podcast.
Instead, says Ridge, who is serving as the national co-chair of VoteSafe, a bipartisan group that is advocating for expanded vote-by-mail options, both candidates are likely to seek leverage during a lengthy vote count, looking to lawmakers and the courts for support.
"Fasten your seat belts," he says. "It's going to be brutal."
Ridge talked with Penn State Behrend Chancellor Ralph Ford on Sept. 16. Their conversation, and the full archive of "Behrend Talks" podcasts, can be heard at https://behrendtalks.buzzsprout.com.
Ridge, an Erie native, served two terms as Pennsylvania's governor and six terms in the U.S. House of Representatives. In the wake of the Sept. 11 terror attacks, he was appointed the first secretary of the U.S. Department of Homeland Security.
His discussion with Ford touches on the Black Lives Matter movement, efforts to defund police departments, election security, the reliability of mail-in ballots and the lost art of political compromise.
Ridge expects the election to be close, at least in the Electoral College. He says it could take weeks to determine which candidate won.
"We live in a just-in-time world," he said. "Everyone is in a rush. But the notion that we have to know (the results) before we go to bed on Nov. 3 is ludicrous."
Contact
Robb Frederick
Assistant director, news and information, Penn State Behrend