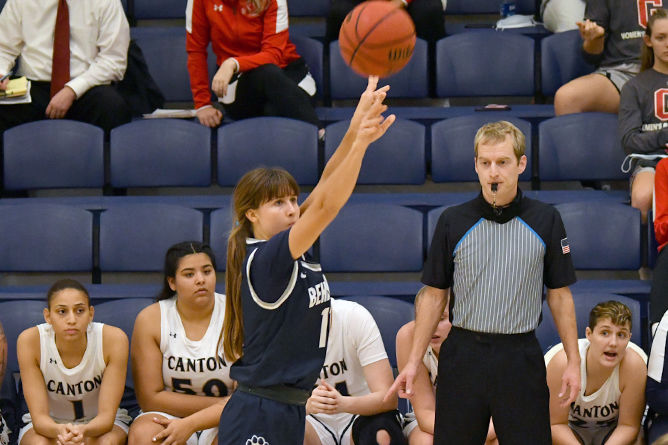 ERIE, Pa. — The Penn State Behrend women's basketball team has won its last five games, coming from behind in the fourth quarter to outscore Allegheny College. The team opens Allegheny Mountain Collegiate Conference play at Hilbert on Dec. 1.
Other scores and highlights from last week:
Men's basketball
Cleveland State 89, Penn State Behrend 47
Baldwin Wallace 69, Penn State Behrend 64
Penn State Behrend 66, Bethany 55
Penn State Behrend 72, Allegheny 62
Kenny Fukon, a senior from Cranberry Township, scored 26 points against Allegheny College. PJ Gourley, a senior from Butler, grabbed a career-high 17 rebounds against Bethany College.
Women's basketball
Penn State Behrend 57, Allegheny 49
Penn State Behrend 80, Waynesburg 52
Penn State Behrend 65, Fredonia 53
Alanna Dibble, a senior from Lakewood, New York, scored 22 points and grabbed 18 rebounds against Allegheny College. Kara Haslett, a senior from Baden, scored 12 points against Waynesburg University.
Men's swimming and diving
Second (of nine teams) at the Oberlin Invitational
Tim Compton, a freshman from Pittsburgh, set a team and conference record in the 200 butterfly, finishing in 1:52.85. Jake Schmidt, a graduate student from Erie, won the 1650 free, finishing in 16:56.41.
Women's swimming and diving
Fifth (of nine teams) at the Oberlin Invitational
Emma Webster, a sophomore from Bradford, set a team record for the 200 backstroke, finishing in 2:11.12. She placed third. Diver Julia Sank, a sophomore from North East, scored 240.10 in the one-meter event, earning a spot on the program's top-10 list.
Men's water polo
Austin 20, Penn State Behrend 7
Austin 19, Penn State Behrend 8
UCLA 26, Penn State Behrend 3
Jack Holl, a freshman from Greenwich, Connecticut, scored four goals in the first game against Austin College at the Mountain Pacific Sports Federation tournament in Palo Alto, California. Leyton Vrono, a freshman from Murrieta, California, made nine saves.
Women's bowling
Penn State Behrend 788, Pitt-Greensburg 777
Penn State Behrend 803, New Jersey City 777
Penn State Behrend 802, La Roche 762
Penn State Behrend 713, Penn State Altoona 671
Pitt-Bradford 898, Penn State Behrend 776
St. Vincent 854, Penn State Behrend 761
Penn State Behrend 839, Mt. Aloysius 729
Medaille 829, Penn State Behrend 718
The Lions were 4-0 on the second day of the AMCC Round Robin, hosted by St. Vincent. They are now 5-3 in conference play.
Scores, updates and video links for Penn State Behrend athletics are posted at psblions.com.
Contact
Robb Frederick
Assistant director, news and information, Penn State Behrend
Jill Yamma
Sports information director, Penn State Erie, The Behrend College