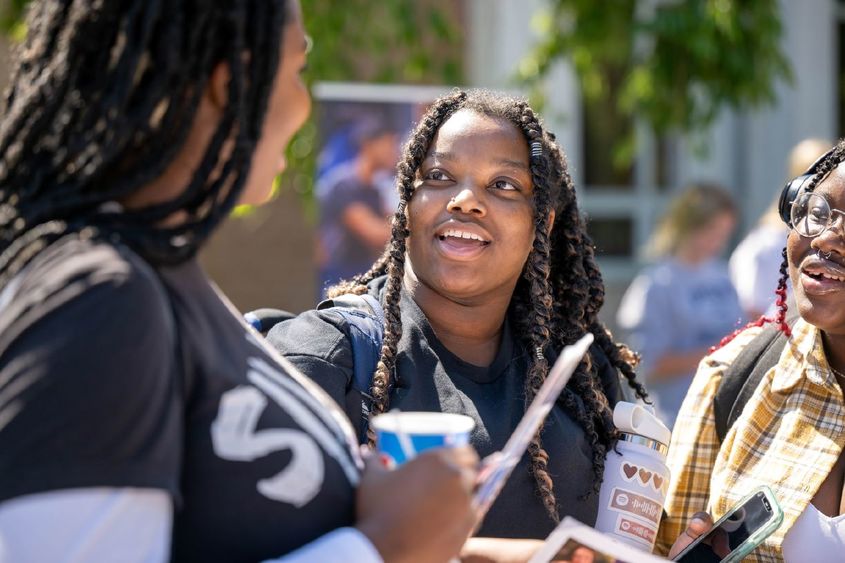 ERIE, Pa. — So, where to start?
There's the sailing club, the disc golf club, the garden club and the National Society of Black Engineers. There's the robotics club, which brought its remote-control T-shirt cannon. There's Project Paws, which works with the local animal shelters; Chi Alpha, which offers campus ministry; and the Behrend esports team, which meets in a high-tech gaming lab in the lobby of Perry Hall.
Penn State Behrend is home to more than 140 student organizations. Most had tables at this year's Discovery Fair, the big meet-and-greet on the lawn of the Reed Union Building.
"Extracurricular involvement helps students become part of the Behrend community," said Kris Motta Torok, director of Student Leadership and Involvement. "It helps them make friends and more fully explore their interests outside of class."
This year's Discovery Fair added even more options for campus involvement. Organizers paired two events – the Club Showcase and the Leadership and Service Fair — to offer a fuller picture of the extracurricular opportunities at Behrend.
"Engagement looks different for different students," said Ashley Kaminski, coordinator of Student Leadership and Involvement. "Some are looking for social opportunities. Others are interested in service. By combining these two events, we're able to show students all of the options that we have at Behrend."
To learn more about clubs and service opportunities at Penn State Behrend, or to start a new group, visit the Student Leadership and Involvement webpages for clubs and service organizations.
Contact
Robb Frederick
Assistant director, news and information, Penn State Behrend