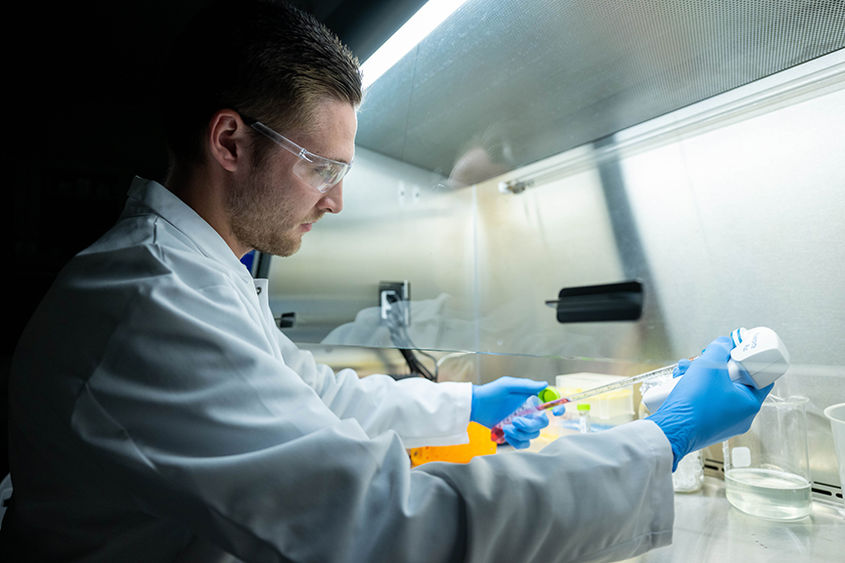 ERIE, Pa. – Penn State Behrend Chancellor Ralph Ford shared the college's Open Lab philosophy and highlighted the opportunities it creates for students, faculty members and community partners during the University's Board of Trustees meeting today (July 21) at Behrend's McGarvey Commons. 
"We see Behrend as an Open Lab, a collaborative space where learning and discovery are applied in novel ways that benefit not only our students, who gain career-building, real-world experience, but also our partners in business, industry and the nonprofit community, who tap into that energy and ingenuity," said Ford, who has led the college since 2015. 
The approach takes many shapes at Behrend. In the Black School of Business, for example, a team of students designed a new website for the city of Erie, with drop-down navigation menus for all municipal departments and payment portals for taxes and parking tickets. The project saved taxpayers approximately $50,000. 
Students in the School of Science have partnered with chemists at HERO BX, a biodiesel company with facilities in Erie, Alabama and New Hampshire, to reduce the sulfur in biodiesel feedstocks. They hope to make biodiesel more efficient in cold-temperature applications, including commercial aviation. 
The Open Lab approach builds on Behrend's strengths, Ford said. That begins with curricular excellence: The college offers more than 40 undergraduate and graduate degrees, both on campus and online, including programs that are accredited by ABET and AACSB. The School of Engineering is regularly ranked among the top 50 undergraduate engineering programs in the nation, according to U.S. News. 
The interdisciplinary focus of Behrend's academic programs encourages students to approach problems in inventive ways, and to work in teams, Ford said. Those skills are core components of the vision of a Behrend graduate. They also pay off in the workplace: Behrend ranks in the top 10% of all colleges and universities in Pennsylvania for value and return on investment, according to PayScale and Smart Asset. 
"College is a major investment," Ford said. "We never lose sight of that. Part of our responsibility to our students and their families is to teach the critical thinking and adaptive skills that are now essential in every career field." 
Behrend students gain additional experience by participating in the college's robust research portfolio, which involves approximately $8 million in annual sponsored funding, Ford said. By working with faculty members in the field or the lab, advancing projects funded by the National Science Foundation, the U.S. Air Force and General Motors, among others, students get hands-on experience, and even patents. At the James R. Meehl Innovation Commons, a product development and prototyping center, students have been named on 12 patent applications and were part of 14 start-up companies. 
At the Lake Erie Regional Grape Research and Extension Center, a 40-acre facility in North East, research conducted by Emily Dobry, now a graduate student in the agricultural and environmental plant sciences program, led to the discovery of a tree fungus that had not previously been seen in the northern hemisphere. That fungus now has a name: Gnomoniopsis castanea Behrend. 
Research at Behrend often leads to sustained industry partnerships, Ford said. One recent example: Two labs at the college support the Magee-Womens Research Institute in Erie, a $26 million initiative that will bring locally focused clinical medical research trials to the region. Behrend is the academic research and commercial partner for MWRI-Erie. 
The college has a long history as an innovation testbed. The plastics engineering technology program was created in part in response to local companies, which needed a more consistent pipeline of skilled engineering graduates. 
The success of that program fed the growth of Behrend's Knowledge Park, a 106-acre innovation complex where 21 companies now employ approximately 600 people. Most of those companies moved to the park to engage in the Open Lab environment, and to better recruit Behrend graduates, Ford said. 
With 4,500 students on campus and online, the college offers plenty of hiring options to those companies, and to the 300 other businesses that recruit at Behrend's career fairs, which are the largest in the region. After a pause during the pandemic, enrollment at Behrend is increasing again: This year's entering class will include more than 1,000 new students – a 20% increase since the pandemic. 
Data shows that up to 75% of those students will complete their degrees at Behrend, Ford said. 
"Students often come to us because of the University's brand and reputation, and for the strength of Penn State's alumni network," he said. "They stay because they find that they fit here. They can pair the power and prestige of a Penn State degree with the welcoming feel of a campus that offers close social networks and leadership opportunities." 
Student life at Behrend is supported by more than 140 clubs and organizations. The college also fields 24 Division III NCAA athletic teams, several of which are based in the new Erie Hall, a $28.2 million fitness, wellness and recreation center. 
Nearly 40% of the cost of Erie Hall was contributed by students, who pooled funding from the Student Initiated Fee. 
"That creative, collaborative approach is the reason Erie Hall is now open," Ford said. "It's a good example of how we think at Behrend, and how, as we've grown, we have become a resource for both the University and the Erie region."