Provost leads panel presentations on how AI may impact academic affairs, research and student life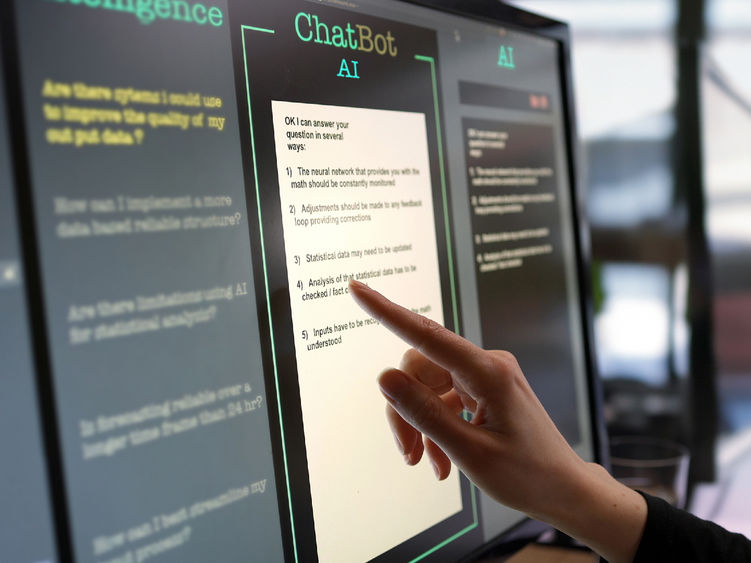 UNIVERSITY PARK, Pa. — Artificial intelligence (AI) opportunities far outweigh the challenges for use at universities, according to Penn State Executive Vice President and Provost Justin Schwartz. He led a panel discussion on AI and its implications for higher education at the Board of Trustees' Committee on Academic Affairs, Research and Student Life meeting on Oct. 19.  
"This is a snapshot of a rapidly evolving film," Schwartz said. "The goal is to help students navigate all of Penn State, to help students succeed across the University. We're in the process of establishing a joint standing committee on AI in the classroom to examine the breadth of faculty tools used in the classroom and how to disseminate those across the University, and to analyze potential policies that reflect the changing times and how they impact us." 
The topic has garnered global attention with the release of such generative tools as ChatGPT, which could help students better understand concepts — or it could be a cheating aid. Three faculty members with digital expertise shared their views on how AI could be incorporated into the classroom, as well as the implications and boundaries concerning the technology. Elisa Beshero-Bondar, professor of digital humanities, program chair of digital media, arts and technology, and director of the Digital Humanities Lab at Penn State Behrend; Jonathan Dodge, assistant professor in the College of Information Sciences and Technology; and Stuart Selber, professor of English and director of digital education in the College of the Liberal Arts' Department of English, focused on the importance of understanding the basics of how AI works to best understand its potential in education.  
"You don't need to become a technical expert, but understanding basic mechanics can help you understand problems and possibilities for student writers," Selber wrote in preparatory materials provided to the board. "AI can generate inaccurate information, make up information, automate work that requires human judgment, neglect current events and reinforce bias and discrimination. … We need to investigate thoroughly and thoughtfully what can be productive about integrating AI into writing and rhetoric courses. To what ends should we employ AI?" 
Dodge leads a course on explainable artificial intelligence (XAI), a type of AI that allows human oversight of the algorithm as it makes various decisions to produce an output — a process that is normally hidden by the intricacies of machine learning. Dodge said XAI can help laypersons learn about AI and how it works, supporting Selber and Beshero-Bondar's view that AI, if understood, can be a useful tool for students and educators alike.  
David Hunter, professor and head of statistics in the Eberly College of Science and director of the Penn State AI Hub, noted that research on AI continues to evolve, while research using AI is expanding.  
Funded by the Office of the Senior Vice President for Research and supported by the Institute for Computational and Data Sciences and the Social Science Research Institute, the AI Hub was designed to coordinate wide-ranging AI projects and facilitate interdisciplinary collaborations across the University.  
Importantly, Hunter said, the hub is an entry point for any Penn State researcher interested in working with AI or finding AI experts for collaborations. It also serves to connect Penn State's four AI centers and the Nittany AI Alliance, a student engagement initiative that convenes students, faculty, staff and industry — with an eye toward potentially commercializing Penn State research — to develop AI solutions to real-world problems.  
"One cannot separate our research mission from our educational mission — that's a fact the AI Hub embraces," Hunter said, noting that the intertwined missions also underpin the hub's primary interest of building a sense of community among Penn State's AI researchers and students.  
Barry Bram, interim senior director of special projects for Penn State Student Affairs, and Sydney Gibbard, online resource hub program assistant for Student Affairs, spoke to how AI can help build community beyond those researching it. They are leading the "Resource Hub Project," an initiative to make Penn State a leader in both making technology more equitable and applying technology to improve equity that Gibbard was heavily involved in as a Schreyer Honors student majoring in biomedical engineering. She graduated in May and was hired by Student Affairs to help launch the project. She will join Boston Consulting Group in January. 
Pulling from the University's most recent report on diversity, equity, inclusion and belonging, Bram and Gibbard identified key gaps that could be reduced by providing an AI-infused resource hub that more efficiently and effectively provides students with needed information or guidance.  
"Students from racialized minority and marginalized groups report more difficulty identifying and navigating the University's offices, processes and protocols available to address harmful experiences," Bram said. "They are also less likely to be retained after their first year and are more likely to leave Penn State without completing their degree. We've spent time over the summer engaging with potential providers and vendors to learn more and build out our requirements for the system. What kind of assistance do we think students will need and use?" 
The resource hub is the first tier of three intended to address equity gaps and student belonging among these groups, which include low-income and first-generation students among other traditionally underrepresented populations, according to Bram and Gibbard.  
"We know that many low-income students work part-time jobs and have less time to devote to their studies and seeking support, so, with this hub, getting help will be faster," Gibbard said. "In addition, first-generation students don't always have a support system at home that knows how to help them navigate college courses and resources — it will be easier to get help with this hub. Racialized minorities struggle with belonging and involvement because they report more discrimination and micro-aggressions — they will be able to get help with less anxiety."  
Currently in the planning stages, the hub will be designed so that students can submit inquiries on everything from locating services or determining prerequisites for a major to scheduling an appointment with their adviser and asking for help for "high-value journeys" such as how to mitigate poor class performance. In addition to in-person contact and programming, Gibbard and Bram said it is their hope that the improved hub will be another path to help students procure the information they need to find success and belonging at Penn State. 
"Some student issues are so unique and so sensitive that they need to be addressed by a live counselor or adviser … an AI platform can direct a student to the right service the first time," Gibbard said. "In short, this technology platform gets students to the right resource faster, and it will also answer basic questions that won't require the student to set up a meeting with someone. Ideally, this frees up advisers to have even more meaningful conversations with students." 
A discussion followed the panel presentations and largely focused on how to move plans forward in ways that include students at every campus while accounting for potential financial barriers to access the latest tools in a rapidly evolving field. The committee also discussed potential opportunities for collaborating with industry partners to accelerate implementation of the student resource hub.  
Penn State President Neeli Bendapudi highlighted how this new tool will help students better navigate a large, complex institution like Penn State, and underscored the importance of collaboration and continual improvement to best serve students.  
"One of the keys for us is not just launching a tool or system but also updating it," Bendapudi said. "It's going to be important to build those partnerships."