Penn State Behrend Student Profiles
Program Information: Ronda, Spain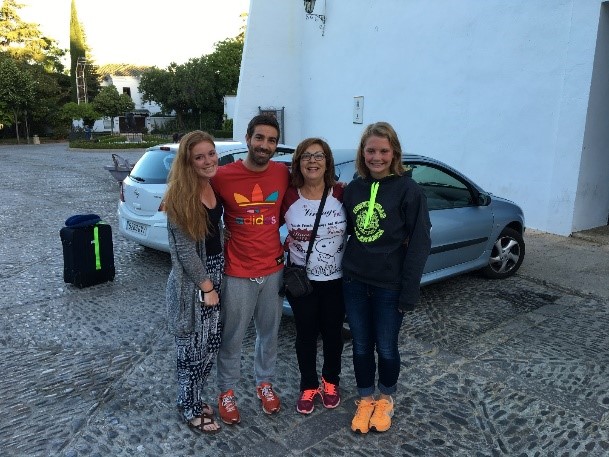 My roommate, Margo; my host brother, David; my host mother, Reyes; and me.
Why did you choose this program?  
 I chose the Ronda program because I really wanted to try a homestay and experience a new part of Spain. Typically, when you hear that someone studied abroad in Spain, it's at one of the larger universities in the bigger cities (Madrid, Barcelona, Granada, etc.). I wanted to see a lesser well-known part of the gorgeous country and experience the Southern urban culture. Southern Spain has some of the most breathtaking views in all of the country. Another reason why I chose this program was because of the included excursions to other parts of Spain on the weekends (Granada, Madrid, Seville, Cadiz). It was a wonderful opportunity to become a world traveler along with 17 other students from Penn State.
What was the housing like on your study abroad program?
For my study abroad program, I was able to participate in a homestay. At first I was extremely nervous about living with a family I had never met before, so I requested to have a roommate from Penn State. However, from the moment that my host family arrived to pick me up, I knew I would be in caring hands. They welcomed me with open arms and were so excited to learn all about me and share their wonderful country with me. Having a roommate was awesome because it allowed me to make a new best friend as well as have someone to talk to about culture shock. My host family was amazing, and we still keep in touch on Facebook. By doing a homestay, you really have the opportunity to use your language skills constantly and learn so much more about the culture by truly living in it. We always had meals together and really became a close family over the six-week period. It was really hard to say goodbye without tears coming to our eyes.
What's your best memory from your time abroad?
One of my favorite memories from study abroad was when we would regroup each night as Penn Staters and have dinner together somewhere around town. This was a chance to not only continue to practice our language skills and try new food in a different part of Ronda, but also to share the memories we made that day or new things we had learned or experienced. Towards the end of our trip, several times we packed a picnic dinner and went for a hike to El Puente Nuevo. The view was breathtaking, and we did some late night karaoke under the stars. These memories are priceless.  
What was your biggest surprise about the location, culture, or other aspects of your program?
The biggest surprise about my program was all of the surprise events that were planned for us throughout the trip. For example, one night we were told to meet at the school in a particular outfit. We arrived to find out that we were partnering up and learning how to Flamenco dance from a real instructor. Also, when we were in Seville, we got to travel the city in horse drawn carriages. After class one day, we were able to visit a culinary school and make traditional dishes for lunch. Together as a group, we hiked into the gorge and took pictures with the water falls. We even explored several caves and learned about their historical significance. One of the most interesting surprises was a trip to a ham factory. We just never knew what was going to pop up on the schedule next!
Why do you recommend study abroad to other students?
I recommend study abroad to other students because you will learn and experience things that simply cannot be found anywhere on campus. You are directly immersed in the language, the culture, and the people. You are placed outside of your comfort zone and forced to find a new balance and try new things. Studying abroad truly allowed me to grow as a person and become more confident and independent. It is amazing to look back on those six weeks and think about how I was living in a different country by myself and enjoying every moment of it. My Spanish skills improved tremendously because I was consistently using and listening to the language. If I wanted to go somewhere or explore a new part of town, I had to just dive in head first and go for it. When I returned to the United States, I could tell that this opportunity had changed me for the better in numerous ways. I cannot wait to go on my next study abroad adventure.
 If I could do it over, I would…
100% study abroad again in a heartbeat. If I could change anything about the program, I would lessen the amount of class credits required (3 courses, 9 credits) so that I could spend more time exploring Spain. I would also like to have learned about the man selling churros down the street from my house sooner than I did because they were delicious and not like the churros we have here.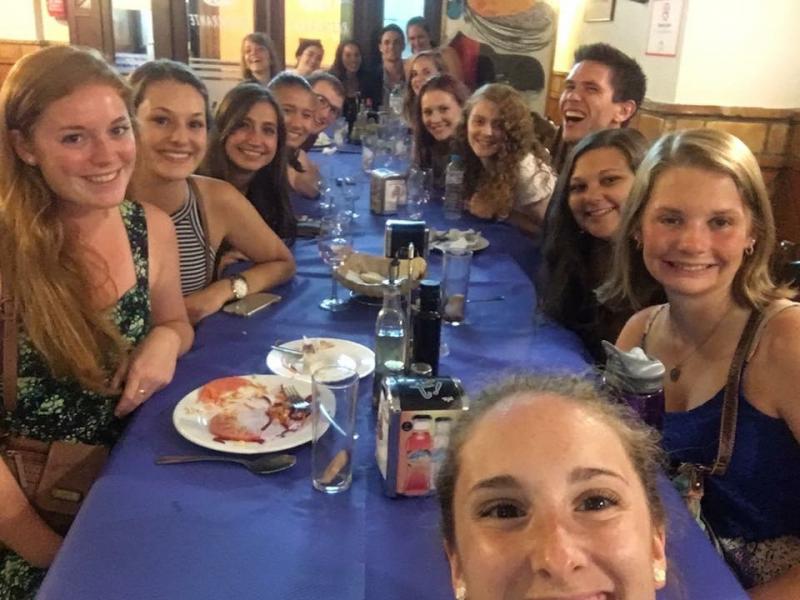 Enjoying dinner out with the Penn State group.
Program Information:  Ryerson University in Toronto, Canada
Describe your favorite classes abroad.                                                               Happy to be in Toronto!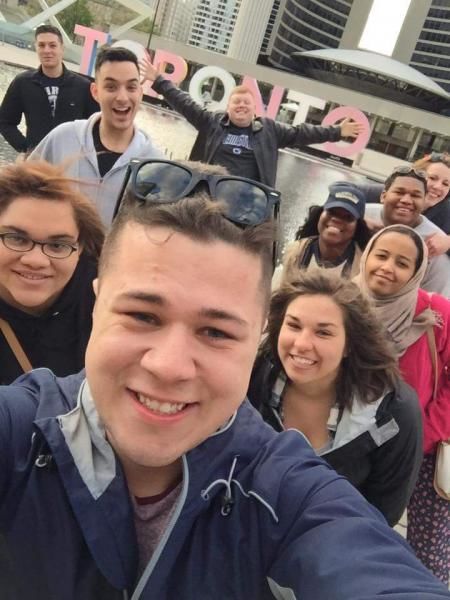 There are only two classes offered on this program: 199 and 499. The 499 class, which is the one I took, is the same as the 199 only has a research paper due at the end of the course. The class was taught by both a Behrend and Ryerson University professor. I really enjoyed this aspect because it gave us a chance to experience a real Canadian classroom. The class compared Canadian politics to American politics, and every class featured an impromptu debate between the students on the different policies and our thoughts and beliefs on those policies. The best part about this class was learning about the Canadian perspective of the United States and their views and thoughts on our policies. It was incredibly interesting to have our culture and political system presented to me in a [Text Box: Students in Toronto] completely different light than I have ever thought of it before.
What was the housing like on your study abroad program?
We stayed in the International Living/Learning Center at Ryerson University, situated in the middle of downtown Toronto. It turns into a hotel in the summer which the Hospitality major students at the university work at and run. Everyone had their own room, bath included, and we were all on the top floor of the building. There was free wifi, tv, and a kitchen in the common room on every floor.
What's your best memory from your time abroad?                                                          
My best memory of my time abroad was when a few friends and I went to Niagara Falls in the middle of the night. We accidentally crossed the border looking for a breakfast diner without our passports, but the Canadian customs officer just laughed at us when we came back through. He ended up giving us directions to a really good breakfast diner shaped like a flying saucer.
What was your biggest surprise about the location, culture, or other aspects of your program?
The biggest surprise was how much freedom we had. Our class was Monday through Thursday from 1:00 pm – 4:00 pm, so we had so much time to explore and experience and the city. Another big thing was how safe I felt in the city. Canada has very few problems with guns on the streets compared to the United States, so it was really freeing to walk around a city of Toronto's size in the middle of the night and not feel afraid for my safety. I never realized how much I actually thought about my safety until I didn't have to in Toronto. It's not to say that Toronto is the safest city, but compared to cities of comparable size in the United States, the crime rates are staggeringly less.
Describe your experience with culture shock or reverse culture shock.
I had more of a reverse culture shock than a culture shock. I enjoyed living in Toronto so much that it was easy to adapt to the way of life there. When I came back I was struck by the lack of diversity the most. Toronto is such a diverse city it almost seems like there is no one race majority there, and everyone lives pretty peacefully together. Second was just getting use to not living in the middle of a city anymore: having to drive everywhere, how quiet it got at night, how few people were on the streets and in the stores.
Students viewing Toronto's beautiful skyline at dusk.