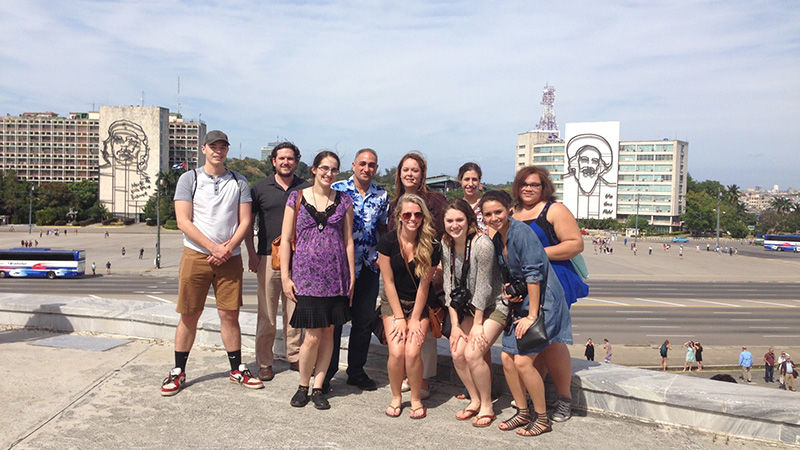 In addition to fulfilling a General Education requirement for many majors, studying another language provides rich life and career opportunities. The knowledge you gain from your study of a global language can make you a more skilled communicator in English, and the greater sensitivity to other cultures that comes from studying a language is invaluable on the job market and beyond.
Whatever your degree, knowledge of another language will give you a leg up on the competition, providing you with some of the soft skills that many employers are seeking. Being able to speak, read, and write even a bit of another language can open new doors, allowing you to make friends overseas, to experience another culture from the inside, and to reimagine your own life choices and possibilities through the lens of a different way of life.
At Penn State Behrend, you will receive personalized instruction from expert teachers. Class sizes are kept low, and professors are of the highest caliber. Employing the most current instruction methods, they travel frequently and bring to the classroom their experiences in France, Germany, Austria, Spain, and Latin America.
Once you have completed your language requirement, you can continue to build your skills by pursuing our German Studies certificate, Spanish minor, and independent study in any of our languages.
If you enjoy languages and want to learn more about other cultures, join the Languages Club, International Student Organization, or Multi-Cultural Council. Or study abroad. Penn State Behrend offers a variety of study abroad opportunities, including three regularly offered courses that include an embedded trip overseas: IT 130 Italian Culture and Civilization, PL ET 499 International Plastics Experience, and SPAN 130 Iberian Civilization.
If you are a Black School of Business or School of Engineering student, the college has an agreement with Rosenheim University of Applied Sciences that allows you to study abroad in Germany while making progress towards your degree.
Meet the Faculty
Dr. John Champagne, Professor of English and program chair, Global Languages and Cultures
Dividing his time between his homes in Erie and Perugia, Italy, Dr. Champagne is a lifelong language learner who frequently tells people, "Il mio Italiano è sempre un lavoro in corso" ("My Italian is always a work in progress"), and "Je ne parle pas Français depuis longtemps" (I haven't spoken French in a while).
Michelle Fowler, Lecturer in English Composition for Multilingual Learners
Originally from Ohio, Michelle Fowler earned bachelor's degrees in multi-age education and Spanish as well as a master's degree in English/English as a Second Language. She has taught ESL and Spanish in a variety of settings with diverse groups of students. She believes that humans have a tendency to fear the unknown, but if we broaden our knowledge of the many cultures and languages of the world, we can have a better understanding of each other and conquer this fear. She is very excited to have the opportunity to teach Spanish this year and help introduce others to esta lengua tan bonita y cultura tan interesante. ¡Bienvenidos!
Derek Golembeski
I am a local high school and university graduate, Northwest Pennsylvania Collegiate Academy Class of 2001 and Edinboro University Class of 2006. I also spent a semester at Otto Friedrichs Universität Bamberg in 2004. I hold a master's in teaching German from University of Nebraska-Lincoln. I have been a German teacher at Collegiate Academy since 2012, and started to teach part-time at Behrend in 2017. I have three kids, a few cats, and hopefully soon another German shepherd. I like music, food and travelling.
Dr. Eva Kuttenberg, Associate Professor of German
Dividing her time between her homes in Erie, New York City, and Vienna, Dr. Kuttenberg is a trained translator for Spanish and English and happy to teach all things German and Austrian. Servus in Wien!
Dr. Jessica Piney, Assistant Teaching Professor of Spanish
Dr. Piney is a native of New York City who has been immersed in the language and culture of the Spanish-speaking world her entire life. Of Cuban and Spaniard ancestry, she grew up bilingually, deeply identified with her roots. If you take her classes, not only do stories about living Spain and her travels through the Spanish-speaking world interweave with instruction, but salsa lessons (her passion) make it on to the syllabus, too. She says, "Being bilingual and spending a year abroad took my career goals in a direction I never could have imagined. Speaking another language is life changing."
Dr. Soledad Traverso, Professor of Spanish
I am a native of Chile with Italian and American citizenships… and yes, I come from a wine-making family, but I almost never drink! I went to a British private school in Chile, where I learned English with a British accent, which soon became Americanized when I came to the Unites States to get my Ph.D.
Literature has always been my passion, and Surrealism my sub-passion. I have a B.A. in Spanish and Latin American Literature and Linguistics, in spite of the fact that my father wanted me to study enology (winemaking) in Italy. My Ph.D. is in Latin American Literature from the University of Maryland. 
I have traveled to all regions in Latin America, and I love teaching Spanish, Latin American literature, and Latin American cultures; that is why I have devoted so much energy to the Spanish minor, which I hope will eventually become a Spanish major.
Dr. Laurie Urraro, Assistant Teaching Professor of Spanish
Dr. Urraro is an Erie native. While her research interests include contemporary female-authored Spanish drama, her true passion is teaching! She has taught for over twenty years at the middle school, high school, and college levels. She believes that language opens the door to the future: "La lengua te abre la puerta al futuro." 
Dr. Kathryn Willis Wolfe, Professor of French
Dr. Wolfe has stayed on at Behrend well past normal retirement age for the sheer pleasure of explaining French (and English) grammar and pronunciation, along with supplying fun facts about French vocabulary. For instance: why is the French word for a paperclip "un trombone," why is the word for a bedbug the same as for a thumbtack, and why is the most formal men's apparel (white tie and tails) referred to as a "magpie tail" in French? Once she retires, Dr. Wolfe hopes to spend more time with her husband in their Paris apartment while still enjoying the glorious summers of western Pennsylvania!
Dr. Ashley Yochim, Assistant Teaching Professor of ELL Composition
Dr. Yochim has a Ph.D. in Second Language Acquisition from Carnegie Mellon University, a M.Ed. in Education (Middle and Secondary Instruction) from Edinboro University and a B.A. in Public Relations and Spanish Language, Literature, and Culture from Syracuse University. She has studied Spanish in Costa Rica and Cuba. Prior to joining Penn State Behrend, she taught Spanish at the high school level for three years and English composition and Spanish at Carnegie Mellon University for two years.