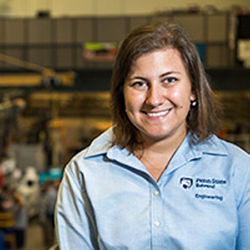 "The M.M.M. degree at Penn State Behrend is a great program for a wide variety of people looking to further their career in manufacturing. In my graduating class alone, we had students coming straight from their undergraduate studies, young engineers looking to climb the ladder, and experienced engineers hoping to more effectively manage not only their production units but also their employees. The diverse backgrounds of these individuals ranged from industries including transportation, aerospace, electronics, and even food. The discussions around the curriculum with this group added a considerable amount to the teaching topics. 
"The faculty at Behrend are able to make the courses very applied to the real-time needs of the students. The lectures, assignments, and case studies are designed such that students can take what they learn in class today and apply it to their job tomorrow. There is a great practicality to the material being conveyed to the students."
Annie Gohn '16
Engineering Research Associate
Penn State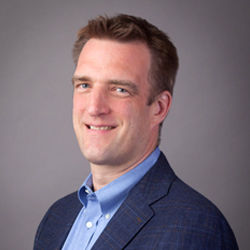 "There are multiple things you get out of this program and degree. The first and foremost are tools like lean manufacturing, six sigma principles, production planning, and specific engineering and management skills. These are tools you can use immediately in a manufacturing environment, and tools that employers are looking for. You also get a strong understanding of why these tools are valuable, and what the overall strategic goals of a manufacturing operation are. On the slightly softer side, you also learn many communication skills.
"I came into the program wanting more than anything in the world to run a manufacturing operation, which I now do. What I got most from the program was the ability to be fully focused on and engaged in what it takes to run a successful manufacturing operation."
Jason Wilburn '00
President
Foerster Instruments Inc.
"The MMM program provides students with knowledge of manufacturing processes and strategies that directly apply to day-to-day jobs in engineering, business, supply chain management, quality, and more. With the manufacturing presence in Erie, students have a great opportunity to learn from classmates who are also working in local industry. On my teams specifically, I have worked with individuals representing machining, casting, food and beverage manufacturing, and welding backgrounds. These different perspectives allow for real-life examples that complement the classroom material. With the MMM degree, students can expect to better understand and appreciate processes outside of those that they have already experienced while gaining experience using tools that assist in tackling challenging projects.
"It is beneficial to complete the MMM program while working in industry at the same time. Experiences in the workplace allow for enhanced learning due to specific examples that the student can relate to the in-class material. I have specifically found myself using tools in statistics and creating business cases to work through challenges at work in business and operations environments. As someone who enjoys manufacturing and the challenges of working in operations, the MMM program has allowed for further development and learning that will assist in my career growth."
Dan Rose '18
Materials Supervisor
LORD Corporation