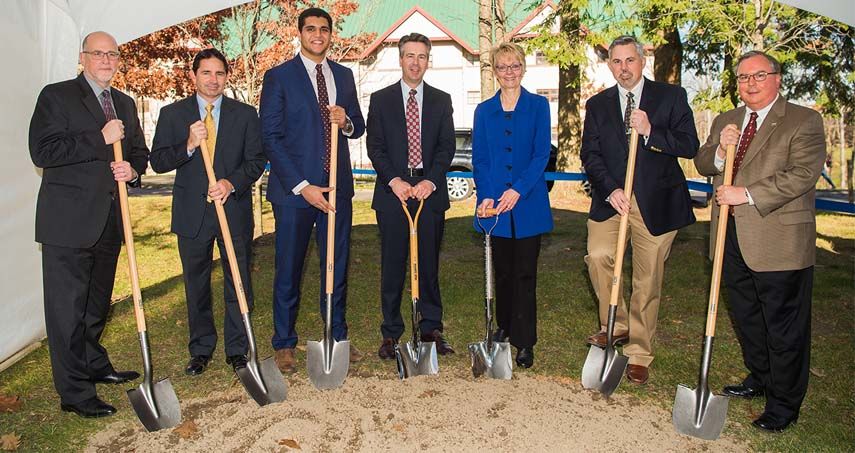 Construction of Trippe Hall, a four-story, 251-bed residence hall at Penn State Behrend, is expected to begin in December. The $28.4 million building will be located near Ohio Hall, at the southwestern corner of the campus.
The building will house both first-year and upper-level students, with most assigned to double-occupancy rooms. A portion of the building will be reserved for students in the college's Black School of Business, particularly those with interest in international study. A conference room, reception area and group study spaces will allow the Black School to offer programming in a residential setting.
"The students who choose to live in Trippe Hall will do so because they see the value in interacting with other cultures," Chancellor Ralph Ford said. "That's more than an academic exercise: According to the U.S. Department of Labor, one in five American jobs is now tied to global trade."
Each floor in Trippe Hall will have a large community room, with additional study lounges in each wing of the building. A fully equipped community kitchen will be accessible to all residents.
"We want to create a living-learning environment where students who have an interest in international business can interact in formal and informal settings," said Ken Miller, senior director of campus planning and student affairs. "When students of different cultures engage with one another on a day-to-day basis, they are far better prepared to work in integrated global settings."
The building will add housing capacity at the college, which has maintained a waitlist for on-campus housing in each of the last 10 years. It also will continue a Penn State Behrend tradition of having all on-campus student residences named for ships or captains that participated in the Battle of Lake Erie: The Trippe was a one-gun sloop that fought a long-range duel with the British ships Lady Prevost and Little Belt.
The building is scheduled to open at the start of the fall 2018 semester.