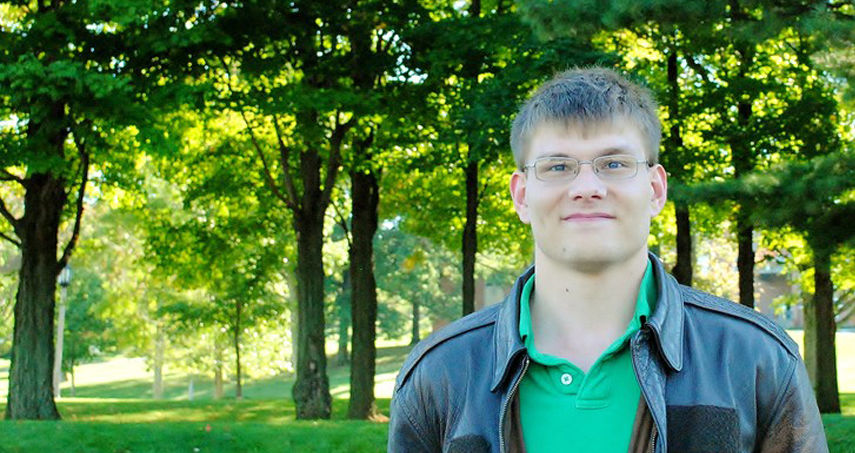 The New York Stock Exchange was created beneath a tree: On May 17, 1792, a small group of merchants gathered beneath a leafy buttonwood in front of 68 Wall St. to set rules for how their securities would be traded. The result, known as the "Buttonwood Agreement," set commissions at one-quarter of a percent.
The tree stood for 70 more years before falling in a storm. It was called a buttonwood — that type of wood was a common source for butcher's blocks, and for coat buttons — but it was actually an American planetree, also known as a sycamore.
A sister tree stands in the LEAF Arboretum, in Erie's Frontier Park. That version, a Bloodgood London variety, is one of more than 255 unique species in the arboretum, many of which were donated as memorials to family members.
Michael Curtis knows it well. Curtis, a Penn State Behrend science major, used GPS location tools to map the arboretum, matching individual trees – a persimmon, a corkscrew willow, a Mount Fuji flowering cherry – to the corresponding memorial plaques. With guidance from Michael Naber, lecturer in geosciences, and code developed by two other Penn State Behrend students, Abel Lopez and Alexander Yochim, he created a web-based map with interactive data points for each tree, bench and memorial plaque in the park.
"I had to systematically walk to and document every single tree," said Curtis, a senior. "That took a lot of time. It's a big park, and it feels a lot bigger when you're doing that kind of work."
The LEAF website links to the map, which has clickable pushpins for each tree and plaque. The data also can be accessed from a smartphone or tablet, giving arboretum visitors a real-time resource while they are exploring the park.
"One of our goals was to make that information mobile," said Char Mashyna, the arboretum's director. "If you want to see a tree that your grandfather donated 10 years ago, you should be able to go online and find it."
The park's tree inventory had been recorded in different formats. There were records of each tree's Latin name, common name and donor family, but the spatial identification — the map, basically — was in a separate file, archived in a different format.
"We had a database for all the trees, and we had notes on who donated them, but the records didn't overlap," Mashyna said. That posed a challenge when park volunteers needed to place, repair or remove a dedication plaque.
"I could maybe tell you what quadrant a tree was in," Mashyna said. "I might be able to say, 'It's near the creek, by the bridge.' But I don't know them all."
The mapping project was supported with funding from the college, which provides approximately $350,000 each year for faculty-guided undergraduate research. Work in the park began in 2015.
"This project is a great example of service learning," Naber said. "It matched a student with a nonprofit that couldn't do the work on its own, and it provided a benefit to both."
In June, Curtis and Naber traveled to San Diego to present research related to the mapping project at the ESRI Education GIS Conference. By then, the funded portion of the work had ended. Curtis continued with the project, however, adding new features and more interactivity to the map.
"I really like that people are using it," he said. "Especially the kids. It's another way for them to connect to and engage better with the environment they're in."