Eighteen years, 1,875 interviews and one life-altering event later, the goal remains the same for Daniel Hernandez Jr.: helping people.
That was the prevailing message from the motivational speaker's lunchtime presentation in front of 40 students, staff and faculty members in the lobby of Metzgar Center at Penn State Erie, The Behrend College.
Hernandez was an intern in the office of U.S. Rep. Gabrielle Giffords of Arizona's 8th congressional district in January 2011 when Jared Lee Loughner committed a mass shooting that left six dead and 14 wounded, including Giffords. It could have been worse if not for Hernandez. The Tucson, Arizona, native, who had studied medicine before entering politics, is widely credited with taking the necessary steps to save Giffords' life in the wake of the attack.
His actions on that day were just part of what the 23-year-old spoke about during his presentation, which was sponsored by the college's Office of Educational Equity & Diversity Programs.
During his speech, Hernandez recalled being five years old and falling off the bed. He was rushed to the hospital, where he received five stitches to patch up the wound in his head.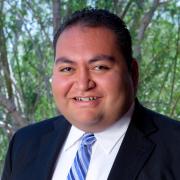 At the time, the mere notion of a hospital was a terrifying thought for Hernandez, but that quickly changed. He recalled how the hospital staff was so kind to him and even let him shadow them for an hour that day.
"It was at that moment that I decided I wanted to become a nurse or a doctor, because I wanted to help people," Hernandez recalled.
Since then, Hernandez's career desires have changed as he's moved into politics and now motivational speaking, but the career goal of helping people has remained static.
"Sometimes intentionally and sometimes unintentionally by sharing your story, you're able to help people," Hernandez said.
Hernandez continues to attempt to help people each day. He remains active politically and is an advocate for LGBT rights. He also serves on the school board at Tucson's Sunnyside Unified School District after winning a seat at the age of 21.
Hernandez offered four key takeaways to the crowd as his speech concluded. First, he reminded them to remember kindness and civility. He also emphasized education and how learning does not have to end in the classroom.
Finally, he encouraged listeners to find their own path and recognize the importance of their voice.
"Don't underestimate yourself," Hernandez said. "Find your passion and use that as a way to help your community."