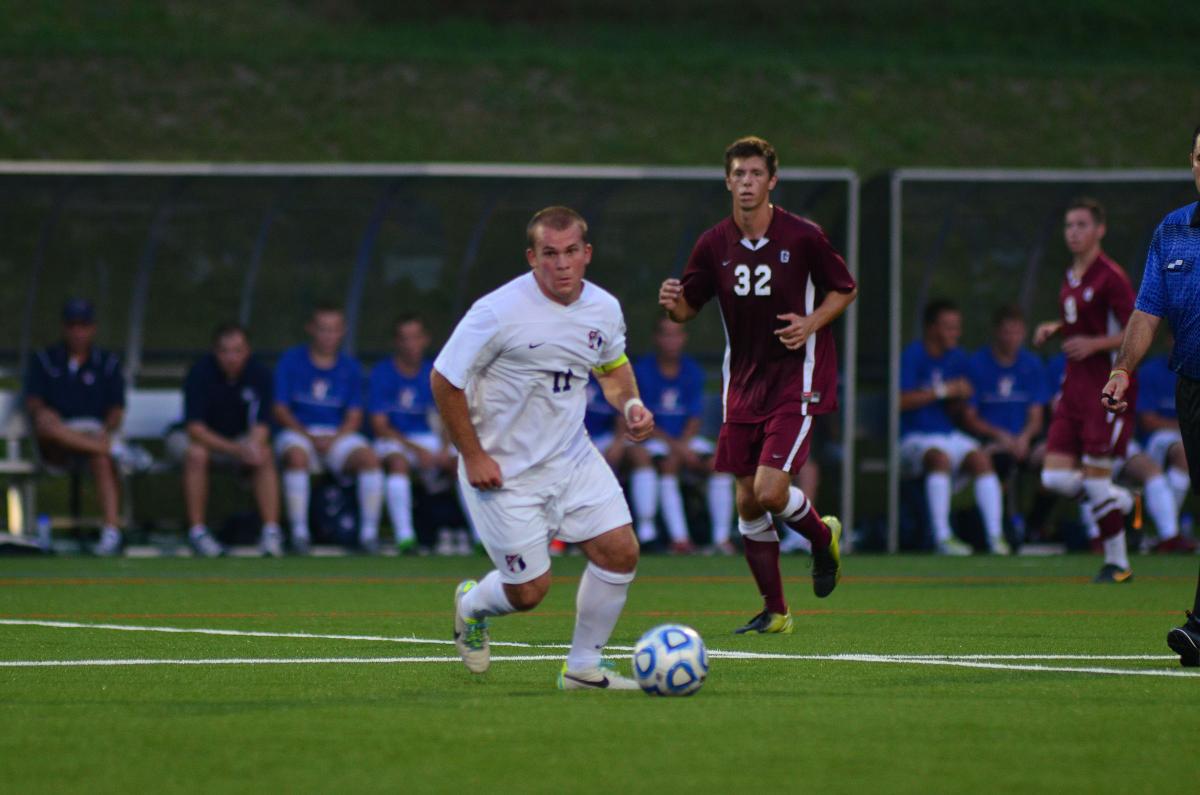 Garrett Fiscus has won two Allegheny Mountain Collegiate Conference Championships, advanced to two NCAA Tournaments and started sixty-four games while playing soccer at Penn State Erie, The Behrend College.
Yet, his greatest accomplishments are of a different nature.
"All of the academic-athlete awards I've won through soccer have been my most important achievements. It shows that I am achieving success on the athletic field and academically as well," said Fiscus, a senior Biology major and four-time AMCC All-Academic selection who will serve as marshal for the School of Science during May's commencement ceremony.
Fiscus is one of 174 Penn State Behrend student-athletes who earned a grade-point average of 3.0 or greater during the 2013 fall semester. The number represents 54 percent of the total student-athlete population.
Of those 174 students, a total of eighty-two earned dean's list honors during the fall semester by posting a GPA of 3.50 or higher.
The academic accomplishments of the fall teams come on the heels of unprecedented athletic success. Penn State Behrend swept the AMCC fall championships, winning titles in soccer, cross country, volleyball, tennis and golf. No school had ever before won all seven titles.
"It showed in the fall that good athletic performances carry over into the classroom. If we're struggling as a team on the field, we're going to struggle in the classroom. We're excited that so many student-athletes achieved this success," said Brian Streeter, director of athletics.
Ninety Penn State Behrend student-athletes were also recently named to the AMCC All-Academic Team, and twelve of those individuals are members of the Chi Alpha Sigma National Collegiate Honor Society.
To be named to the Academic All-Conference Team, a student must compete on an AMCC championship sport team and earn a minimum cumulative GPA of 3.2 or higher as of the conclusion of the 2013 fall semester. Chi Alpha Sigma honorees must earn a 3.4 GPA or higher and demonstrate high moral character.
Chi Alpha Sigma honorees include:
Dante DeSantis, Sr., Baseball
Kayla Frawley, Sr., Softball
Kelsey Fuller, Sr., Softball
Leah Griffin, Jr., Softbal
Danny Kress, Jr., Men's Basketball
Garrett Fiscus, Sr., Men's Soccer
Pat Johnson, Jr., Men's Soccer
Maddie Monte, Jr., Women's Soccer
Dan Simon, Sr., Men's Swimming and Diving
Kyle Frederiksen, Jr., Men's Cross Country
Denis Lydon, Sr., Men's Cross Country
Andres Morales, Sr., Men's Cross Country