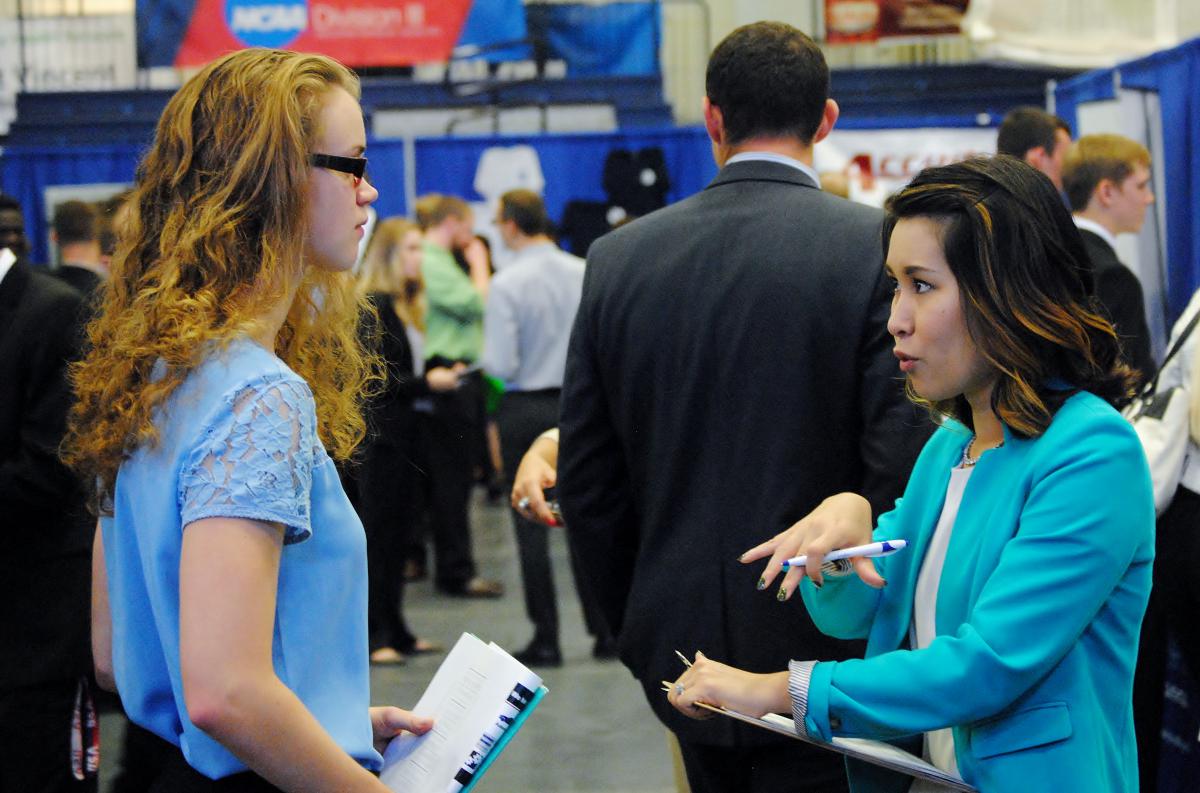 Jordan Mushrush sat quietly in the prep room prior to the start of the fall Career and Internship Fair at Penn State Behrend, scanning the list of companies in attendance. He had already circled those that he planned to speak with, but he wanted to peruse the list one last time.
This was not the first career fair for Mushrush, a senior mechanical engineering major, but the stakes were higher this time. The McKean native, who will graduate in December, was hoping to line up a full-time position.
"I've gone through the list of companies and researched what they're looking for, and I've tried to match it with my experience," Mushrush said. "Preparation is really important. I've done mock interviews in the past, and I've had actual interviews for internships that I hope will be helpful."
Mushrush was one of 1,182 students who hoped to make a good impression at this year's fair, held Sept. 28 in the college's Junker Center. His strategy of being extra prepared was a sound one.
That's exactly what many of the 170 companies in attendance wanted to see.
"They do not have to know everything about the company, but it really helps to see that they've done their research," said Melissa Stephan, HR supervisor for Harmac Medical Products, Inc.
David Poland, audit manager at KPMG's Pittsburgh office, agreed.
"The biggest thing you can do is come prepared," Poland said. "If students come to me and know specifically about the company and what they want to get into, it's helpful rather than just being general with your questions."
Leading up to this year's career fair, the college placed extra emphasis on the preparation aspect. The Academic and Career Planning Center, which sponsors the fair, held a Career Fair Expo one week before the fair where students could meet with actual employers to review résumés and practice introductions and interview questions. That same week, the Black School of Business gave students a chance to test their elevator pitches during a "Business Blitz" speed-interview simulation.
"Employers commit to attending the career fair in order to continue their talent pipeline of Behrend students and graduates, so they appreciate it greatly when a student puts in the time and effort to research their company," said Courtney Steding, director of career services at the college. "Students who do the most research and prepare themselves find the most value in attending fairs and make a positive impression with the employers."
Even experienced students can benefit from participating in activities like the Career Fair Expo. Janelle Johnson, a senior finance major, is a perfect example of that.
The Erie native had a different perspective than many of the fair's attendees. After working 16 years in medical coding, Johnson attended the fair in hopes of securing an internship in her new field. To prepare, she made sure she took part in the "Business Blitz" exercise.
"I think it's very helpful," said Johnson, who will graduate in May. "If you're prepared, you won't stumble over your words, and it's really good to have that direction. Any experience like this is a good experience."