The longest six minutes of Cody Colpo's summer will be on Friday, the final day of the Society of Automotive Engineers' International Supermileage Challenge. He'll be watching a timer, waiting for a carbon-fiber test car to clear the far side of the track at the Eaton Corporation's Marshall Proving Grounds.
Supermileage is a slow-motion race: Drivers try to keep the vehicles at a fuel-efficient 15.1 mph. For the crew – Colpo, a senior from Evans City, is captain of the team at Penn State Erie, The Behrend College – it's a nerve-wracking wait.
"It takes about six minutes to complete a lap," he said. "And for five and a half of that, you can't even see the car. It can make you a little crazy."
It's worse in the car. A full test run takes about 40 minutes. The cockpit is cramped and hot: The temperature at the Eaton track can top 90 degrees. At that point, the cars begin to melt.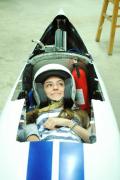 Katie Burbules straps in anyway. She drove the top car in the 2013 Supermileage challenge, getting 1,290 miles from a single gallon of gas. That brought the SAE trophy to Penn State Behrend for a second consecutive year.
"It isn't comfortable," she said. "This vehicle sits about an inch off the ground. When you go over a crack on that test track, you feel it."
She can't hear much. The car's engine sits just inches behind her head. She ignites it and then coasts, staying as close as possible to that 15.1 mph goal. For six laps she does that – ignition, coast, ignition, coast, ignition, coast – while the others stand with their timers, fingers crossed.
Burbules knows every quirk of the car. Last year's leaf-spring suspension wobbled a bit. This year, the team opted for a solid-bar system. It's stiffer but still has some give.
The engine is smaller. The last model was too powerful; at full-throttle, the rear wheel spun out – a fun stunt for YouTube, but not exactly fuel-efficient. Chad Rudinski, a senior from Cogan Station, stripped it down, swapped in a ring of aluminum and added a cast-iron core. That made the engine lighter and more efficient: The stock part that every team begins with – a 1-hp Briggs & Stratton lawnmower engine – now produces 1.2-hp.
It will still take some luck to win in Michigan. Twenty-nine university teams will compete at this year's Supermileage Challenge. They represent schools in Mexico, India, Venezuela and across the United States. Penn State Behrend is a favorite, having won the last two titles, but the team's members have their eyes on a different prize: 2,000 mpg.
"It would be nice to win," said Richard Englund, associate professor of engineering and the team's adviser, "but I'm more interested in the individual achievement of our school topping 2,000 mpg. If we put good numbers on the board and we get 2,000 miles to the gallon, then we've succeeded in my eyes, no matter where we place."