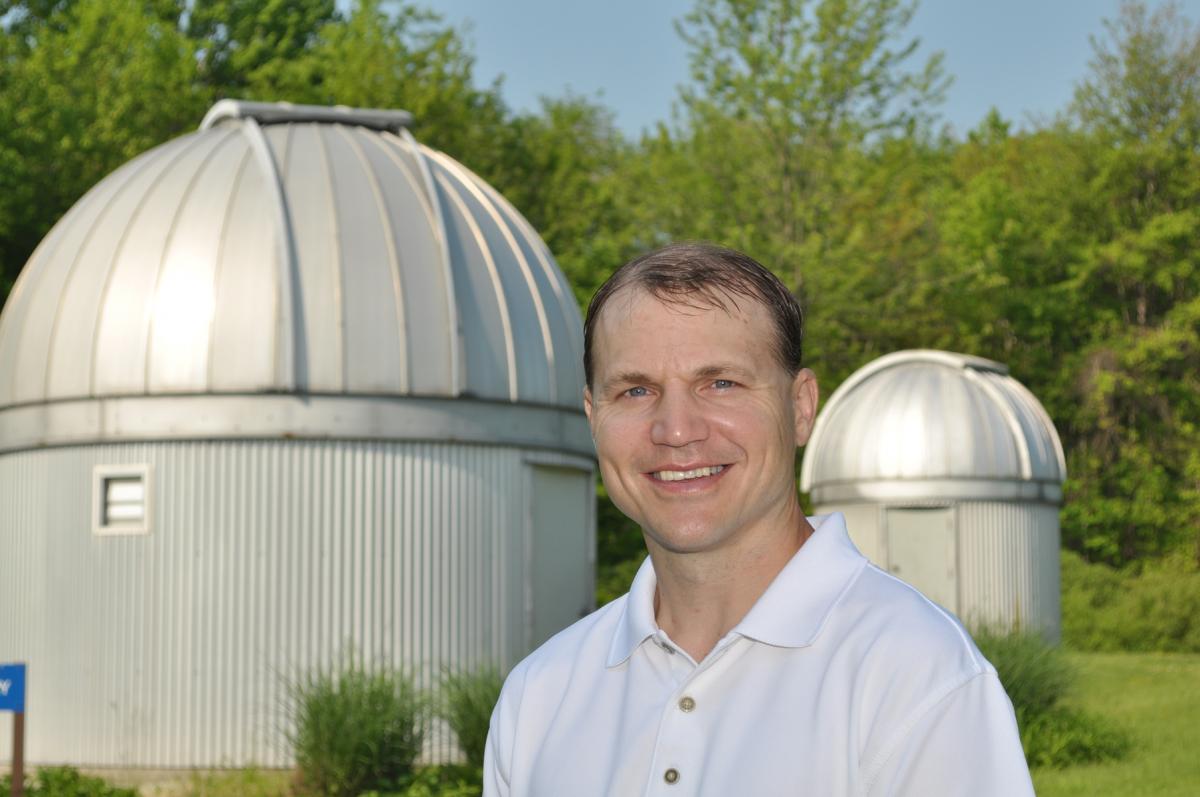 Darren Williams works in the same office he did two years ago. He researches the same topics. He teaches the same courses.
Yet life will never be the same for Williams. Not anymore.
Williams, a professor of Physics and Astronomy at Penn State Erie, The Behrend College, thinks back to the summer of 2012 and realizes signs were evident.
His energy had been cut in half. Red spots began to appear on his legs. A routine cut on his leg got infected.
Everything came to a head for Williams during convocation for the fall 2012 semester. He wore new shoes during the ceremony, and a blister became infected.
Williams decided to go to the emergency room, where doctors performed blood work. They noticed his platelet count was low and suggested admitting him.
That was something Williams was adamantly against. The fall semester was set to begin that Monday, and he felt that he needed to complete some preparations. After some discussion, Williams convinced doctors to let him return Monday afternoon for additional blood work.
He did just that and everything seemed fine until he received a call from his wife, Jody, as he was driving home.
"The emergency room called," he recalls her saying. "They said the blood from Saturday was analyzed and your white blood cells are deformed."
His wife's words carried a startling reality: Williams had leukemia.
"I'm living my life and you don't think about health," Darren Williams says. "Then you get sick and you immediately think, 'This is it. This is where it all ends.'"
In a blink of an eye, everything suddenly changed for Williams. He would not be teaching Astronomy and Astrophysics that semester, he would not be hosting an Open House Night in Astronomy, and he would not be going on sabbatical in the spring.
"Everything comes to a stop," Williams says. "That was the hardest part. Our daily routines and the things we worry about all go away. All of the normalcy becomes abnormal."
Williams was approved for Family Medical Leave from Penn State Behrend, and he spent the next twenty-nine days at Saint Vincent Hospital. The doctors gave him dose after dose of chemotherapy while monitoring his blood levels.
The initial treatments had a positive effect. After the twenty-nine-day hospital stint, the leukemia was destroyed, Williams' blood levels started to recover, and he was able to return home. Williams was to have four follow-up treatments at the Regional Cancer Center, and it appeared as if the nightmare was on its way to being over.
But while leukemia was now absent, Williams' body had stopped producing white blood cells. His bone marrow had not recovered, and doctors determined that he had myelodysplastic syndrome — a condition that occurs when the blood-forming cells in the bone marrow are damaged.
Williams sought treatment at Roswell Park Cancer Center in Buffalo, N.Y., where doctors determined that he would need a bone marrow transplant. Once again, his life was turned upside down.
His 14-year-old son and 11-year-old daughter went to stay with their grandparents while Williams and his wife remained in Buffalo. In April 2013, he had a successful bone marrow transplant and spent the next thirty-four days in the hospital.
He was unable to go home, though, because Roswell requires patients to live within a fifty-mile radius of the hospital campus for 100 days following the transplant. He ended up spending the summer in a house on campus with his wife and children.
Pain was frequent for Williams that summer. He dealt with intense shoulder aches and struggled to sleep. However, one prevailing thought kept him going.
"All I wanted was to get back to the life I was living," he says.
Finally, in August 2013, nearly one year to the day after his initial diagnosis, he and his family returned to Erie. He spent the fall semester continuing to recover and returned to Penn State Behrend for the start of the spring 2014 semester.
The routines of his life are also now returning. He returned to lecturing classes in January. He once again hosted an Open House Night in Astronomy in February, discussing the myths associated with gravity.
Life is once again becoming familiar, but Williams is quick to point out that it can never be the same.
"I realized that that dream of getting back to what I was is just not possible," Williams says. "You just can't do it. I can get back in shape. I can get back to lecturing as I did. But I'll never be the same person. You can never return to where you once were."
He says the experience has made him view life in a different light.
"I consider every day an opportunity to do something," Williams says. "I've been given a second chance. My goal is to make use of it."