Darwin Day festivities to be held Feb. 12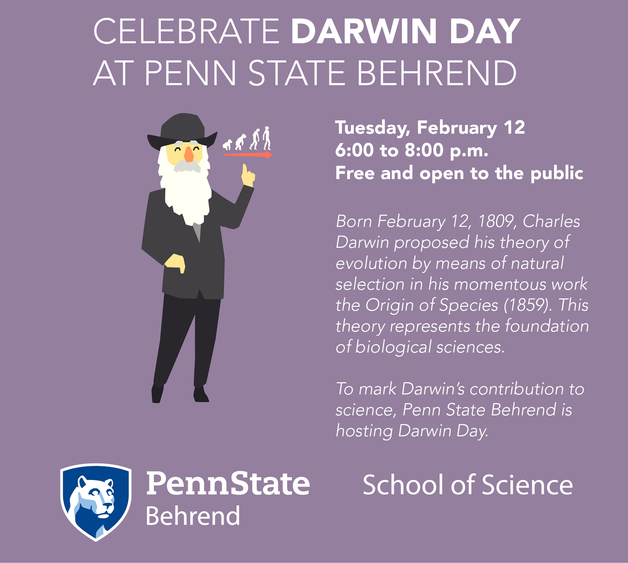 ERIE, Pa. — In 1859, Charles Darwin published "On the Origin of Species." Among the concepts proposed in this work was Darwin's theory of evolution, which has become the foundation of all biological sciences.
Community members are invited to gain a closer look at this groundbreaking theory when Penn State Behrend celebrates Darwin Day with an evening of activities on Feb. 12. Held annually on the birthday of Charles Darwin, the day pays tribute to his legacy and scientific findings.
The event will begin at 6 p.m. in the Yahn Planetarium, located in the college's School of Science, with a showing of the full-dome documentary "Natural Selection." Following the show, Todd Cook, an assistant professor of biology, will deliver the presentation "Darwin's Grand Idea." Cook's talk will outline the underlying concepts of Darwin's theory of evolution and explain how it relates to the rich diversity of life on Earth. Both the planetarium show and lecture are free and open to the public.
The lecture, which will be held in Room 101 of the Otto Behrend Science Building, will conclude with a Q&A session. To further celebrate Darwin's 210th birthday, cake will be served.
Darwin Day is an outreach program of the School of Science at Penn State Behrend. These scientific presentations are intended for ages 8 and up; for additional information, contact the school at 814-898-6105.
Contact
Steve Orbanek
Marketing Communications Coordinator, Penn State Erie, The Behrend College