Five former student-athletes will be inducted into the Athletics Hall of Fame at Penn State Erie, The Behrend College, on Sept. 27. Six teams also will be honored for their championship seasons.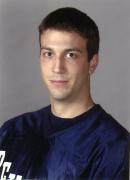 James Curren, a 2004 graduate, was one of the top scorers in school and conference history on the basketball court. He powered his way to school records with 1,726 points and 659 field goals, leading the team to two ECAC bids and one run in the NCAA tournament. Curren, a center, was AMCC rookie of the year as a freshman, team MVP as a sophomore and Penn State Behrend's Male Athlete of the Year in his senior season. He was a four-time All-AMCC selection and a two-time AMCC Player of the Year.
Jason Karas, a 2002 graduate, was one of the most threatening offensive players in Penn State Behrend baseball history. The power hitter and two-time All-AMCC choice finished his career third all-time with RBIs (101), fourth in home runs (14) and fifth in doubles (25). In his senior year, he set the single-season record for RBIs, with 52, leading the Lions to a 35-8 record and their first-ever ECAC South Region Championship.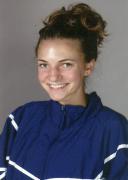 Jessica Knapp, a 2004 graduate, was a two-sport athlete, excelling in both cross country and track. She holds seven of the eight top times in the 5000m, including the program record. She also holds the outdoor records in the 3000m and 10,000m. Knapp was selected three times as AMCC Runner of the Year; she capped her career with the Behrend Female Athlete of the Year award.
Julie Leininger, a 2000 graduate, posted a 39-3 singles record during two years with the Penn State Behrend women's tennis team. She also went 31-1 in doubles. Leininger, a two-time AMCC Player of the Year, led Penn State Behrend to two AMCC championships in two undefeated seasons of conference play. She holds five school records, including singles and doubles wins in a season.
Keith Lepionka, a 2003 graduate, was a three-time All-AMCC selection for the Penn State Behrend baseball team. He hit .369 in his senior year, helping the team win its first AMCC championship. Lepionka, a first baseman, ended his career tied for second all-time in home runs (15), second in RBIs (142) and doubles (30), third in runs (131), and fourth in hits (167) and walks (66).
The 2014 Athletics Hall of Fame induction ceremony also will honor the 2003-04 men's and women's basketball teams, which participated in the NCAA tournament, and the 2004 men's and women's tennis, women's cross country and men's golf teams, which won AMCC championship titles.
Bob Light, senior associate dean for research and outreach and chief operating officer for Penn State Behrend, will be recognized as an honorary member of the Athletics Hall of Fame. Light was a two-sport athlete at the University of Delaware: He played for the football team, which won back-to-back national championships in 1971 and 1972, and was a two-time all-conference middle hitter for the Delaware volleyball club, which twice finished second in the Eastern Collegiate Volleyball League. He was invited to pre-Olympic volleyball training camp in 1975.