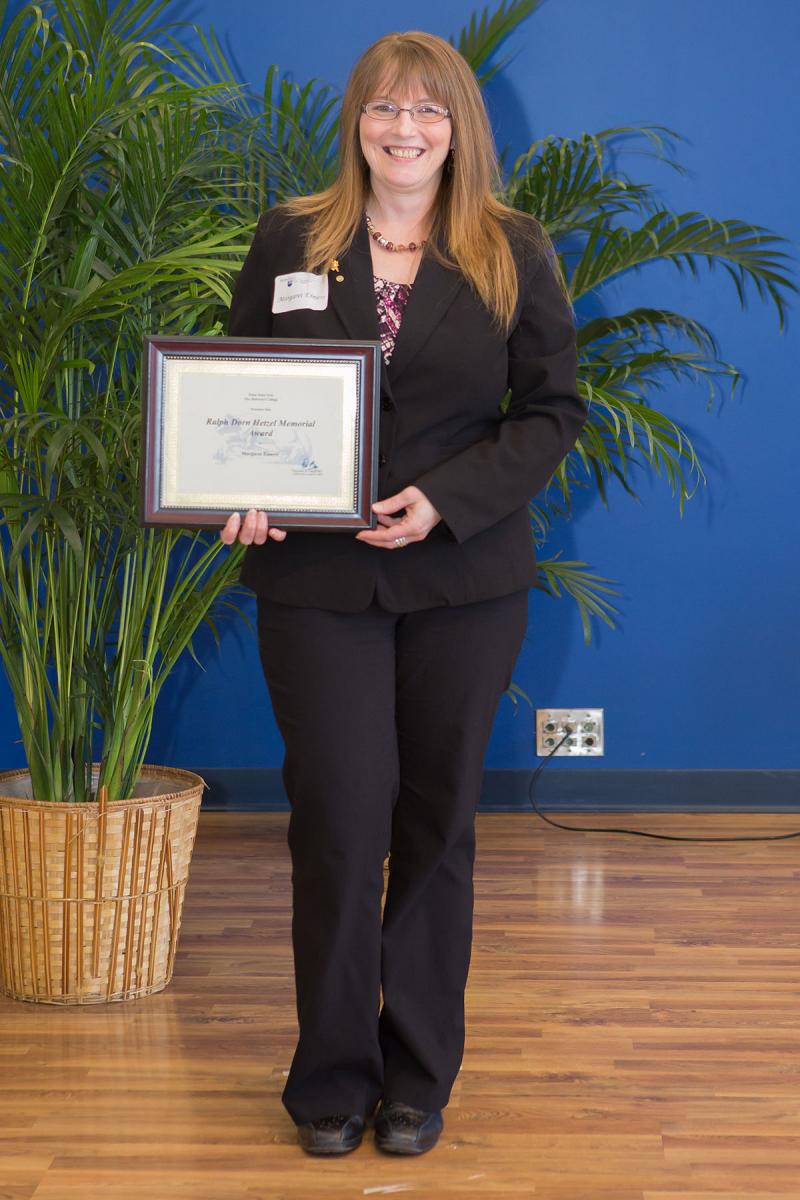 Margaret Eimers regularly reminds her children that a person is not defined by his or her past mistakes.
She would know. She's proved it.
More than twenty years ago, Eimers dropped out of high school during her sophomore year after she failed a class and became fed up with school.
Now, in a few days, the Erie native is about to walk in her first commencement ceremony. She will graduate with a 3.94 grade point average and bachelor's degree in Psychology from Penn State Erie, The Behrend College. How's that for a turnabout?
When it comes to Eimers, graduation is the icing on the cake.
Throughout her time at the college, Eimers has been president of the Penn State Behrend Circle of Omicron Delta Kappa National Leadership Honor Society, vice president of the Society of Undergraduate Economists, and a member of Psi Chi International Psychology Honor Society, Phi Kappa Phi National Honor Society, and the National Society of Leadership and Success. She has also served as an ambassador for adult learner open houses and a career counseling intern at the Academic and Career Planning Center.
Eimers was recognized for all of her collegiate accomplishments on April 27 when she was awarded a Ralph Dorn Hetzel Memorial Award at the Sixty-fifth Annual Honors and Awards Convocation at Penn State Behrend. The award is named after Penn State's tenth president and recognizes a combination of high scholastic achievement, good citizenship, and participation and leadership in student activities.
While Eimers may not have had a high school diploma, she always had a thirst for knowledge. Prior to enrolling at Penn State Behrend, she worked for eleven years as a crossing guard and estimated that she read at least fifty books annually during her downtime while directing traffic. Eventually, Eimers was asked to stop reading during her shifts, which led her to consider college.
"I asked myself, 'Why am I doing this when I really could be learning?'" said Eimers, who earned her GED after dropping out of school.
Eimers decided to apply to college, and Penn State Behrend was at the top of her list. Unfortunately, her application was initially denied.
"I went through the appeals process to become a student here," Eimers said. "After I wrote an essay and was accepted, I then began as a provisional student."
Eimers started as an Accounting major, a subject she had previously studied at a business school in Pittsburgh.
Accounting worked for Eimers, but something was missing.
"I can do accounting, and I do like it, but what I do is build relationships; what I do is help people," Eimers said.
That drive led Eimers to change her major to Psychology with the goal of one day becoming an academic counselor.
Upon graduation, Eimers will work for the summer in the Academic and Career Planning Center. She's looking forward to spending more time with her husband, Greg, as well as her children, David and Rebekah, who she said have been extremely supportive during her time as a Penn State Behrend student.
Eimers' story as an adult learner is far from over though.
In the fall, Eimers begins work on a master of arts in counseling from Edinboro University. It's just the latest stop in her academic journey.
"I like to call this my very happy mid-life crisis," Eimers said. "I feel as if I have exceeded my expectations. Life is a moving target though, so now I'll create new expectations. "
We're sure she'll hit the bullseye.