With the fall teams having completed their seasons, Penn State Erie, The Behrend College, leads the Allegheny Mountain Collegiate Conference standings. The college has an 89.3 percent ranking – a full 5 percent higher than Franciscan University, which is in second place.
Penn State Behrend won conference titles in men's golf, soccer and cross country, and in women's soccer. Thirty-six student-athletes earned All-Conference honors.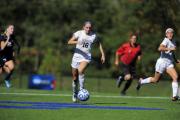 The strong fall showing puts the college in position to again win the AMCC President's Cup, which is presented to the institution that accumulates the most points in conference competition among the 15 sponsored sports. Penn State Behrend has won the cup in 13 of the last 14 years.
"Our balance from year to year proves the strength of our coaches as recruiters," said Brian Streeter, director of athletics for the college. "They know that to sustain a program, it's not just your starters that you're trying to prepare. It's also the people on the bench, getting ready to step in."
To that point, two rookies – Dylan Buffington, a runner from Brookville, and Casey Courneen, a golfer from Sewickley – earned AMCC Newcomer of the Year honors.
The AMCC adjusted its rankings criteria this year, adding post-season performance to a team's regular-season points ranking. Conference officials say that provides a better weighted measure of a team's success.
Franciscan can still challenge Penn State Behrend for the President's Cup. The university won fall titles in women's tennis, cross country and volleyball.
"Every year they get better and better," Streeter said. "And that's what we want. As our conference gets stronger and more competitive, that benefits all of us."