The spring art show at Kochel Center tends to be heavy on photography – still lifes, lightning strikes, black-and-whites of roommates and cats.
This year's exhibit had something different: digital self-portraits created with Autodesk software. The 3D animations show the reach of Autodesk's five-year partnership with Penn State Erie, The Behrend College, which in 2012 provided access to world-class animation and modeling software to every student and faculty member on campus.
The Autodesk gift, valued at $21.7 million, originated in the School of Engineering. Penn State Behrend alumni have key positions at the company, which produces 3D design, engineering and entertainment software. They arranged to provide free licenses for Autodesk's 3D CAD program, a staple in Penn State Behrend engineering classes, and for software used in the college's plastics engineering technology program.
The company also offered licenses to its Entertainment Creation Suite, the animation package that helped produce the last 17 films to win the Academy Award for Best Visual Effects.
"It's a really good fit," said Ralph Ford, associate dean for industry and external relations and director of the School of Engineering. "We have students who are being highly creative, working on projects that are coming from the outside world. They can do things with Autodesk that they couldn't do before."
The college's engineering design classes are now using Autodesk software. That's more than 400 students every year.
Students in the electrical and computer engineering technology programs use Autodesk for CAD design work. Students in mechanical engineering technology are developing advanced graphics, including textures, with other software provided by the company.
"The Autodesk products allow us to produce designs and models with a degree of realism we hadn't had before," Ford said. "It's a real advantage."
Students and faculty members have found other uses for the software, often outside of class. Members of the Penn State Behrend supermileage team redesigned parts for their car's custom-built engine. Other students drew a model of the proposed Mary Behrend Monument, which will be built near the Studio Theatre.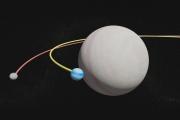 Darren Williams, professor of physics and astronomy, illustrated the cover story for the April 2013 issue of Astrobiology, a peer-reviewed science journal, with Autodesk. Heather Cole, lecturer in photography, integrated the Entertainment Creation Suite into Art 168: The Digital Medium. Her students used Autodesk's SketchBook Pro to create custom logos for nonprofits and campus organizations.
"That was a service-learning project that gave them real-world and relevant experience," Cole said. "They scouted area businesses, campus organizations and charities to find a client, met with them and collaboratively designed a custom logo based on the client's visual needs."
Cole's students also worked with Autodesk's Mudbox, a 3D sculpting program, and Maya, a high-end animation platform, to create original digital art, including the self-portraits that were displayed in Kochel Center.
She plans to add another program – Autodesk's 123D Catch – in her fall 2014 course. That software allows artists to render and print 3D models from photos on an iPhone or iPad.
The software options made available by Autodesk are a key factor in the college's move toward a full curriculum in digital media arts, said Sharon Dale, associate professor of art history. "We are excited by the potential offered by the Autodesk Entertainment Suite," she said, "and are using it as the basis for developing a full range of digital courses that will culminate, we hope, in a major in Digital Media, Arts and Technology."