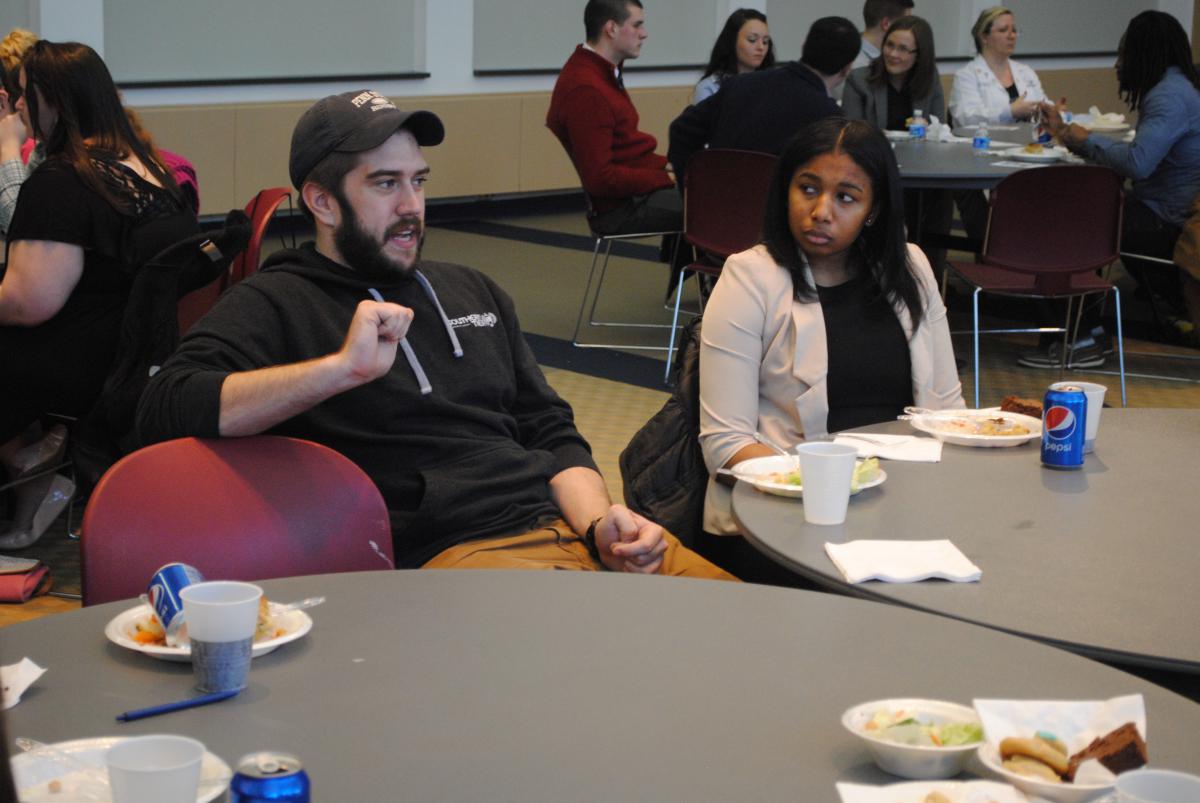 For a biology or chemistry graduate, there's no shortage of opportunities. Environmental consultant, genetic counselor — even a quality control technician for a brewery.
"Students have no idea how much they can do with their degree," said Todd Thorniley, a 2014 biology graduate of Penn State Erie, The Behrend College, who now works as a quality control technician for Southern Tier Brewing Company in Lakewood, New York. "It's not just medical. It's not just research. You can go work with beer, too."
Emphasizing the diverse career paths available to students was one of the purposes of the Career Roundtable for Biology and Chemistry Majors, a networking event hosted by the School of Science at Penn State Behrend in late March.
Designed like a round of speed dating, the event seated different professionals from science-related fields at tables in McGarvey Commons with six to eight students assigned to each table.
For ten minutes, the professionals discussed the tasks, challenges and requirements of the jobs they perform every day. At the end of that time, they moved on to the next table, and the process repeated.
"The structure of the event really allows students to hear about a number of career paths in a relatively short amount of time and begin networking," said Beth Potter, assistant professor of biology who coordinated the event. "The event is great for freshman as well as seniors, who still may not know what they want to do."
During the two-hour event, more than 100 students interacted with 10 professionals, many of them Penn State Behrend alumni, representing companies that included Michael Baker International, the Pennsylvania State Crime Lab, PerkinElmer Genetics and Lake Erie College of Osteopathic Medicine .
One of the alumni in attendance was 2013 graduate Leah Wolfe, who attended the same event as a student.
"When I attended, I wasn't sure who I wanted to be, what I wanted to be or where I wanted to go," said Wolfe, who is now pursuing a master's degree in orthotics and prosthetics from the University of Pittsburgh, "but actually hearing from these professionals was so helpful."
Denise DeVore, a sophomore biology major, said she hoped participating in the event would have the same impact on her that it had on Wolfe years earlier.
"I'm interested in pediatrics, but I'm not entirely sure that's for me," DeVore said. "I feel like this is going to help me narrow it down to what I want to do because there are so many options out there for a science major."