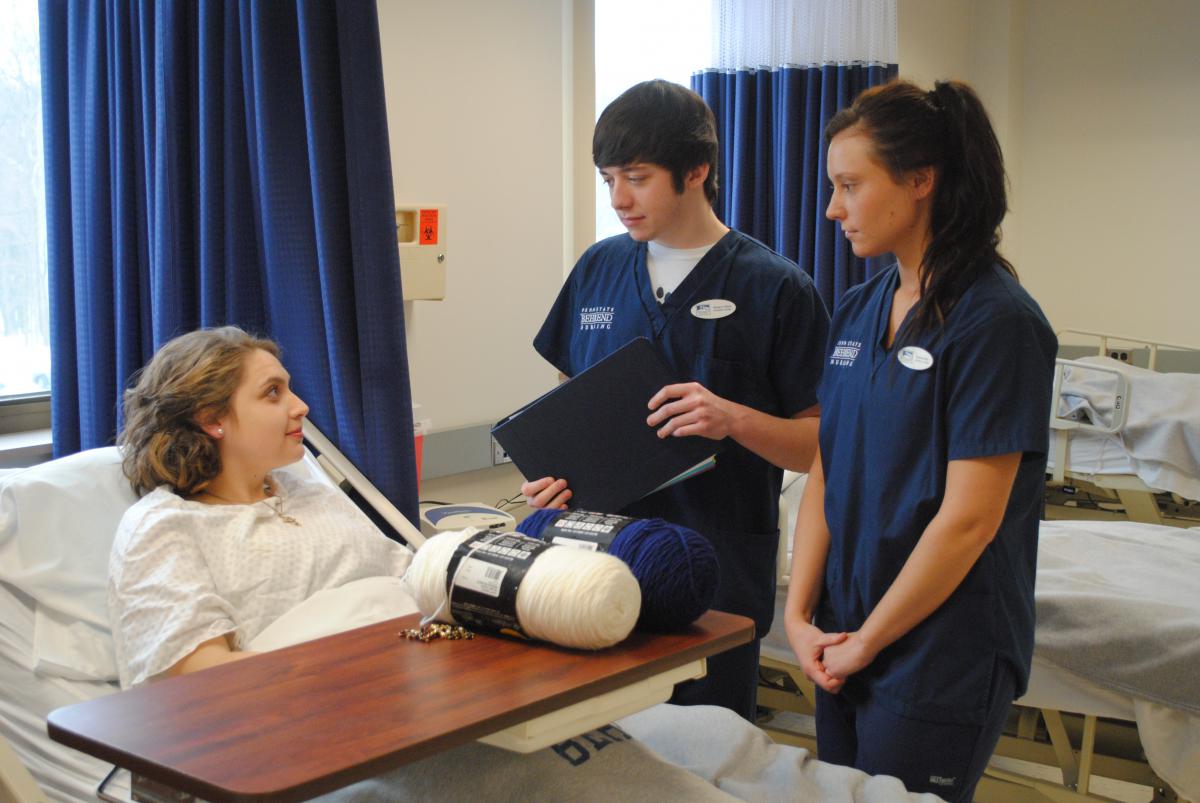 When Margaret Kertis, a lecturer in nursing at Penn State Erie, The Behrend College, pulled back the curtain that hung over the bed where a mannequin would normally lie, students in her NURS 112 course were taken aback. The mannequin that they had grown accustomed to seeing wasn't there.
In its place was a young woman, but if not for her smooth, soft complexion, you might have thought otherwise. Her clothing looked to be straight out of a Laura Ingalls Wilder novel. Her hair was sprinkled with talcum powder. Her hands clenched a rosary.
"Their faces were priceless when they pulled the curtain back and saw that there was a person there," said Brenna Lanager, a sophomore psychology major who happened to be the woman lying in the bed.
Lanager's role that day was as a patient actor.
"The first-year nursing students had gotten accustomed to performing skills on the low-fidelity mannequins that do not communicate, so I wanted them to focus on interacting and communicating with a 'real' person," said Kertis, who taught the NURS 112 course this past fall. "The scenario involved preparing an elderly patient for surgery."
As the students soon learned, handling that type of situation is easier said than done.
Lanager, who has previous acting experience from a theater course she took at Behrend, was not exactly the model patient.
"I was playing the role of Brenna Brake, an old woman who had fallen down the stairs while doing laundry. I was supposed to have a hearing aid, but I left it at home, so I kept asking the nursing students to repeat what they were saying. I was also very religious and refused to give up my rosary." Lanager said. "I could tell everyone was nervous, but they did a great job of putting on that nurse face, and getting the job done."
For the students, the interaction with Lanager was invaluable.
"You get real emotions. Yes, they're acting, but they're still a real person, and it's still person-to-person contact," said Hunter Olsen, a sophomore nursing major.
For her part in the course, Lanager earned extra credit in her THEATER 102 course. It also was an eye-opener for the Hawk Run, Pa., native: her mother works as a nurse.
In the future, Kertis said she hopes to use patient actors again. Lanager is also eager to volunteer her services one more time.
"It was really cool to see what the nursing students were going through from that perspective," Lanager said. "I would definitely do it again. It was so much fun."