Glenn Brooks never expected to be invited back to Penn State Behrend to speak to students.
"I changed my major several times, and it took me awhile to determine where I was headed as an adult," said Brooks, a 1986 alumnus. "And let's just say that I may have been working on my 'social skills' a little too much back then."
But there are lots of surprises in life. Some are good. Some are not so good.
Cancer, for example.
In September 2011, Brooks was diagnosed with stage-four head and neck cancer, originating in the ligual tonsil. His treatment included chemotherapy, radiation, hydration therapy, a tonsillectomy, a feeding tube and extended stays in the hospital. For nearly three months, he could not eat, drink or speak.
The treatment worked. Brooks has been cancer-free for two years. He says he is filled with gratitude and an internal drive to give back.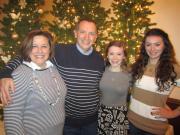 "Given the choice, I wouldn't choose to get cancer, of course," he said. "But it has inspired me to use my experience to help others. I genuinely believe that my calling is to seize as many opportunities as possible to reach out to others as they endure treatments and recovery, as well as to those who have been fighting for the patient."
So he agreed when two students asked him to return to campus on April 10 to speak at the college's Relay for Life, a 24-hour walk that raises money for the American Cancer Society. More than 250 people participated in this year's relay, raising nearly $20,000 for the American Cancer Society. A team from the college's Housing and Food Services staff – Team Tie Dye – raised more than $3,800.
Brooks, who was recently named a Global Hero of Hope by the American Cancer Society – one of only 31 in the world, and just four in the United States – spoke at the opening ceremony. He also participated in the survivor's lap.
He talked with us about his days at Penn State Behrend, his journey after graduation, and how he reaches out to help others.
You earned a degree in management. Where do you work now?
I'm the manager of organization development for Student Transportation Inc., the world's third-largest provider of school transportation services, with more than 14,000 employees throughout the United States and Canada.
You often speak about your cancer fight, correct?
I do. In the past couple of years, I've given more than 50 talks to various groups. I also lead a Cancer Support Network initiative at work, and I've written several articles about cancer that have been published in various publications and magazines.
What do you say?
My typical story describes my cancer journey, from diagnosis to today. I remind the audience that cancer is no longer a death sentence, due in part to the efforts of the American Cancer Society. I always, on behalf of all cancer survivors and their caregivers, thank those who are engaged in the fight against cancer. I encourage them to remain involved so that we can rid the world of cancer so our children and grandchildren never have to hear that terrible diagnosis.
Why go so public?
I know that some cancer patients wish to keep their experiences private, but I choose to be an activist for cancer research, recovery and response. As a cancer survivor, I've been given a gift: authentic understanding. It's something that doctors, nurses and other health care professionals who haven't had cancer don't have. I understand the financial, spiritual, practical, relational, philosophical, emotional and physical changes that occur when a person has cancer, because I've experienced them firsthand.
Do you find sharing that experience to be rewarding or fulfilling?
I've met some rather incredible folks along the way. The energy and passion I've felt is nothing short of amazing. I can tell you this with full confidence: We are loved. We are all loved by people who don't even know us. Also, my involvement has given me the opportunity to give back and show appreciation for all the people – family, friends, coworkers and perfect strangers – who were so good to my wife and daughters when I was sick.
Your wife was recently diagnosed with cancer?
Yes. In March 2014, she was diagnosed with thyroid cancer. And when someone tells you that if you have to pick a type of cancer, that's a good one to get, don't believe them. Any cancer is horrible.
Did you join the relay while at Penn State Behrend?
I did the survivor's lap and the caregiver's lap. I did my best to thank every team member along the way, handing out high-fives all the way.
What do you want people with cancer to know?
You are not alone. You can win the fight. And love will beat cancer.