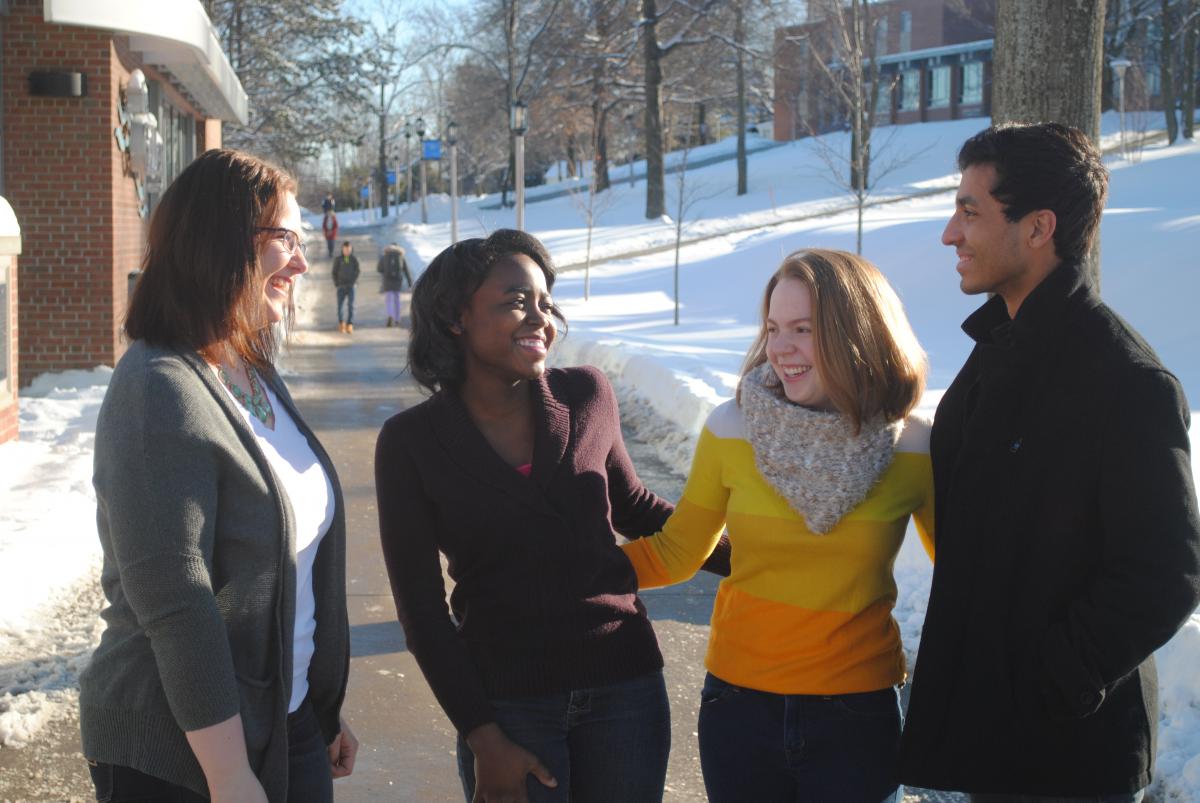 Who knew that a freshman economics major previously worked at a rescue and rehabilitation center in Nepal for trafficking victims? Who would expect a 73-year-old woman to return to college, so she could help care for her paraplegic son? And how could one of the most positive students on campus struggle with anorexia?
There are more than 4,700 students and 700 faculty and staff members on the campus of Penn State Behrend. Any of those 5,400-plus people can easily blend into the crowd, but a group of students are helping them stand out.
Penn State Behrend sophomores Craig Miranda, Mickie MacNicol, Emili Kober and Carolyn Tome believe that every person has a story, and they're doing their part to share those stories.
"It's so important to never judge people by the cover," said Miranda, a Kuwait native and computer science major. "Every person has a story regardless of how they look on the outside. Within them, they may be a completely different person, but they may put on a cover to blend in."
Together, the students have started People of Penn State Behrend, a Facebook page inspired by the now-famous Humans of New York photoblog. The idea behind Humans of New York was "New York City, one story at a time," and People of Penn State Behrend follows the same approach.
The idea to create a Penn State Behrend version came from MacNicol. A native of Haiti, MacNicol said a friend suggested she start a similar project for her home country. However, with her being in Erie, that would have been nearly impossible, but the idea did pique MacNicol's interest.
Along with her friends, she started to pay close attention to those around her.
"Everyone is going through something and just talking to them can be so helpful," said MacNicol, a nursing major. "By sharing stories, others see it and know that they're not alone."
Miranda, Kober, MacNicol and Tome created the Facebook page in October, chronicling the stories of students and faculty and staff members on campus. MacNicol serves as the group's photographer while the others conduct the interviews.
So far, the results have been impressive. The Facebook page has accrued more than 900 likes, and feedback from participants has been positive. Above all else, dozens of powerful stories have been shared.
Miranda, MacNicol, Kober and Tome have received no compensation for creating and continuing to manage People of Penn State Behrend. It was not a class project nor did they receive any extra credit. Rather, their incentive to continue with the project comes from a desire to spread positive messages.
"This is a positive outlet, and people see that there is still good in the world," said Kober, a nursing major.
The group plans to continue the project for the remainder of their time at Penn State Behrend. They even hope to pass it on to other students once they graduate.
"A lot more people will be coming to Behrend, and there will be a lot more stories to tell," Miranda said.